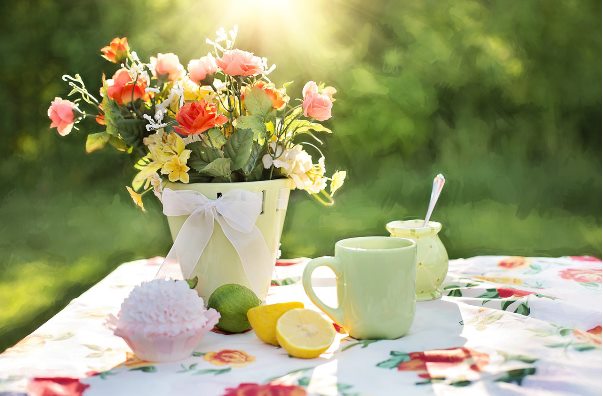 It can be hard to buy gifts for loved ones. Even when you know a person inside out, expressing your love and appreciation with a present can prove challenging - especially when you're on a budget.
Whether you're gifting your boyfriend/girlfriend, mother or father, son or daughter, brother or sister, friend or colleague, there are some gifts that say it better than others do. So, if you're looking to gift something sentimental and meaningful to someone you love, but are in need of some inspiration, we have some great ideas for you.
Flowers
Ok, so buying your loved ones flowers may seem predictable. Maybe even lazy. You might think it's cliché to present your partner with a bunch of roses on Valentine's Day, but behind that cliché is a whole lot of meaning. Roses are the ultimate symbol of love, and different coloured roses represent different types of love. For example, red roses symbolise enduring passion; lavender roses represent a blossoming love; yellow roses symbolise a love between friends; and pink roses represent appreciation.
It's the meaning behind the flowers that should be considered in order to make the gift as special as it is intended. So, if you were looking to gift your daughter or your mother, you could perhaps buy them pink carnations, because this colour flower is specifically symbolic of a Mother's undying love.
Or, if you wanted to express your appreciation and love for a friend, you may choose to send them Alstroemerias (aka Peruvian Lilies) or Stocks, because they explicitly represent friendship and strong bond between two people.
There are Mothers' Day Flowers - all you have to do is find the flower that says exactly what you want it to, and buy the one you love a bouquet. Better yet, what about a flower subscription?
A photo album
Another great gift idea that will never go out of style is a photo album/collage/memory book. Creating memories with a loved one is the spice of life, and a visual reminder of those memories is truly special.
Online services like Photobox allow you to custom design a photo album and get it delivered. However, if gifting a traditional photo album might not seem like the right thing to gift your loved one, there are other more modern and exciting alternatives. For example, there are apps like PicJoy where you can create a digital visual journal which you can then send to a loved one. In fact, Apple's iPhoto and Google Pictures have a similar feature which is both easy and efficient.
On the other hand, in order to really prove your love to somebody, you may choose to put in more effort by hand-making a scrapbook. A bit of arts and crafts is fun, cathartic and shows them that you've given it the time and attention it deserves.
Tickets
Another gift idea for a loved one is to by them tickets to something they've always wanted to see or go to. This can be a costly gift, especially as you should really buy two tickets so that they have a companion to the event in question, so not exactly budget-friendly. But, it will prove your love and devotion.
These tickets could be to see their favourite band play or see their favourite sports team play, or it could be tickets to a show, or tickets to do an excursion/activity they've expressed interest in. If you really want to push the boat out and make a grand gesture, you could even buy them plane tickets to a place they've always wanted to visit, but this requires a lot of pre-planning, and you might want to enlist the help of another family member or friend.
A day trip
In a similar vein to the above idea, another great gift idea for someone you love is to plan a day out for them. This doesn't just mean a walk around a park, but instead a well thought-out day plan that involves their favourite things with emphasis on the small details.
For example, if you are celebrating a loved one's birthday, you should create a full day's plan to ensure they get the proper birthday treatment. A luxury birthday treat could be as follows: first, breakfast in bed is a must, then you could meander around a market and sight-see. Then, you could arrange a picnic in the park, followed by a bottle of bubbly. To close the day, you could arrange a relaxing afternoon at the spa, followed by a romantic (if they are your partner) dinner and then a trip to the theatre.
On the other hand, if your loved one is less fussed with luxury or materialistic things, you could take them on a spontaneous exploration of a new place. Pack your car full of the necessities and whatever you may need for a day out (remembering their passport, if required), grab your map and set out on a road trip, stopping to sight-see and grabbing food. You may even decide to go on a hike and set up camp somewhere - just be sure this is well-planned and the trek in question is safe!
As long, the day you've planned is all about them and all the things that they enjoy (even in these are small details) you can be guaranteed that they will enjoy themselves and be grateful for the thought you have put into making them happy.
Conclusion
Finding the perfect gift for your loved one isn't always easy - even if you've known them all your life. However, with a bit of time, effort, planning and research, you can come up with a truly unforgettable gift that they will appreciate forever - whatever your budget.
Whether you choose to buy them a bouquet of well-meaning flowers; or make them a sentimental handmade photo album; or buy tickets to their favourite show; or plan an exciting day out with them, you can be sure they will love it no matter what.