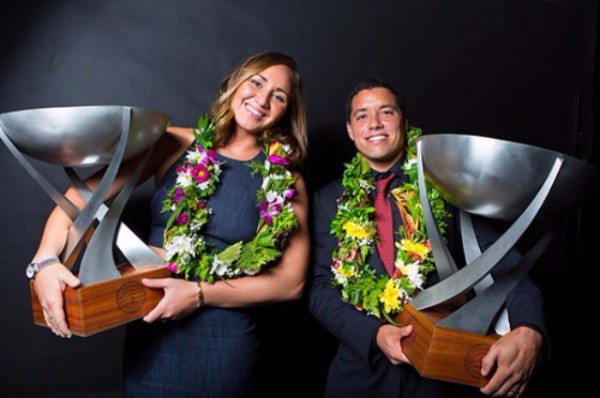 COOLANGATTA, Queensland AUS (Tuesday, March 8, 2016) - The world's best surfers hit the red carpet for the 2016 World Surf League (WSL) Awards – the night that celebrates the achievements of the 2015 season, and officially opens the 2016 WSL Samsung Galaxy Championship Tour year.
Accolades and awards were delivered to those who have contributed to the sport, including the Heat of the Year, Breakthrough Performers and, of course, the WSL Champions.
Heat of the Year: Mick Fanning (AUS)/John John Florence (HAW)/Kelly Slater (USA) at Banzai Pipeline & Sally Fitzgibbons (AUS)/Carissa Moore (HAW) at Honolua Bay
Move of the Year: Gabriel Medina (BRA) and Silvana Lima (BRA)
Wave of the Year: Owen Wright (AUS) and Carissa Moore (HAW)
WSL Junior Champions: Lucas Silveira (BRA) and Isabella Nichols (AUS)
WSL Longboard Champions: Piccolo Clemente (PER) and Rachel Tilly (USA)
WSL Big Wave Tour Champion: Greg Long (USA)
CT Breakthrough Performers: Filipe Toledo (BRA) and Courtney Conlogue (USA)
CT Rookies of the Year: Italo Ferreira (BRA) and Tatiana Weston-Webb (HAW)
WSL Women's Runner-Up: Courtney Conlogue (USA)
WSL Men's Runner-Up: Mick Fanning (AUS)
WSL Women's Champion: Carissa Moore (HAW)
WSL Men's Champion: Adriano de Souza (BRA)
"This past year was unforgettable in so many ways. More than the Title, the friendships and memories made meant the most," Moore said during her acceptance speech. "2015 was incredible, but this year is going to be even better. Let's dream big and work hard. Let's be passionate and competitive, but most of all let's have fun and enjoy each other."
"It's an incredible feeling and so special in dedication to my good friend Ricardo dos Santos," de Souza said upon receiving the World Title. "I have this tattoo in memory of him -- he had the same tattoo that said 'Strength, Balance and Love,' and that's all I needed to win this World Title. This is all in dedication to my brother as well, who bought me my first surfboard for seven dollars and now I'm on top of the world. There's no words to describe how I'm feeling right now."
"I have to say thank you to my family," said De Souza. "I know it is not easy to let your son follow his dream at 12 years old and let him travel around the world by himself. My family gave me the support to reach this dream, and I do believe this was a great demonstration of love."
The 2016 Samsung Galaxy WSL Championship Tour will commence with the Quiksilver and Roxy Pro Gold Coast from March 10 - 21, 2016.
For more information, log onto
WorldSurfLeague.com
About the World Surf League
The World Surf League (WSL), formerly the Association of Surfing Professionals (ASP), is dedicated to celebrating the world's best surfing on the world's best waves through a variety of best-in-class audience platforms. The League, headquartered in Santa Monica, is a truly global sport with regional offices in Australasia, Africa, North America, South America, Hawaii, Japan and Europe.
The WSL has been championing the world's best surfing since 1976, running global events across the Samsung Galaxy Men's and Women's Championship Tours, the Big Wave Tour, Qualifying Series, Junior and Longboard Championships, as well as the WSL Big Wave Awards. The League possesses a deep appreciation for the sport's rich heritage while promoting progression, innovation and performance at the highest levels.
Showcasing the world's best surfing on its digital platform at
WorldSurfLeague.com
as well as the free WSL app, the WSL has a passionate global fan base with millions tuning in to see world-class athletes like Mick Fanning, John John Florence, Stephanie Gilmore, Greg Long, Gabriel Medina, Carissa Moore, Makua Rothman, Kelly Slater, Adriano de Souza and more battle on the most unpredictable and dynamic field of play of any sport in the world.