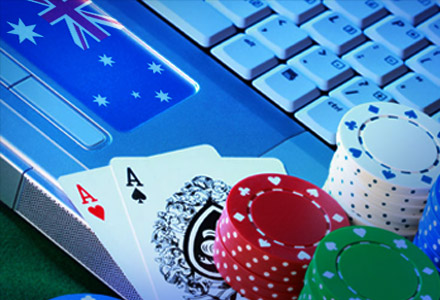 The draw of slots, poker tables and bright lights has everyone wanting to go to Las Vegas at least once in their lifetime. If they're not actually destined to make the trip to Nevada, they at least consider stepping foot in a local casino eventually.
Not to bash real casinos, but what's the point?
Don't get me wrong, Vegas is great and betting live in front of other people can be an intoxicating environment. However, much like going to a football game or live concert, it tends to be a little overrated.
The thrill of playing casino games online is just as good and yet you never have to put your shoes on. You can bet on poker, slots and whatever other type of gambling you love - all from the comfort of your own home.
Combining comfort and freedom has never been easier, with gamblers now being able to play blackjack from their mobile device on their couch. You may never have to breathe fresh air again!
In all seriousness, it's just not easy to trek to Vegas and going to the casino by yourself isn't as much fun as it seems. But for a die hard gambler, missing out on the thrill of actual betting just isn't an option.
You can get that fix with online casino games. Just be sure you're depositing your hard-earned cash at sites that can be trusted. Here are some tips to successfully do just that:
Make Sure It's Legal
Rule number one is to make sure what you're doing is legal. Are you able to gamble online where you live? Check. Is the online casino you're considering approved and accredited? Hopelly, double-check.
Most places in the United States don't allow online casinos in the states, but that doesn't necessarily mean there are state laws against it. Usually they laws pertain to the actual casinos themselves and not the customers betting their cash.
The bigger issue tends to be making sure the casino you're betting at is legal and can be trusted. Offshore online casinos are always going to have you assume some risk, but there's a good chunk of websites that are widely regarded as top notch options.
Avoid the scams and make sure you're not doing anything illegal. Then you can start to separate the good online casinos from the great ones.
Safety First
Didn't we just cover safety when it comes to betting at online casinos? Yeah, but you also want to conduct yourself in a way that you're not leaving yourself vulnerable.
A site being legal is one thing, but whether it can actually be trusted is another. There have been plenty of online casinos that looked the part, only to take forever to issue payments - or never pay at all.
Quickly brushing over casinos that are blacklisted can help avoid some hard lessons, while also going over your own personal checklist can help quite a bit.
That list could include gathering user feedback about any online casinos you are considering playing at. Reviews, social media comments and forum posts can all be useful in determining if you can trust any given online casino.
Once you find some online casinos you feel you can trust, the other part of being safe is on you. Be careful with how much you bet initially and how/when/where you deposit cash to play with.
Using sites you aren't familiar with or playing via unknown internet connections are examples of unsafe practices when it comes to betting at casinos online.
Payment Methods
It's pretty difficult to bet money if you can't actually get it on the site. It's also very tough to get your winnings in your bank account if there's no actual method to make that happen.
You can take all the necessary steps to vet out an online casino and be safe, but none of that means anything if you can't actually play and/or collect your winnings.
Making sure any prospective site actually pays out winnings and does so in a timely manner is important, but verifying their process is actually something the bettor is responsible for.
Some payout methods are faster than others and some will have hiccups more frequently than others. The same payment methods don't always work the same for everyone, either, so doing some research on which deposit/withdrawal methods are available and how they've historically fared is important.
Ideally, you have numerous deposit and withdrawal methods to choose from. BitCoin has been the notorious leader for both and it makes everything easier (and faster) if you join the club.
However, not everyone has or wants to use BitCoin. If you're of that group, make sure the online casino you're playing at has other viable options that actually work.
Game Variety
I'll admit, a lot of what goes into picking the best online casinos is making sure they're safe, legal and will actually get you your cash. But once you get beyond all of that boring stuff, the aesthetics are pretty important.
I'm not talking about how a website looks and operates. You can be that picky if you want, especially if you find a bunch of online casinos you trust and feel comfortable playing at.
But beyond the basics, the top online casinos need a bunch of different games. The good online casinos will have the best, newest slot games, a wide array of table games and just an amazing, long list of options to choose from.
If you're looking at slots, you want games that are engaging and entertaining, but you also want to prioritize bonuses and special rewards. Some people will just flock to the trendy games - and that's fine - but if you want to pick the right online casino, try to put winning cash as a main reason you're playing there.
Options are king in gambling. You're going to fall in love with games for a variety of reasons, but once you start realizing you're not winning, you'll want to take a break and switch to a different slot or table game.
Once you have the foundation of a great online casino, prop it up with amazing game variety and you just might have your go-to online casino for years to come.
Bonuses and Promotions
Feel free to roll customer service and support into this, as websites can often issue bonuses and promotions strictly from the people at the site you deal with on a daily basis.
Good customer service will make sure to appease you and can honestly often keep you coming back on a daily basis. When treated well, customers will often ignore other shortcomings from a business.
Bad customer service can kill even the best online casinos and even if you're on a hot streak, it can sour you in a hurry. Prioritize customer service and pay mind to what types of bonuses and promotions each site offers.
Why is this important? Because you can make (free) money back or get great opportunities to obtain extra cash just for being a player. You're going to invest some cash in your online casino experience no matter what, so why choose little-to-no bonuses over a wealth of bonuses and promotions?
Sites can offer signup, deposit, reload and player bonuses, while they also issue promotions that cater to both new customers and current ones all the time. Do some hunting to gauge which sites do this the best and most often.
No matter which online casino you play at, the first step is always going to be safety and comfort. Make sure you're allowed to play, that the casino you're using is trustworthy and that you can easily deposit and withdraw money.
If you can check off all of those boxes, the odds are good you've already stumbled across a pretty good online casino. The more those casinos can wow you with game variety, customer service and bonuses, the better.