Written by

Rosana Beechum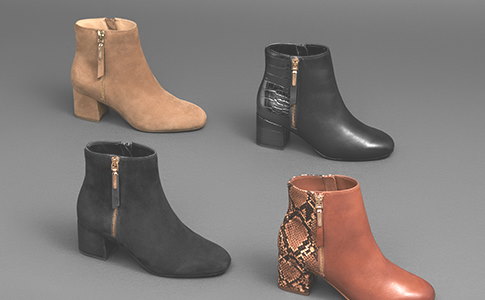 When you are choosing your footwear, you need to make sure that you are choosing something that is going to be comfortable. This is especially important if you are going to be wearing your shoes all day and all night. The good news is that there are some kinds of footwear that you can wear throughout the whole day without feeling uncomfortable and you'll still look stylish.
In this article, we are going to give you some of our top tips to help you find these. Keep reading to find out more.
Ankle Boots
One of the best kinds of footwear that are great for both the day and the night are ankle boots. Boots can look really great with a number of different options including jeans, a skirt and dresses. With ankle boots, you'll look stylish, but you'll also be able to get around easily enough. The last thing you want is to have sort feet from uncomfortable shoes that have a heel that is too high. We suggest getting your hands on a pair of black block heel ankle boots. This way, you'll be ready for what the day has to throw at you and you'll look great doing it.
Trainers
One of the more obvious kinds of footwear that is going to get you through the day is a pair of trainers. With trainers, you will be able to be on the move all day and you won't have to worry about getting sore feet. Trainers don't have to be as casual as you might think as there are plenty of shoes that can add some style to your outfit if you pair it with the right jeans and top. If you want to be able to get through the day and night in style, then trainers might be a good option for you.
Sandals
If you are planning on being somewhere that is a little warmer, then you might want to think about picking up some sandals. The great thing about sandals is that they can make an outfit look quite dressy but are very comfortable to wear. When picking out your sandals, make sure that you choose a colour that is going to match your outfit. Remember that your feet will likely be on show, so you'll want to make sure that your toenails are ready for the day ahead. Consider getting some sandals and you'll look great all day and night.
Pumps
The final pair of shoes that you will find will get you through the day to the night in style are a pair of pumps. While these can be quite simple in style, they'll add to your look and they are very comfortable. There is no heel to worry about and you can go about your day feeling great. With pumps, you'll find that you can have some added details to make them look even better. Make sure to get your hands on a pair of pumps for your next day out.
Final Verdict
As you can see, there are plenty of kinds of shoes that you can invest in that will keep you comfortable from day to night. If you can find a few pairs of these shoes, then you'll be sure to look great all of the time. Our favourite suggestion is the ankle boots closely followed by a pair of pumps. Make sure to go shopping soon and see if you can get some comfortable yet stylish shoes for yourself.