GET INVOLVED AND WIN GREAT PRIZES AT PARKES ELVIS FEST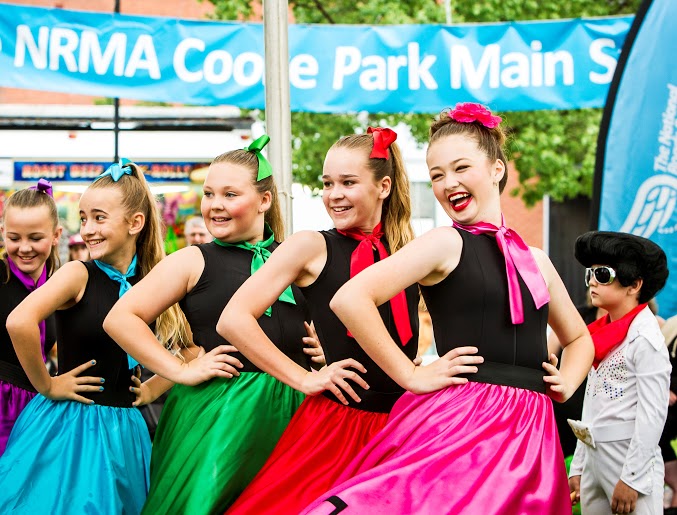 Registrations Now Open
Dust off those blue suede shoes and preen that pompadour to perfection because there's a whole lot of rockin' competitions at the 2016 Parkes Elvis™ Festival, from Wednesday 06 to Sunday 10 January 2016.
Get ready to swivel your hips to stardom, registrations for the Festival's popular Busking Competition and the McDonald's Rock'n'Roll Dancing Competition are now open.
Always a highlight of Parkes Elvis Festival, the Busking Competition draws in talented tribute artists who line The NRMA Festival Boulevard to serenade crowds and compete for the title of the 2016 Parkes Elvis Festival Best Busker.
Many of the Elvis tribute artists you see performing at venues across the Festival started out as buskers on the streets of Parkes. So, if emulating The King™ is your thing, then this is the perfect opportunity to take your performance to the next level!
There are fantastic cash prizes and trophies on offer with the top three buskers chosen by popular vote. The three busking big shots will then compete for the title of Best Busker on the Cooke Park Main Stage at 3pm Sunday 10 January. The 2016 Busking Competition is proudly sponsored by Cooke Park Takeaway. 
The Cooke Parke Main Stage plays host to the McDonalds Rock 'n' Roll Dancing Competition on Saturday 9 January. Rockabillies and swing dance fanatics of all ages are encouraged to get their registrations in early to shake their money-maker and compete for terrific trophies.
Entrants will be judged on their enthusiasm, attitude, rockin' moves and costume. There are junior and senior categories so dancers of any age can join in.
If you're not a dancer or singer, there are plenty of other ways to get involved in the 2016 Parkes Elvis Festival with registrations now open for both the annual Poets' Breakfast and Elvis Edible Art competitions. Elvis Edible Art is proudly supported by Colouby Creations.
"We always have an incredible pool of talented Festival-goers who love to get involved with the Festival on many different levels. There's nothing we like more than seeing visitors getting out and joining in the fun of the Festival," said Festival Director Emily Mann.
The 2016 Parkes Elvis Festival features more than 120 free and ticketed events, shows, concerts and competitions. The 2016 program is now available online and in print pocket-guide format. The souvenir program is available for pre-order and will be distributed in November.
For all programming and ticketing information or to register for any of the Festival's competitions, visit www.parkeselvisfestival.com.au.

Parkes Elvis Festival
Parkes Elvis Festival is held annually in the second week of January in Parkes, New South Wales, coinciding with the birthday of Elvis Presley. Parkes has a population of 12,000 and is located 365 kilometres west of Sydney. In January 2015 over 20,000 visitors attended the Festival, more than doubling Parkes' population.
The Festival began in January 1993 as a small birthday party for the local newspaper editor. It was so much fun they decided to do it again - and again! Over the following 10 years additional events were added and it became a two-day Festival. With the vision and effort of the voluntary organising committee as well as the support of Parkes Shire Council, the Festival exploded in popularity and word quickly spread across Australia of the fun and unique event in regional NSW.
Following its tremendous success, in 2014 the Festival transitioned management to Parkes Shire Council under a Section 355 Festival Committee. The Festival now regularly attracts visitors from all around Australia and stages more than 150 events annually. In January 2015, Parkes Elvis Festival was officially endorsed by Elvis Presley Enterprises, Inc., the trustees of the estate of Elvis Presley. Official endorsement elevates Parkes Elvis Festival to the ranks of premiere Elvis tribute festivals in the world.
Parkes Elvis Festival is proudly supported by the NSW Government through its tourism and major events agency, Destination NSW.