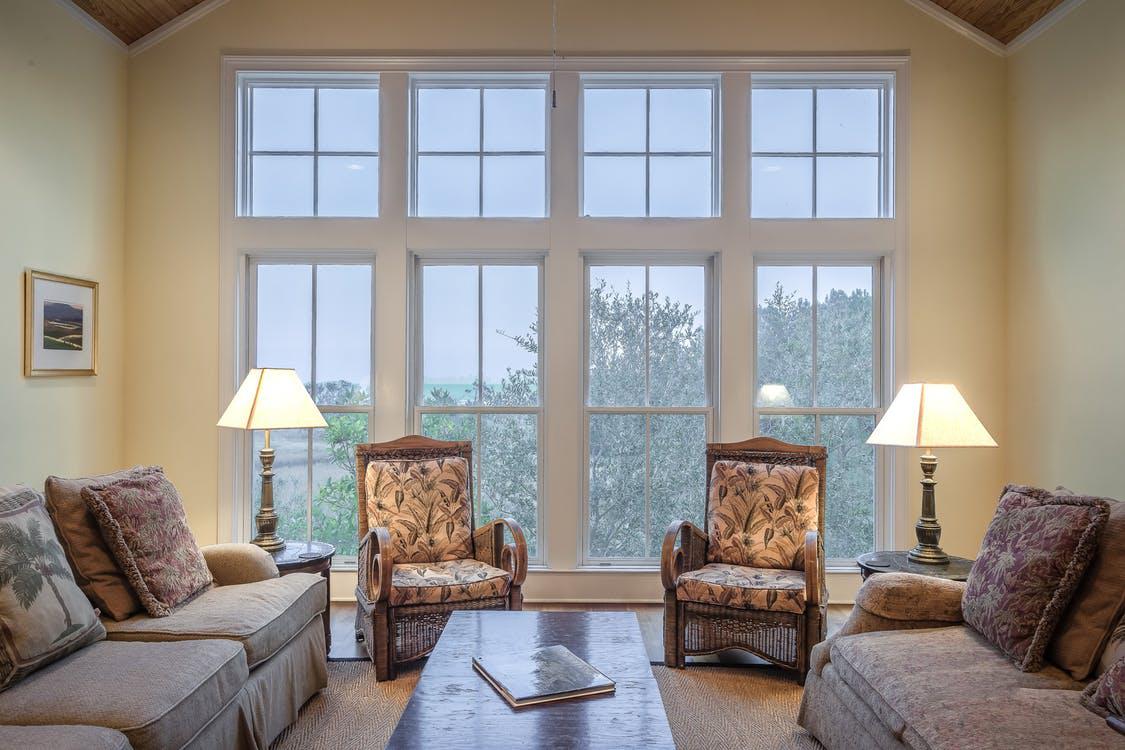 Windows are essential for letting sunlight inside your home and allowing you to see outside if only to spy on your neighbors! Windows are the eyes of your home and the way you dress them can be crucial in the overall look of your room. The way you dress them not only needs to be attractive, but it also should be functional enough to allow an ample amount of light to come through to your room. Putting up the right type of dressing on a window can transform a room from mediocre into something stunning. Ranging from curtains, shutters, and roller blinds, there are many options available today in the market. With the new year just around the corner, today we will look at some ways that you can use to dress your windows for 2020 and start your new year with a great looking room.
Roll-up and Roman Blinds
Roll up, and roman blinds are a great way to dress conservatory windows. They are stylish and come in different varieties. They can be hung up on glass panels and can be adjusted at different heights where the sun hits to create the right amount of shade, preventing the room from getting too hot. Using lighter colors will maintain a feeling of spaciousness and up to date style in the room.
Café Curtains
Café curtains can be used on the windows inside your kitchen. This style of window dressing for your kitchen is trendy and comes in different prints and designs. Café curtains will maintain privacy if your window is at the front of your house where passers-by may be able to peek in. They can be made even at home by cutting a piece of fabric to match the length of your kitchen window then sowing a loop and inserting a metal rod between the loop that you had just sown.
Shutters
A Shutter is the simplest type of decoration you can do to a window inside your house. There are many types of shutters like full window shutters and full solid shutters. If you are looking for something easy on your wallet, go for crafted shutters as they are made of medium-density fiberboard, which is cheaper, or you could go for a classic hardwood design which is comparatively more expensive. You should go for an option that matches other aspects of your room.
Sheer Curtains
Sheer curtains are best used in rooms where you want a lot of light to come in. Usually made up of voile fabric or chiffon, they allow an ample amount of light to come inside your room and still keep your privacy intact. If you want your room to have a cool and bright look, sheer curtains are the way to go for you.
Add Landscape
This would be great for someone living on the first floor of an apartment building. Adding bushes and small trees outside your windows will obscure people's view and not allow them to peek inside your room. Adding shrubbery outside your windows not only increases privacy but also adds a pleasureful aesthetic to your room.
Window Frosting
Windows frosting will allow some light to come inside and keep your room cool on those hot sunny days. It would be difficult for passers-by to see inside your room as the frosting limits the amount of view the outsider gets. There are many types of beautiful frosting designs you can choose from to match the overall aesthetic or your room.
Simple Drapes
Probably one of the most recognized ways to decorate your windows is simple drapes. These simple curtains look gorgeous with any type of setting. They are particularly effective when paired with the décor of your room. They are easy to install and can be hung up on any type of window in your house, giving a sense of privacy and completeness to any space in your room.
Timber Venetians
Timber Venetians are considered the staple of windows dressing for any house. If not used properly, they end up looking bland, old fashioned and drab. However, if you utilize them correctly, they can be simple yet stylish at the same time. There are many varieties available nowadays from really expensive ones to cheap simple ones. Adding Venetian blinds is the most common way of adding style and class to your windows. Go for something that matches other elements of your room for the best results.
Fancy Window Frames
Before even getting to adding a curtain or shutter to your window, you should consider making the frames on the window look good. Ranging from wooden to metallic material, there are many types of designs you can choose from. You can also paint them to match the overall setting of your room. Adding some nice frames will also help you in choosing the right curtain or shutter that matches it.
The Final Words
With 2020 just around the corner, people are looking to get their homes an ever needed refresh, be it replacing the old furniture in their houses or getting new curtains for their windows. Ranging from curtain, shutters, and landscape, there are many ways nowadays that you can use to dress up your windows. Today we have made you aware of some of the options that are simple yet add great aesthetic value to the windows inside a room, be it your bedroom, kitchen or conservatory.