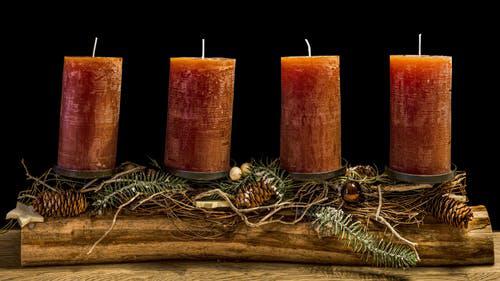 Candles are generally the last item people think of while decorating their place. They are highly underrated when it comes to giving an aesthetic touch to a bare room or an area. The primary purpose of the candles is to provide light, especially when the power goes out, but the beauty that comes with dangling flames and the shadows it creates is hard to overlook. Not only do they create a romantic environment, but also give space a warm feeling. It has the power of lifting your mood and make you forget your troubles and anxieties.
Candles give an aesthetic touch, no matter how you decide to place them. Place them on stair steps, cluster them in a room corner or put them above a cooking range it will just add to the beauty of that place. However, choosing appropriate candles for decoration is equally important as not all types of candles can be placed anywhere for decorating purposes. Wholesale candles have a large variety of candles to choose for every nook of your place.
Kitchen
Putting candles in the kitchen may seem like a weird idea, but the truth is that not only candles give light to your kitchen, but if you are using scented candles they will help in getting rid of the pungent aroma of food. To decorate your kitchen put your candles in a scattered way on the dining table, it will help create a pleasing environment while having dinner. It is better to avoid putting candles on electric appliances that chances of accidental fire are high. Instead of placing candles on electrical appliances, place them on the kitchen counter. Having different sizes of candles placed in round shape or any other shape for that matter will make the counter appear spacious.
Bathroom
Decorating a bathroom is a very grey area. Most of the bathrooms are not very spacious and hence give a tiny room for your creativity. The fact is that if your bathroom is compact candles are the best items to decorate it since they do not cover a large area. Putting some candles above your washbasin right beside your mirror adds beauty to your silhouette.
People tend to spend a lot of time in the bathroom while taking a bath. Bath bombs and warm showers help in relieving anxiety, stress and muscular pains too. To decorate your bathing area, put a few candles beside your bathtub, and it will only help in reducing stress while taking a bath.
Living room
Generally, the living room is the place where inhabitants of the house spend most of their time. Reading books, watching television, playing with games and sometimes even taking meals, all types of stuff tend to happen in the living room. Many times we attend guests in the living room too, and since this is the place where most of the people spend their most of the time, chances of it getting messier are higher than other sites. On the other hand, there are various ways you can decorate the living room according to your taste. Candle stands can serve as the best and expensive decoration pieces too. Candle stands themselves without candles are decorative items, and with candles, it spices up the place. Lanterns in place of electric lights also adds creativity in a room. Few lanterns together on the side table of a sofa will not only illuminate the room but also give the room d feisty touch. Candles are now available in all shapes and size. They could be as big as a hippopotamus and as colourful as a rainbow. Use a giant and delicate candle as a centrepiece, and it will give your living room an exquisite look.
Bedroom
Commonly candles are used in bedrooms to create a romantic atmosphere. Candles give the place a cosy touch and romantic ambience. Placing candles on side tables of bed, putting them on a windowsill or just scattering them on dressing tables with flower petals can light up the whole space.
The use of candles or create a romantic atmosphere goes way back in history. When rooms used to be huge, and people used to use candles for lightening, candles were placed in bedrooms to have a passionate and romantic feel. Even in modern setup candles not only decorate the room, but also give room old, whimsical touch.
Patio
A general perception is that a patio looks better when decorated with plants or coffee tables and chairs. The decoration is all about creativity. Just moving regular furniture pieces from left to right not only create spaces, give a new look but also give a pleasing effect. Candles in the patio can only look ugly if placed at the wrong places. Hang the candles, place them besides plant pots or leave them in any desired shape on a wall hanging; it is all about creativity and aesthetic sense.
Vase and Tables
Every house has at least one or two vases and same tables too. It does not matter where the tables and vases are, as they will serve the purpose anywhere. Although tables have a lot of uses, vases are usually for decoration purposes. Candles on a table without a candle stand give a warm feeling to the room. Depending on the size of table candles can be placed on the corners or putting them in the centre to provide an illusion of a centrepiece boost up the ambience of the room. Gone are the days when vases were only for flowers. Creativity has got the best of designers, and now even the empty vases serve the purpose of decoration. Putting some candles in a vase adds up to the oomph factor.
Conclusion
The decoration is a very subjective matter, and it depends on the person's taste living in that space. Candles are one of those rarest things that no one dislikes. Besides they come in a wide range of variety, different sizes and all type of colours are available in the market. Scented candles are a new thing, and it creates a beautiful environment. A general perception is that candles only help to illuminate, which is true, but what harm is in getting the double advantage with them. As much as candles are exceptional decorative items, they need special care too. While putting candles up, for whatever purpose, safety should be the priority. Besides scented candles sometimes give a very overpowering smell that might provide some people with a headache. Nevertheless, candles generally give a pleasing impact, and people feel welcomed in places decorated with candles. Decoration with candles can never go wrong and always give a pleasant vibe.