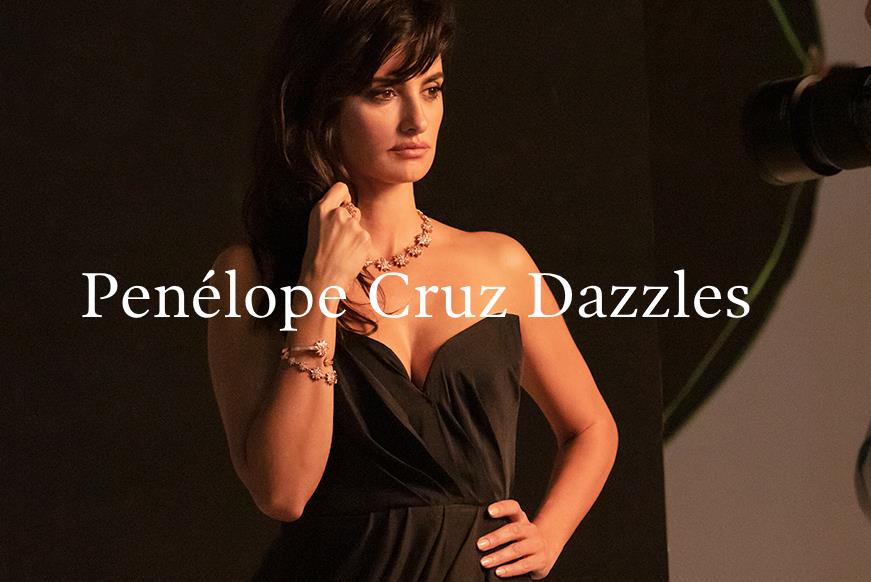 Atelier Swarovski's Spring/Summer 2019 campaign stars new global brand ambassador and internationally acclaimed actress Penélope Cruz. The campaign was shot by fashion photographer duo Mert & Marcus with creative direction from Stephen Gan.
The celestial Atelier Swarovski by Penélope Cruz MoonSun collection shines with precision-cut stones and features a distinctive star motif that evokes the magic of the night sky. The collection comes in two ranges: a bold star design for statement style, available in select Swarovski stores and independent retailers; and a more delicate design for everyday wear available in Swarovski stores around the globe.
This new campaign celebrates Penélope Cruz's role as brand ambassador for Atelier Swarovski, as well as the new collection, which showcases Swarovski's heritage of sustainability and craftsmanship. As an Academy Award-winning actress, designer, and philanthropist, Penélope Cruz is an inspirational woman who embodies the brand's values.
Penélope Cruz commented: "I am proud of my partnership with Atelier Swarovski, and I feel lucky to be in a position where I can to help to shine a light on conscious luxury and create products that have a positive impact. It was so wonderful working with Mert & Marcus on this campaign – like my Atelier Swarovski collections, they make me feel as well as look beautiful."
Mert & Marcus commented: "It's always a pleasure working with Penélope. Her beauty and artistic point of view create an incredible atmosphere for making great images and short films. We are super excited to have worked with Atelier Swarovski and Penélope on this project; two icons of beauty and elegance.... what more could we ask for?"
Nadja Swarovski, Creative Director of Atelier Swarovski, commented: "We were delighted to collaborate with the inspirational Mert & Marcus to capture Penélope Cruz for our latest Atelier Swarovski jewellery campaign. It is our pleasure to have Penélope – who has brought her incredible creative energy to design these collections herself – as our global brand ambassador, promoting our shared vision of conscious luxury – truly beautiful products with compassion and sustainability at their heart."


Atelier Swarovski
www.atelierswarovski.com


Atelier Swarovski offers cutting-edge jewelry, accessories and home décor items which are the ultimate expression of Swarovski. Pushing the boundaries of creativity with crystal, created gemstones and genuine gemstones, it collaborates with the finest talents in the world across fashion, jewelry, architecture and design.
Atelier Swarovski was founded by Nadja Swarovski in 2007 as a showcase for creativity, craftsmanship, master cutting and material innovations. The brand presents seasonal jewelry and accessories collaborations twice a year, alongside its constantly evolving core collections.
Atelier Swarovski's home décor collections, launched at Milan Design Week in April 2016, comprise functional and decorative objects for the home.
With its focus on conscious luxury, Atelier Swarovski introduced its first fine jewelry collections made with Swarovski Created Diamonds in 2017, and was certified as a member of the Responsible Jewellery Council the same year. In 2018, continuing its sustainability journey, Atelier Swarovski announced its partnership with Fairtrade, working with a cooperative mine in Peru to incorporate responsibly sourced gold into all future collections.
The brand celebrated its first decade with the release of 'Brilliant: The Story of Atelier Swarovski', published by Condé Nast, in early 2018.
Atelier Swarovski's past collaborators include Jean Paul Gaultier, Viktor&Rolf, Jason Wu, Christopher Kane, Maison Margiela and Mary Katrantzou for jewelry, and Zaha Hadid, Daniel Libeskind and Ron Arad for home décor.