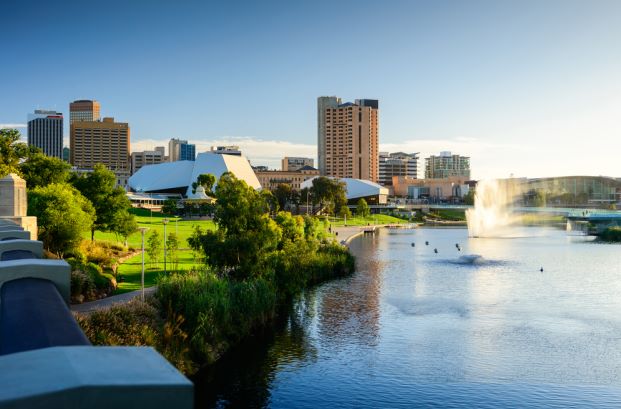 Australia is a dream tourist destination for many people all around the world. There's a lot to see and the country is jam packed with cool critters, gorgeous beaches, beautiful forests and lots of natural wonders like Uluru and The Twelve Apostles. In fact, there's just so much to see that it can get a bit difficult planning your trip - where exactly should you go? There's one city that is often overlooked in people's treks around the sunburnt country and that's Adelaide. Let's check out a few reasons why you absolutely must visit this city.
Brilliant Wine
Adelaide has a strong rep as being the city where the country's best wine is made. There are plenty of great wineries that are only a short trip away from your short term accommodation in Adelaide. Take a trip and explore the bountiful reds and crisp whites. Make sure you book a tour bus or chartered trip so you don't have to worry about driving home. That way you can let your hair down and taste all the wines. Most wineries have a great restaurant attached so you can wine and dine in style.
Arts and Culture
Adelaide has a rich, vibrant and thriving arts scene. Head to the Art Gallery of South Australia and you'll spend away the hours looking at some stunning works. There's also a few modern craft and design galleries for those who are into something a little bit more contemporary. The South Australian Museum is also a great place to visit, with heaps of galleries to visit and explore.
If the cultural milieu is more your thing then you won't be disappointed. WOMADelaide serves up some of the most eclectic music of any festival in Australia and if you like things a bit left of centre then Adelaide Fringe is for you.
A Wealth of Tourist Attractions
Adelaide leaves all visitors absolutely spoiled for choice when it comes to tourist attractions. There are heaps of old heritage buildings from when Australia was just being developed, including the old Government House. You can explore the Old Treasury Tunnels, or take a leisurely stroll around North Terrace.
There are a few lovely cinemas about if you feel like catching a flick, or if you want to keep the little ones entertained head to the Penfield Park miniature railway. There's also a brand new skate and BMX park if your kids are a bit older.
Finally, if you like to get out into nature then there are plenty of parklands and reserves where you can strap on your hiking books and get back to the source.
For Those That Like to Shop
Don't worry, if you want to give your credit card a workout you're in luck. Adelaide has plenty of modern shopping malls and boutiques about as well as some more traditional markets and shopping strips. We recommend the Gepps Cross Treasure Market and the Adelaide Central Market. The Showground also holds a top notch farmers market if you want to grab some fresh produce to cook up a storm with. For those who have a sweet tooth head to Blackeby's Old Sweet Shop for some old school boiled lollies and chocolates.
Enjoy Your Trip!
Make sure that you have some fun while you're in Adelaide. Check out some of the country's best wine and food, and immerse yourself in some rich art and culture. Do the rounds of the many tourist attractions on offer (and don't forget to treat the kids!) and indulge yourself in some holiday shopping. We hope that you enjoy your time in this majestic city.