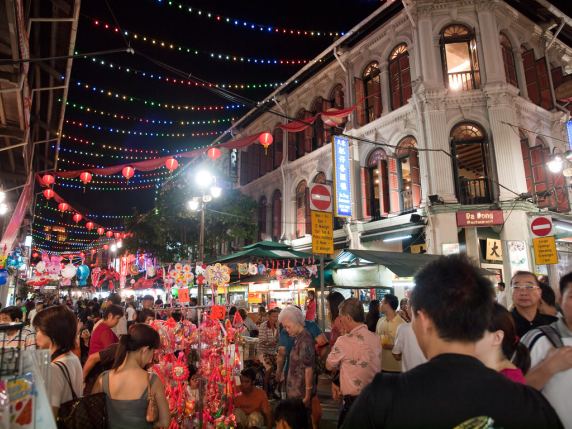 Australians are invited to join the 50th birthday celebrations with a host of VIP special events and packages
2015 is the best time to visit and rediscover Singapore, with the city-state reaching a momentous milestone this year, its 50th birthday (SG50).  
Since Singapore gained its independence 50 years ago, the Lion City has spread its wings to reinvent itself and nurture its own identity as a world-class city, the gateway to South-East Asia and a natural stopover to Europe.  The strangely wonderful city of contrasts continues to celebrate its multi-cultural heritage roots whilst embracing a cutting-edge, modern-day mix of attractions, bars, restaurants and accommodation options, which is why families, couples and solo travellers all find it easy to get off the beaten track and discover the city's treasures like a local.  You may think you know Singapore, but if you haven't visited in a few years, there is no better time to rediscover its wealth of diverse and easy-to-explore activities and attractions packed into this serene 'city in a garden'.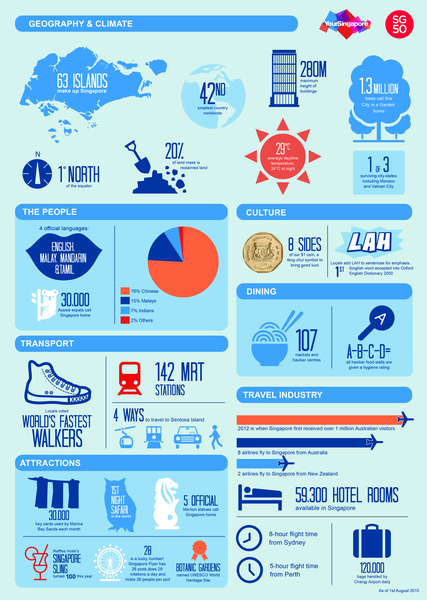 For those visiting in 2015, be sure to check out the following SG50 highlights: 
National Gallery of Singapore
This November, Singapore will celebrate the opening of the National Gallery Singapore, which seeks to be the leading visual arts institution that will house the world's largest Southeast Asian art collections.  Occupying two important heritage buildings of Singapore's nationhood – the beautiful City Hall and former Supreme Court buildings, the expansive space will be the largest visual arts institution in Singapore.
Address: 1 St. Andrew's Road, Singapore 178957
For more information: www.nationalgallery.sg
Gardens by the Bay celebrates SG50
Singapore's 50th birthday celebration comes into bloom at Gardens by the Bay with a brand-new orchid floral display and a SG50 edition of the free twice-nightly Garden Rhapsody music and light show.
Bonus: One child enjoys free admission with every two Adult Standard Double Conservatories tickets purchased. Guests have to print out the offer from www.yoursingapore.com/goldenjubilee. Terms and conditions apply.
Address: Marina Gardens Drive, Singapore 018953
For more information: www.gardensbythebay.com.sg
ArtScience Museum tells Singapore STories: Then, Now, Tomorrow
The Straits Times (ST) has collaborated with ArtScience Museum at Marina Bay Sands to unveil an exhibition that chronicles the nation's development through powerful images and stories. This will be the first exhibition co-curated by the museum that is free to the general public. The exhibition will be open throughout Singapore's Golden Jubilee celebrations in August, closing on 4th October.  Opening hours are 10am to 7pm daily. 
Address: 6 Bayfront Ave, Singapore 018974
For more information: www.marinabaysands.com/museum/singapore-stories.html 
Singapore Zoo welcomes some Australian Friends
Singapore Zoo has welcomed four koalas who will call Singapore home for the next six months. The furry envoys, named Chan, Idalia, Paddle and Pellita are a precious gift from Australia to Singapore to celebrate Singapore's 50th anniversary of independence and the establishment of diplomatic relations between both countries.
Address: 80 Mandai Lake Rd, Singapore 729826
For more information: www.zoo.com.sg
Toast SG50 with a Singapore Sling at Raffles
What better way to toast SG50, than a visit to Raffles Hotel to enjoy a Singapore Sling.  Widely regarded as the national drink of the country, the iconic pink cocktail was first created in the Long Bar in Raffles Singapore in 1915.  The drink is enjoying its 100th birthday at the same time as SG50 and Raffles Hotel is hosting a range of festivities to celebrate. Travellers can sign-up for a Singapore Sling Masterclass with bartenders from the Long Bar or indulge in a SlingaPore, a pastel pink zesty and honeyed cake inspired by the drink.
Address: 1 Beach Road, Singapore 189673
For more information: www.raffles.com/singapore
Enjoy lunch at Open Farm Community, Dempsey Hill
Travellers looking for some calm in a green, tropical setting can head to Dempsey Hill, a refurbished enclave that once served as the English army barracks.  Across from the Botanic Gardens and just a few minutes away from Orchard Road, the colonial designed shopfronts have welcomed a new farm-to-table (minus the animals) restaurant on Minden Road called Open Farm Community. Opening in July, the restaurant is the brainchild of prolific Chef Ryan Clift and Edible Gardens, who will grow much of the produce on-site. Visitors can explore the gardens, relax in the indoor garden terrace or enjoy a spot of lawn bowling.
Address: 130E Minden Road, Singapore 
For more information: enquiries@ofcsingapore.com.sg 
Far East Hospitality Heritage Food Trail
Far East Hospitality, Singapore's largest and fastest growing operator for hotels and serviced residences, invites Australian travellers to "live like a local" through its Far East Heritage Food Trail. From 1st July through to the end of December, Aussie travellers can be connected to authentic elements of Singapore including top heritage sites, cultural activities and food spots. In particular, the Fast East Heritage Food Trail 2015 allows travellers to uncover Singapore's colourful heritage by savouring local flavours and delicacies.
For more information: www.stayfareast.com/en/press-media/heritage-trail-2015.aspx
Singapore Pinacothèquede Paris
The first international expansion of Pinacothèque de Parisoutside France, the SingaporePinacothèque de Paris similarly seeks to make art accessible to the masses through varied and unique large-scale exhibitions.  Housed in the beautifully restored heritage building of the Fort Canning Arts Centre, it comprises three main exhibition spaces.  Travellers can explore Singapore's own legacy in the Heritage Gallery, which includes the confluence of diverse cultures and civilisation throughout the centuries.  
Address: Singapore Pinacothèque de Paris, 5 Cox Terrace, Singapore 179620
For more information: www.pinacotheque.com.sg 
Free Museum Shuttle Service
Museum lovers and history buffs can enjoy a free museum shuttle service, which operates daily from 10.30am to 4.30pm between Singapore Art Museum, National Museum of Singapore and Singapore Pinacothèque de Paris. 
Other Promotional Specials
Children Play for Free:  Until the end of 2015, a range of attractions will allow children to join in on the festivities for free.  Gardens by the Bay, Mint Museum, Singapore Flyer, Sentosa Merlion, Singapore DUCKtours and more are taking part, offering free entry for one child with two adult tickets purchased. For more information: www.yoursingapore.com/campaigns/golden-jubilee.html
So Singapore SG50 Sentosa Tourist Pack:  Families can take advantage of a S$50 discount on an attraction bundle, which includes six of Sentosa's family friendly places, including: S.E.A. Aquarium, Tiger Sky Tower, Madame Tussauds Singapore & images of Singapore 'Live', Segway Fun Ride and Wings of Time. For more information: https://store.sentosa.com.sg/main/attractions
For more information and to search for hotel and airfare promotions, please visit: www.yoursingapore.com/campaigns/golden-jubilee.html
For more information on Singapore, please visit: