Written by

Kobayashi / Wang Toyota Motor Corporation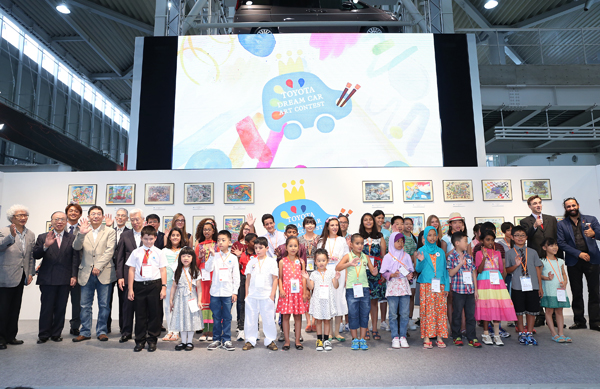 Tokyo, Japan, August 26, 2015 - What if cars could spread the benefits of education, alter the surrounding environment on an atomic level, or even break down language barriers?
Most adults would dismiss such notions as wishful thinking, but sometimes it pays to think with the boundless imagination of a child. After all, it's not so long ago that a car fueled by water or a plane powered by the sun were considered science fiction. Who knows when the gap between fantasy and reality could be bridged next?
VIDEO - https://www.youtube.com/watch?v=osmcQntcLas
Since 2004, Toyota has asked children from around the world to put their creativity to work in creating their Dream Cars. The results range from the impressively practical to the downright unusual, but most importantly they all show abundant imagination, and they are all unique. Not only do they give inspiration on what new cars to make, they also remind Toyota the kind of responsible global citizen it should be: whether it be helping little girls learn to read in Romania or conserving the environment in Paraguay.
The response to this year's contest was overwhelming: Toyota received a record total of over 875,000 artworks from 81 countries and regions. National Contests were held until March 2015, with selected entries progressing to the World Contest in May 2015. World Contest entries were judged by Toyota President Akio Toyoda and a panel of outside experts in art and automotive science, and winners were invited to Japan for the award ceremony in August.
This year, gold awards were given to children from Sri Lanka, Romania, and Paraguay across three age categories. In addition, the newly-created Engineering Inspiration Award (selected by Executive Vice President Mitsuhisa Kato) and a special award selected exclusively by President Akio Toyoda were presented to exclusive winners.
Other awards:
In addition to one gold award, Toyota selects two silver, three bronze, and four Best Finalist awards for each age category, as listed below.
Award

Name

Country

Age

Title of Artwork

Gold Award

Sethumdee Dulanya Dewagamage

Sri Lanka

7

Toyota Alpha-Bird Car - The Universal Language Car

Ada Maria Ciontu

Romania

11

Toyota Robo-Fly for girls in need

Azul Paz Servin Rodas

Paraguay

13

NANO CAR

Silver Award

Lucas Attia

France

7

FUTURE WIND-POWERED SPACE CAR

Mark Yurievich Starenkov

Russia

7

MOTORYOTA

Noelle Yau

Canada

11

Leafmobile

Siddhi Prasad

Qatar

10

Toyota Geometry Box Car

Chuthamat Rattanaphibunkun

Thailand

14

Rescue unit elephant car

Hye In Park

Canada

15

Dream Society

Bronze Award

Amanda Dewi Nasya

Indonesia

7

Cleaning Squid Garbage and Pollution Car

Alejandro Jose Benalcazar Hidalgo

Ecuador

7

Ayubot

Anisu Delgerova

Czech

7

Around The World With Food

Nandun Hesala Wijerathne

Sri Lanka

9

Life change car

Elaine Chia-En Tsai

Taiwan

10

Taos' marine car

Kiddya Fasta Biul Ulum

Indonesia

10

Toyota Shoes Car

Zuzanna Kozak

Poland

14

Toyota the Forest

Jose Manuel Bastida

Canary Islands

13

Toyota Arctic Car

Kanungnit Bhosree

Thailand

14

Environmental Conscious Car

Akio Toyoda Award

Hye In Park

Canada

15

Dream Society

Engineering Inspiration Award

Minhal Adnan Sami

U.A.E.

9

Ecofix Car

BestFinalist

Luo-Tong Sim

United Kingdom

6

CHILDREN CHAMPION CAR

Wei Teng Liew

Malaysia

7

MY EXTREME MPV

Minh Pham Nhat Nguyen

Viet Nam

7

Super Toyota cactus car

Hana Moriyama

Japan

4

Mouth Cleaning Car

Minhal Adnan Sami

U.A.E.

9

Ecofix Car

Michael Hanyang Zhou

U.S.A.

11

Handicap-Friendly Cleaning Car

Anjali Kedia

Nepal

11

Rain Water Collector

Kasadun Gayendra Rajapaksha

Sri Lanka

11

A People Saving From Landslides

Ioana Vallimarescu

Romania

13

Toyota Books

Isaiah Wamukota Malunga

Kenya

13

Fire Rescue Car

Katya Ludick

South Africa

14

Chameleon rider

Araya Tachawongchimplee

Thailand

13

Camouflage Car
*Age noted on this press release is based on apply document
Dream Car of the Day Campaign
93 artworks consisting of one or more entries from each of the regional contests worldwide (including all award-winning entries from this year's world contest) are being posted on the campaign website as animated illustrations.

Campaign website: www.dreamcar-of-the-day.com
Facebook: https://facebook.com/ToyotaDreamCarGlobal
Twitter: https://twitter.com/ToyotaDreamCar
Instagram: https://instagram.com/toyotadreamcar/
National Contests for the 10th Toyota Dream Car Art Contest in 2016
Beginning in September 2015, Toyota will announce information regarding contests to be held in each country for the tenth Toyota Dream Car Art Contest, and will start accepting entries.
The winning entries selected in each country will be entered into the world contest. Gold, silver, bronze, and special award winners will be selected across the three age categories with an awards ceremony scheduled for August 2016.
Details will be announced at the same time on the Toyota Dream Car Art Contest official site.
Toyota Dream Car Art Contest official site: 
http://www.toyota-global.com/events/dream_car_art_contest/