Written by

Eloise Hurley Wellington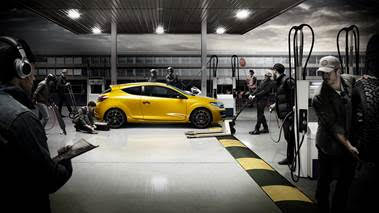 Melbourne, Australia – 27 August 2015 – The Hertz Corporation (NYSE: HTZ), the world's largest airport general use car rental company, has introduced Renault's high performance Megane R.S. 265 Cup vehicles to Australia's head-turning Adrenaline Collection.

"For renters looking to inject some exhilaration into their next drive, the Megan R.S. 265 Cup is the ideal choice. The unique and electrifying addition to the fleet demonstrates the continued effort by Hertz to provide drivers with the most diverse range of rentals available in Australia," said Damien Shaw, the Australian Country Manager for Hertz. "Stylish yet dynamic the R.S. 265 is one of the most exciting cars and best hot hatches available on Australian roads today."
The R.S. 265 is a bespoke sports car with razor-sharp steering and playful dynamics. It's a car that can be enjoyed on remote roads or in the heart of the city, making it a great choice for renters travelling to Australia.
Made for serious performance and for drivers who love to interact with the road, the R.S. 265 is a genuine enthusiasts' car. These vehicles are now available for short and long-term rentals from Hertz at all major cities and airports across Australia.
"We're proud to offer Australian renters the engaging and entertaining Renault Megane R.S. 265 Cup via Hertz," said David Henderson, Marketing Director, Renault Australia. "Australians love their sport cars and in 2014 Australia was the second highest selling country in the world for the award-winning Megane R.S. This dynamic car is already proving popular with drivers in Australia and we're sure it will be a valuable addition to the Hertz Adrenaline Collection."
The Hertz Adrenaline Collection includes high performance cars that have been selected for their sporty design and provide renters with a breath-taking driving experience. Hertz's other distinctive lines of specialist vehicles in Australia comprise the Prestige, Fun and Family Collections. 

Hertz customers travelling to Sydney, Melbourne Brisbane, Adelaide and Perth can select a Megane R.S. 265 Cup for their next rental by visiting hertz.com.au. After selecting the pick-up location and booking dates, the available R.S. 265 vehicles will be displayed.
About Hertz Australia (www.hertz.com.au)
Hertz operates its car rental brands in more than 10,300 corporate and licensee locations throughout approximately 150 countries in North America, Europe, Latin America, Asia, Australia, Africa, the Middle East and New Zealand. Hertz is the largest worldwide airport general use car rental company with more than 1,600 airport locations in the U.S. and more than 1,300 airport locations internationally. In Australia, Hertz has approximately 220 locations including all major airports, cities and a large number of regional towns. The fleet includes a range of well-maintained vehicles encompassing economy, intermediate and full-size cars as well as the Prestige, Fun, Famiy and Adrenaline Collections. In addition, minivans, 4WDs, trucks, mining and commercial vehicles are available to hire. As a global leader in its field, Hertz offers a range of innovative products and services including Hertz Gold Plus Rewards, the specially designed NeverLost® satellite navigation system in a range of languages, Mobile Wi-Fi and Premium Roadside Assistance.

Another article published in collaboration with MultiViw