Written by

Georgie Tennant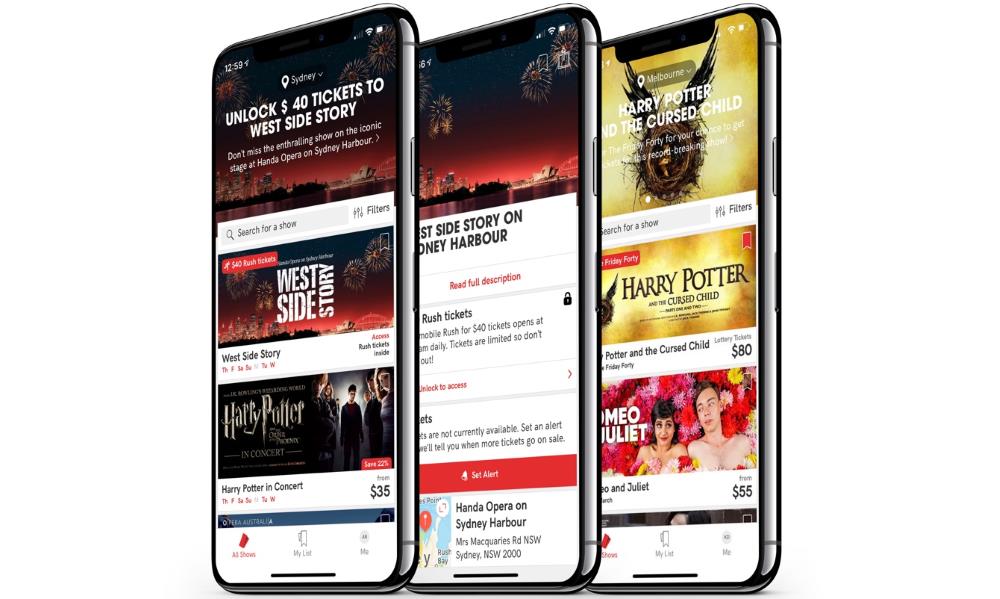 TodayTix, the global ticketing platform connecting audiences to live performances around the world, has launched in Sydney today, offering the first 'mobile Rush' theatre tickets in Australia in partnership with Opera Australia's West Side Story on Sydney Harbour.
Rush ticketing traditionally requires customers to arrive in-person at the box office the morning of a show to purchase same-day discounted tickets. By leveraging the TodayTix mobile Rush ticketing technology, West Side Story buyers can now purchase $40 Rush tickets (plus a $5 booking fee) directly through the TodayTix app, eliminating the need to queue up at the theatre for last-minute access on the day of the performance.


To 'unlock' mobile Rush tickets, TodayTix users are simply asked to spread the word on their social media account. Once unlocked, the $40 price point will be made available to in-app every morning of the performance, first come first served, starting at 9am.
TodayTix CEO and Co-Founder, Brian Fenty, said "Rush ticketing is an exciting cultural and traditional aspect of the theatre experience, but has only ever been accessible to people near enough to the theatre to line up in person. Our 'mobile Rush' program gives all audiences equal access to last-minute tickets, regardless of their location. This is just one of many ticketing options we will be rolling out in Sydney and beyond, as we partner with some of the country's best shows to give all Australians more affordable access to live theatre and entertainment."
Opera Australia's Head of Marketing and Tourism, John Quertermous, said "TodayTix has revolutionized the way that people buy tickets for performances all over the world.  We're so excited to be offering Sydneysiders and visitors the chance to see our first musical on Sydney Harbour, at an amazing price with an amazing new piece of technology."
TodayTix's arrival in Sydney follows a successful Melbourne launch in January which connected Melbournians with exclusive access to Harry Potter and the Cursed Child, Melbourne Theatre Company, Malthouse Theatre, and more.
TodayTix connects more than 5 million theatregoers worldwide to more than 1,200 live performance venues around the world and gives audiences affordable access to tickets up to 75% off the box office price. Through an emphasis on mobile technology, clarity on prices, and partnerships with the most in-demand shows, TodayTix connects young audiences with the arts, with Millennials comprising 65% of their customers.

TodayTix plans to expand in Brisbane in the coming months. For updates and to learn more, visit www.todaytix.com or download TodayTix for iOS or Android https://www.todaytix.com/x/sydney.
Tickets to West Side Story via TodayTix mobile Rush Technology


The TodayTix Rush technology allows users to simply 'unlock' the exclusive $40 Rush price point from anywhere, straight from a smartphone, eliminating the need to queue up at the box office.

Theatregoers can purchase the $40 tickets each performance day starting at 9am via the TodayTix app on a first-come, first-served basis

2 Ticket limit.

There is a $5 booking fee per ticket at checkout.

Rush tickets to West Side Story are available via TodayTix app for each performance.

West Side Story takes the iconic over-water stage at Handa Opera on Sydney Harbour, with famous songs including 'Tonight', 'I Feel Pretty' and 'America' ringing out into the balmy night air. Featuring fireworks every night and a pop-up venue with comfortable grandstand seating, West Side Story on Sydney Harbour will be a night to remember.

About TodayTix


TodayTix is a global ticketing platform connecting audiences to live performances around the world. Through effortless access to the best prices, insightful guidance to the top shows and thoughtful service at each moment along the way, TodayTix enables people to discover the best that their city has to offer. Operating in the world's most iconic arts markets, TodayTix secures the best discounted and premium-priced tickets available for the shows everyone is talking about in New York City, London's West End, Melbourne, Sydney Toronto, the San Francisco Bay Area, Los Angeles, Seattle, Philadelphia, Connecticut, Boston, Washington DC, Chicago, Houston, and Dallas-Fort Worth. Since launching TodayTix in New York City in December 2013 by life-long friends and Broadway producers Merritt Baer and Brian Fenty, the company has quickly amassed partnerships with more than 1,200 arts institutions globally. To learn more, visit www.todaytix.com or download TodayTix for iOS or Android.