Black tie is a dress code that stumps a lot of people. When those two small words are printed onto an invitation it often sparks confusion and panic amongst black tie novices. Black tie, after all, is synonymous not only with elegance and grandiose, but it is the crème de la crème of all formal dress codes. If you're asked to dress in black tie, you can be sure that the night in question will be a momentous one.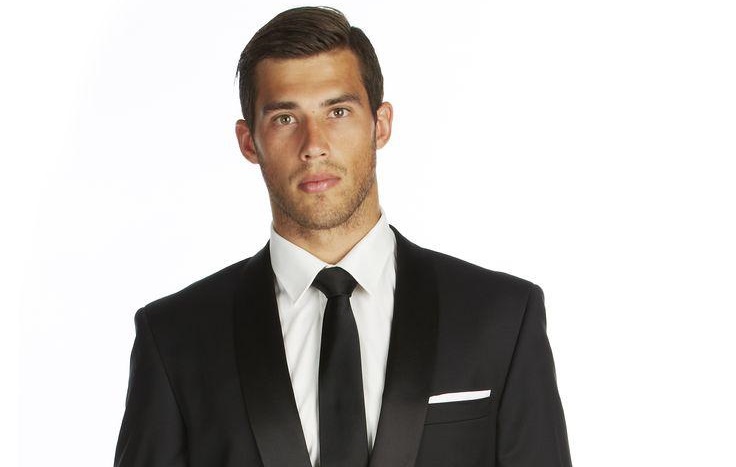 In short, dressing in black tie means looking your very best, from head to toe. It means glitz and glamour, clean cut lines, and smoothed to perfection. If you've received an invitation stamped "black tie" and are unsure what to do next, consider this your ultimate guide.
What events is black tie appropriate for?
There are a few important evening occasions where a person may be asked to follow a black tie dress code. These include award ceremonies, balls, galas and celebrations of grandeur, such as a significant birthday, lavish wedding or a milestone anniversary.
What do you wear for black tie?
Formal dress is an upgrade from your average day-to-day wear, and black tie is a step up from your standard formal wear. Here are the components both men and women should think about when putting together an outfit that adheres to a black tie dress code.
Black Tie: What Men Should Wear
The Dinner Jacket
Black tie calls for a silk-lapelled dinner jacket. There are three different types of lapels that can be found on a dinner jacket - the notch lapel, the peak lapel and the shawl lapel. The shawl lapel, found on a tuxedo, is the most formal of the three as it has the deepest V. Therefore when shopping for a dinner jacket, opt for the shawl lapel to hit the criteria.
Another pointer to note is that the term black tie is actually deceiving. Black tie dinner jackets are traditionally a deep blue shade, not black. This is because in dim lighting (aka in the setting of a suave and sophisticated nighttime soiree) midnight blue actually looks darker than black. So, for maximum effect, go down the traditional route and wear a midnight blue dinner jacket.
The Shirt
A black-tie shirt is known as a dress shirt. They are very formal in style, complete with pleats and a winged collar. A dress shirt should also have holes in the sleeves where you should add cufflinks. Cufflinks are a must when wearing a tuxedo, but don't feel like you need to go over the top to make a statement. Often, the more simple the better.
A dress shirt looks good with white buttons, but if you are wearing a cummerbund with your shirt, the buttons should be black.
The Cummerbund
A cummerbund is a wide black belt-like accessory that is worn on top of a dress shirt and hides the waist to accentuate the V shape. Wearing a cummerbund is not mandatory, but it is incredibly traditional.
The Waistcoat
If wearing a cummerbund is not for you, an alternative is to wear a waistcoat. Like a cummerbund, a waistcoat conceals the waist and brings the focus to the deep, sophisticated V. Nowadays, most men will opt for a waistcoat when dressing in black tie as it looks more modern.
The Trousers
When it comes to putting a black tie ensemble together, the trousers are, in theory, the least complicated aspect of the whole outfit. Simply ensure that the trousers match the dinner jacket and fit correctly, and you'll be onto a winner.
The Tie
The tie is a staple of a black tie dress code. Colour variations can work if done right, and you should be sure to hand tie it.
The Shoes
Shoes that look best with a formal outfit are patent smart shoes. Black is the safest bet, too.
Black Tie: What Women Should Wear
For women, the black-tie dress code offers a few attire options. It's customary to wear a gown to match the formality of men in tuxedos, however, there are some exceptions.
The Gown
Being expected to wear a full-length gown to a formal affair may conjure up images of A-list celebrities on the red carpet dressed up to the nines to attend various galas, parties and award ceremonies. This, indeed, is the best show of black tie dressing.
Gowns are inherently elegant. Their long lines and layers of floating fabric flatter many body types and create beautiful silhouettes in the evening light.
The Cocktail Dress
If you receive an invitation to a formal event and it says "Black tie optional" you can choose to wear a cocktail dress instead of a full-length gown. However, you should be careful that the cocktail dress is still formal enough to stand up in a room of tuxedos and gowns.
Your cocktail dress can be short, but shouldn't be too revealing. To make it feel more formal, you should opt for a cocktail dress that is black, metallic or jewel-toned. These shades are richer and smarter.
You can also dress up a more casual cocktail dress by putting your hair in a sleek updo and accessorising with luxe shoes and a clutch bag.
The Two-Piece
If neither a gown or a cocktail dress is for you but you still want to be the right degree of formal, you could wear two separates. For example, you could wear a chic blouse or wrap top with a full skirt. Or, you could wear a co-ord, so long as it's smart enough.
Conclusion
The black-tie dress code simply translates to "men are to wear tuxedos". The dress code itself is actually less about a woman's attire, but as long as a woman is formal enough to not look out of place next to a tuxedo, she will appear to have nailed the dress code.
And, if in doubt, think James Bond, and you'll be well on your way!