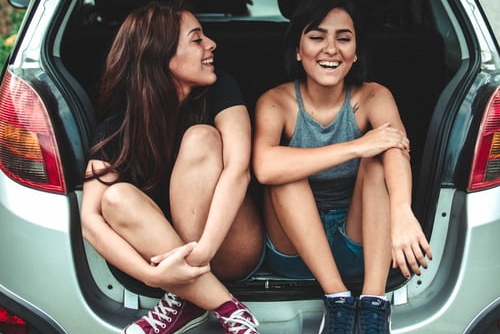 You probably know that a great road trip provides the level of adventure and pleasure like few other things. Not only do you get a lot of freedom, but you might also realise that it's much cheaper to drive and enjoy the scenery than stay at a mid-range hotel in some popular town. Finally, this is one of the best ways to really get to know a different country and culture and you can pretty much take a road trip everywhere in the world, which is why we've compiled this list of suggestions, covering most of the continents. So, take some time to make a decision and get your car ready for what could easily be the best holiday you've ever had.
The Silk Road, China
Why not take the famous international route that connected China and the Mediterranean and which was used for two millennia to connect these remote parts of the world? Today it's one of the most attractive routes and even if you don't drive all 4,000 miles across several countries, you still might be able to enjoy the experience. If you're pressed for time, you can focus on Northeast China and explore some of the most evocative sites of the Silk Road. Don't miss a chance to visit Mogao Caves, a giant complex with 492 Buddhist cave temples. A two-hour drive from there would take you to the Yumen Pass (also known as Jade Gate), which is the extension of the Great Wall. Heading south, towards Zhangye city, you'll be able to visit the Rainbow Mountain in the Danxia Scenic Area, known as one of the "Top 10 Geographical Wonders of the World" by National Geography.
The Great Ocean Road, Australia
One of the  most scenic routes in the world will take you through historic seaside towns and along gorgeous beaches and breath-taking national parks. The Great Ocean Road starts at the town of Torquay, just over an hour's drive from Melbourne. There is Bells Beach, one of the world's greatest surfing beaches. Within the Great Otway National Park, you can find some spectacular waterfalls. To visit these great places, make sure your car in the perfect condition. Luckily, even if you realise there is a problem, you can get the right motor accessories while on a road trip down under. Finally, try to avoid summer, since the temperatures are very high and the road is clogged with traffic. Instead, opt for winter and you might see whales out at sea during the breeding season.
Oahu, Hawaii
There are many good reasons why so many people flock to these islands all year round, and stunning scenery is definitely one of them. You can visit the Dole plantation farm and tour around the farm and visitors centre to get a history of pineapples grown on the island. Also, you can visit the town of Haleiwa and try out the fantastic local foods or just hang out at iconic beaches, such as Waimea or go snorkelling at Sharks cove. You can take a drive around the island at your own pace and enjoy the gorgeous beaches and coast views and drive and even stop at the Polynesian cultural centre for some enjoying the history and culture of the islands.
London to Edinburgh, UK
If you're looking for a combination of amazing natural and historic sites, look no further than this route. This drive will take you through most of England and you'll be able to visit York, Liverpool or Manchester, as well as some beautiful UK national parks, such as the Lake District, Peak District, or the Yorkshire Dales. If you've been keen to explore England and southern Scotland and love a good road trip, then you absolutely have to make sure to plan a drive from London to Edinburgh soon!
Bucharest and the Transylvanian Region
Romania might not be regarded as a great destination for a road trip, but that is only because most people don't what this amazing country has to offer. From Bucharest, drive north to Transylvania, famed for its association with the legend of Count Dracula. You can stop at iconic Bran Castle, which resembles Dracula's Castle in Bram Stoker's novel. Once you find yourself deep in the mountains of Transylvania, visit the colourful Old Town and Gothic churches of Brasov, the well-preserved medieval town of Sighisoara (the birthplace of Vlad Dracula) and the charming 12th-century town of Sibiu. To round things off, take on the long and epic road through the stunning Carpathian Mountains, voted "the best road in the world" by Top Gear, back to Bucharest to end the road trip.
So, think about these road trips and start planning. Once the pandemic is over, you'll need some great experience to help you get back to normal.