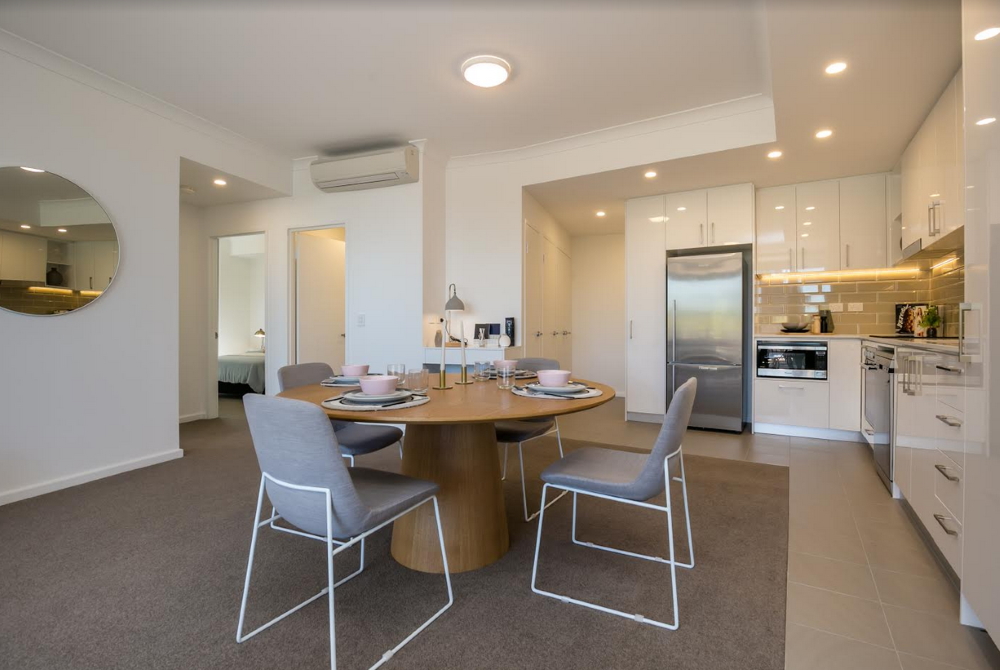 Deciding to buy an apartment is a big moment. Whether you're taking the plunge with your first home or just want to live it up with a modern inner city lifestyle close to cafes and culture, your mind is no doubt brimming with anticipation. You've pondered it, wondered it, discussed it and dreamed it – now it's time to plan it.
This guide will walk you through all the ins and outs of apartment buying, from where to buy and how to pay for it, to rundowns on already built, off the plan, strata and settlement. It's a must-read before embarking on your journey, arming you with the knowledge you need to make a well-informed decision.
Working out where to live
It's easy to be seduced by ritzy rooftop bars, resort style pools and boutique cinema rooms. Yet apartment living is really influenced by everything outside of where you live, making location an especially important decision. You want to be within walking distance, or at least in close proximity, to the things that matter most in your life.
Begin your journey by writing a list of all the things you need close to your apartment. This will help you narrow down your search.
Location checklist:
*  CBD (or business hub)
*  Entertainment
*  Cafes and restaurants
*  Nightclubs
*  University
*  Schools
*  Hospital
*  Library
*  Parkland
*  River
*  Beach
*  Sporting facilities
*  Train stations
*  Transport networks
*  Shopping centres
*  Family
*  Friends
*  Views
Deciding between off the plan vs already built
There are two ways of buying apartments – already constructed or off the plan.
There are some obvious advantages of purchasing an apartment that's already built:
*  You can see, touch and experience your apartment in person
*  There are often less apartments to choose from (so you won't be overwhelmed)
*  Peace of mind knowing you can buy now and move in sooner.
Buying an apartment 'off the plan' is a little different as it involves signing a contract before the development has been built. It may seem strange but this is actually very common as most developers need to reach pre-sales before they can commence construction.
There are many advantages of buying off the plan:
*  The earlier you buy the more freedom you may get in making changes
*  More choice of floorplans, bedroom configurations and levels
*  Ability to customise your apartment's colour scheme
*  Potential to request accessibility and functionality elements
*  You only have to pay a deposit between signup and settlement (the balance is not payable until the build is complete so you can lock in yesterday's pricing)
*  Your deposit is placed in an interest bearing trust account with the interest credited to you at settlement
When embarking on your apartment search make sure you're comfortable with the purchasing arrangements of the development you're looking at.

Breaking down the buying process
Buying an apartment
off the plan is quite different to your traditional home. It's a good idea to get your head around how it all works so you can buy with confidence.
1. Do your research
Visiting the sales office is your opportunity to gather more information about the apartment development. Here you can read brochures, browse floorplans, be inspired by artist impressions and use aerial photos to get a deeper feel of everything. Remember – it's up to you to be full bottle on all the finer details of the apartment, so be sure to research all the inclusions and level of finishes. That way you'll feel confident about taking the next step.
2. Seal the deal
At this point you'll want to dot your i's and cross your t's by ensuring your contract contains everything you want included in writing. Read the contract carefully – it will contain extensive details of the apartment, from price, location plan and proposed building by-laws, to legal terms, Body
Corporate budget and strata fees (more on that later). Once your contract has been counter-signed by the developer and returned to you it is valid and binding, so be sure you're happy with everything.It is important to remember that most apartment purchases are unconditional, meaning the contract will not be subject to finance approval. .
3. Organise your cash deposit
You'll usually need a 10% deposit, which will be placed in an interest bearing trust account. On settlement, the deposit forms part of the purchase price. If for any reason the development doesn't go ahead you will receive your deposit back with interest - talk to your banking institution regarding fees, settlement and reimbursements.
4. Pay the balance of your apartment
You pay the remaining balance of your apartment at settlement, once it's completed and ready to move into.
5. Choose your colour schemes and upgrades
You usually select a colour scheme or purchase certain upgrades when you sign your contract. If not, a specific date to make these selections will be provided by the developer. Just be sure you understand what is included in the apartment price so you don't get carried away on expensive up specs!
Getting smarter about strata
By now you've probably heard the term 'strata' – but what is it? And how does it affect your apartment purchase?
Most apartments are owned within a strata title scheme. In simple terms, this means owning a share in all the communal spaces within the building, from the lift, to the pool, gyms, gardens and corridors. The ultimate goal is to protect the long-term value of your asset by ensuring all shared facilities and spaces are immaculately maintained.
Here's a quick rundown on strata:
*  As an apartment owner, you automatically become a member of your building's strata group, known as the body corporate (Queensland), owners corporation (NSW and Victoria) or strata company (WA).
*  As a member, you pay 'strata fees' - annual contributions that cover the costs of running the building (e.g. building insurance and maintenance)
*  You are also involved in creating and enforcing rules (like smoking and pets)
*  Your contract of sale or title documents will outline how much you pay
*  The strata group may decide to engage a Strata Management Company
*  Your Strata Manager is responsible for organising things like maintenance, repairs, AGMs and fee collection
*  A secondary group of owners is elected at the AGM to make decisions for the group in the best interests of the building, usually known as the strata council.
It's important to note that each state has its own strata laws – there are no cohesive strata standards across Australia. Be sure to learn the specific strata rules governing the apartment you are interested in. Find out more here.
Pindan – your apartment-purchasing partner
The best way to make sure your apartment buying experience is smooth and hassle free is to partner with an experienced developer and a quality builder.
At
Pindan
, our reputation for developing and building high quality new apartment developments is second to none. It's not just what we do – it's how we do it. Our Building on Partnerships ethos has guided us for over 40 years, ensuring we make the buying experience memorable for all the right reasons. Together we will help you navigate the transition from home ownership to apartment ownership with ease.