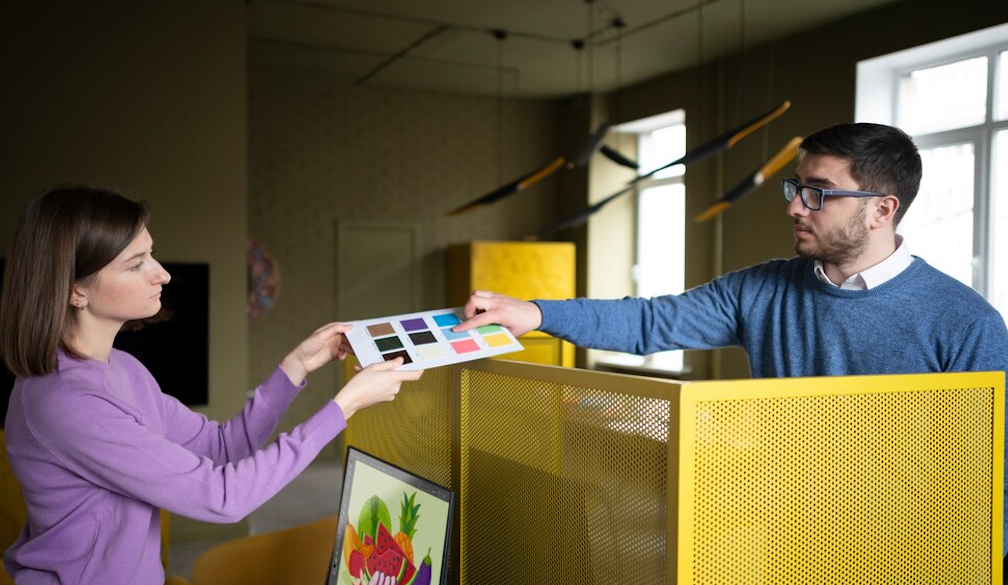 Maybe you've just completed your undergraduate thesis, or maybe you're further on in your career and you're looking into research paper printing and binding. You're keen to hand it in but the first things you'll have to consider are practicalities: where do you get the printing done? How? There are then a range of creative choices you'll make in order to present the fruits of your labours in the most appealing and appropriate way. 
Expert Guidance on All Things Printing and Binding
If you haven't worked in the print or copy shop industry and you're new to producing your own work in this way, you'll need a bit of guidance on how to choose everything from how your thesis is bound to weights of paper and other print issues. No worries- that's exactly what this guide has been written for. 
Printing My Thesis: The Main Considerations
Put simply, printing your thesis comes with three main considerations:
Black and white vs colour (not just an artistic choice, but could have a meaningful effect on tables, infographics, etc)

Paper type and weight

Budget.
To help you think about all of these factors, we've put together this chart alongside some industry-insider hint and tips to guide you towards the best choices for your particular piece of work.
| | |
| --- | --- |
| What you need to consider when printing your thesis | Hint |
| Black and white or colour. This seems like a simple choice, and budget constraints often mean that students opt for black and white over colour printing. | Colour printing can help make tables and graphics clearer and easier to interpret. Know your field though – in some subjects a colourful thesis won't be taken as seriously. |
| Paper choice: Often, the default paper choice is 80 g/m². This is usually a cheaper choice but it's pretty thin and your print will show through to the other side. | If possible, see if you can compare papers of different weights before you commit. 100 g/m² paper could figuratively (and literally) make your thesis more weighty. |
| Cost and budget: The amount you'll end up paying will obviously depend on thesis length as well as paper choice and colour or black and white printing. | Get a few quotes if you can and compare what you're getting for your money. If you opt for colour printing, try to find a provider who doesn't charge extra. |
Why does Binding Matter?
It matters because different types of thesis come with different types of expectations. A basic spiral binding is generally enough for shorter papers or essays that haven't taken months (or years) to write, while if you're handing in a research paper or even a Ph.D, you don't want to give the impression you don't value your work enough to have it presented appropriately.
In the case of more lengthy work, for example a Master's thesis, the most dignified choice is often leather for the cover – but as we'll consider later, there are other options too. Softcover and thermal binding can also be great choices in the right context. The goal is to match the work and formality of your thesis in the way you present it.
Hint:
Your college, university, or other educational institution will likely have its own style guide or rules that govern how different types of theses are to be printed and bound. Remember to check what's required before splashing your cash and printing.
There's a lot riding on your printing and binding choices, which is why we want to help guide you through the maze.
So How Do I Choose the Right Format for My Final Paper?
Detailed descriptions of options for your work are given below – take a glance and see which best represents your type of thesis. 
The Sophisticated Option – Leather Binding
It's hard to beat leather binding when you've produced a major piece of academic work. This type has a lot of gravitas and really shows that you've taken pride in what you've produced. Some printing providers (such as BachelorPrint) will give you the option of classy add-ons such as corner protectors, bespoke embossing, or even a bookmark. Whether you keep it simple or add extras, leather definitely says: I'm serious about my thesis.
Leather Binding is Probably the Right Choice for Submitting:
Postgraduate theses

Research papers

Dissertations

Undergrad and Master's thesis
The Advantages of Thermal Binding for A Thesis
This type is understated but still does a great job at presenting your work in a tidy, professional way. Thermal also works well in a lot of academic situations and has a lot to recommend it- it's got a clear front cover, for a start, which protects your manuscript and immediately displays your name and thesis title. The back cover is usually in mock-leather, available in your choice of colours.
Pro tip: We would usually recommend this type for shorter work, and when you have to produce several identical copies.
Softcover Binding
This type gives you full creative control over your thesis' look and feel, from font to graphic choice. We would always recommend a more muted approach – trying to make your thesis look "fun" is unlikely to go down well in academic circles.
Pro Tip: Softcover binding has a page limit, so it's most appropriate for shorter work. 
Ever-Popular Spiral Binding
This type is usually the cheapest. It's simple, but it still allows you to present your work in a way which shows care. Like thermal binding, it uses a clear plastic front cover combined with a leather-look back cover, but the pages are held together using metal or plastic spirals, rather than glue.
Pro-tip: Spiral works brilliantly for many projects, but as the least formal option you might want to choose something else for dissertations or other really serious submissions. 
I Know What I Need! So Where Do I Go?
Twenty years ago or more you wouldn't have had much choice: your university's copy shop would have been the only show in town. These days, an experienced and trusted online provider like BachelorPrint can give you everything you need – with the great advantage being that you can simply upload your thesis and the finished article will be delivered directly to you.
The Ease and Benefits of Ordering Online:
Superfast free shipping – even if you're working close to your deadline, your thesis can still be ready on time
An online shop that gives you a 3D image of your thesis in its binding so you can be confident in what you'll receive
Prices that work with the student budget (and use of high-quality materials such as paper and printing ink). 
Your Thesis, Your Specifications
Whether you're submitting your first undergrad or college paper, or you're already working at Master's level, you'll want to make sure that the final look of your thesis doesn't let you down. Using a trustworthy, quality service such as BachelorPrint means you can make all those choices that will affect how your work is perceived – and you can do it from your bedroom. This guide will hopefully have opened your eyes to the options you have – and whatever you choose, we'd like to wish you good luck with your thesis - and a bright future, wherever it may lead.