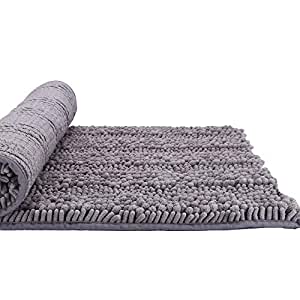 Decorating your bathroom doesn't finish with the paint choice or tile colours. You can change the whole room with the change of your towel set. There are no rules that say that you need to have a matching bathmat to the rest of your bathroom set.
Mix things up a little and look for something that is quality and something that will last. Having a weighted bathmat can increase the safety element by not slipping around the room when you stand on it.
Matching set with your bath towels, they are easy to wash and dry, to be able to present a beautiful matching bathroom. Cotton is the perfect material choice, its simple to wash and therefore easy to manage.
A bathmat is something that you stand on, generally with nothing on your feet, so it's worth getting something of quality, beautifully soft, plush and absorbent. Also, the size of your cotton bathmat is very important as you don't want to step out of the shower and splash everywhere, so looking for something that is a generous size important.
Your bathmat can be made from an array of materials, from memory from memory foam to wool and cottons. To make life easier, a cotton bathmat can be easily washed and dried and can be hung after each use, giving the bat mat a longer use time compare to other materials.