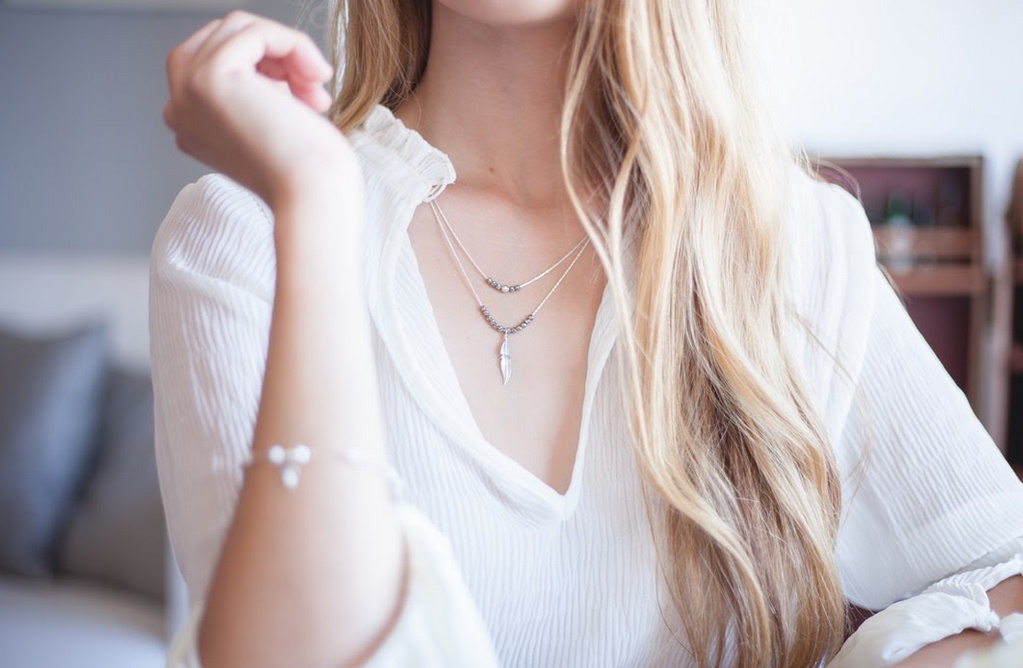 Wearing the right necklace takes your outfit from basic to fashionable. Accessorizing is a great way to complete any ensemble, but it takes some practice to learn about which necklace goes well with a specific type of outfit. And you'll have to find a jewelry brand that offers the styles you need to up your fashion game. You'll be glad to find that Kendra Scott offers a jewelry collection with necklace styles ranging from timeless to trendy. Everything you want out of a jeweler can be found at Kendra Scott.
Keep it simple and classy.
When it comes to jewelry, you'll want to start off your collection with necklaces that go with a classic look. You can begin with a simple gold necklace like the Nola Gold Pendant Necklace in Iridescent Drusy or a silver necklace like the Merrick Chain in Silver. This is especially helpful if you're just now starting your collection of high-quality pieces. Keep the silhouettes simple and minimal. Try to build your collection starting with timeless pieces that easily go with everything. You'll find that versatility is important! While you might feel tempted to go for something bold from the get-go, you should reach for the classics first to avoid buyer's remorse. Once you feel comfortable with branching out, then you can look at fun pendants and colors.
Make a statement using colorful and trendy pieces.
Now that you've established your foundation, it's time to branch out and look for fun pendants and styles to really make a statement. Check out the Elisa Gold Pendant Necklace in Emerald Cat's Eye for a fun pop of color in your outfit. Or, you can choose a whimsical necklace like a multicolored choker to channel the Y2K trend. If you're looking to make a statement with your street style outfit, you might want to look into the Dog Tag 18k Gold Vermeil Charm Necklace in Ivory Mother of Pearl. It's the perfect mix of rough with the chain but also delicate with the pearl accent. If you really want to be bold with your pendant necklaces, the Layton Gold Statement Necklace in Red Oyster adorns your neck with ruby red tones. It's a summertime statement with its linear shell pattern.
Layer with purpose.
Kendra Scott also has everything you need for a layered look. Choose a shorter necklace like the Angie Heart Bright Cut Pendant in gold vermeil, then pair it along with longer pieces like the Kassie Chain Necklace in Gold. If you're fond of this trend, you typically want to stick to one type of material. People don't often mix gold and silver necklaces when layering because it takes too much attention away from each piece. You'll want them to be complementary. Kendra Scott makes it easy with multistrand options as well. That way, you won't have to pair your own pieces to achieve the look. Check out the Marisa 14k White Gold Multistrand Necklace in White Diamond or the Emilie Rose Gold Necklace in Sand Drusy.
At Kendra Scott, you can shop the latest trends, classic styles, and everything in between. They have all the styles you want, including long strand, lariat, pendant, chain, and choker. Because they offer such a variety, you're sure to find the perfect necklace for your unique style. These pieces boast inspired designs that are made to empower women to feel beautiful and confident. You can even add a few finishing touches. Design your own jewelry by personalizing and engraving your picks. The website also has an assortment of boxes and organizers to store your valuables. Whether you're feeling classy or fashion-forward, Kendra Scott has the perfect accessory for your style.