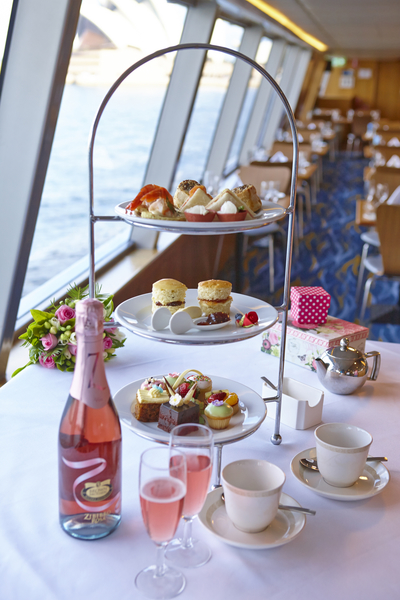 Due to the overwhelming popularity of Captain Cook Cruises High Tea at Sea cruise, extra departure days have been added to the High Tea cruise schedule.
In addition to the High Tea at Sea Cruise operating every Wednesday and Saturday, this much loved cruise will also depart every Tuesday, Thursday and Sunday at 2.30pm from Jetty 6, Circular Quay.
High Tea at Sea is held aboard the prestigious MV Sydney 2000 and features a gourmet High Tea menu designed by MasterChef Series One Contestant, Lucas Parsons and Captain Cook Cruises Head Chef, Dennis Yang.
The High Tea menu includes a variety of savoury and sweet foods such as Crystal Bay prawns on dill blini crème fraiche, porcini mushroom, chilli jam and spec pork sausage rolls, caramelized onion, beetroot, goats cheese baby tartlet chervil, mini scones with strawberry jam and vanilla cream, glazed mango and coconut custard tartlets, chocolate dipped strawberries and assorted Petite fours and truffles.
The cruise also includes an extensive tea menu with 15 different teas to choose from including Blue Mountain, Chai, English Breakfast, Russian Caravan and Lemon and Ginger to name a few.
According to Richard Doyle, Head of Sales and Marketing at Captain Cook Cruises "High Tea at Sea was always a popular cruise, and the increase in demand for this special product has lead us to introduce additional days of operation." 
"Who wouldn't love cruising on Sydney Harbour, enjoying the amazing sights, with a delicious high tea as well?  It certainly is a great way to spend your afternoon, be it with family or friends" continues Mr Doyle.
Captain Cook Cruises High Tea at Sea is priced at $59.00 per person and includes a glass of delectable bubbles and million dollar views. The cruise departs Jetty 6, Circular Quay at 2.30pm every Tuesday, Wednesday, Thursday, Saturday and Sunday.
For further information and bookings, please contact Captain Cook Cruises on
T: +61-2-9206 1111 or visit www.captaincook.com.au