Written by

Stephanie Maguire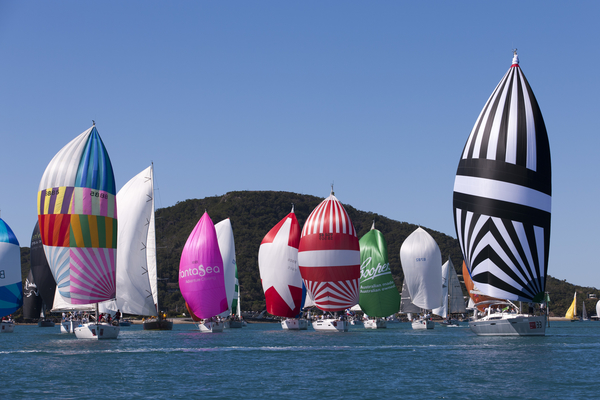 The 32nd Audi Hamilton Island Race Week is set to be one of the biggest yet, with the crews of 202 racing and cruising yachts hitting the shores of Hamilton Island from August 15th to 22nd.
As one of Australia's premier social and sporting events, thousands of visitors, celebrities, socialites and sailing identities from around the globe will descend on Hamilton Island to enjoy a variety of on- and off-water events and activities.
This year Audi Hamilton Island Race Week will host the second largest regatta fleet in its history with 1,600 people competing in the international sailing event; an increase of entries by almost 13 per cent from 2014. South Australian, Victorian and Queensland visitor numbers are up considerably for the regatta, with increases of 150%, 35.7% and 19% respectively compared to the 2014 event.
Hamilton Island's CEO, former Olympian and world champion sailor Glenn Bourke, said Race Week organisers were looking forward to hosting more guests at Hamilton Island than ever before.
"Each year Audi Hamilton Island Race Week attracts skilled yachtsmen from Australia and around the world, to compete in what is the country's largest offshore yachting regatta," Mr Bourke said.
"Such is the popularity of Race Week that Hamilton Island is at 100% capacity for the week. The increase in visitor numbers is expected to continue for the remainder of 2015, with Hamilton Island's capacity levels projected to be at 90 per cent."
Mr Bourke said Race Week would shine the spotlight on Hamilton Island as a world-class holiday destination for Australian and international visitors, and Hamilton Island was committed to ensuring it remained as such through investment in on-Island events.
"Hamilton Island prides itself in hosting large-scale events such as Audi Hamilton Island Race Week. It allows us to access and attract new visitors, who we find return to visit the Island time and time again. With this in mind, Hamilton Island are focused on delivering world class events, to ensure a great return for both the Island and the wider Whitsundays region."
"As organisers, we are well aware of the effort all participants, their families and friends go to, just to be with us each year. It is this commitment that drives Hamilton Island to work harder so every Audi Hamilton Island Race Week is bigger, better and more fun."
Hamilton Island's promise to set new standards in the world of sailboat racing has certainly been delivered with Wild Oats X, Ichi Ban and the Sydney to Hobart overall winner Wild Rose, set to compete in the six-day regatta open to cruising and sports boats, cruising and racing multihulls, trailerables, and Grand Prix racers. The 200th entry for Race Week was received over the weekend, with Victorian yachtsman David Perkins and his crew set to compete on his Jeanneau 54, Vanilla, before continuing on a cruise through the Pacific.
Audi Hamilton Island Race Week blends the best in food, fashion and sailing together to create a one-of-a-kind bucket list experience. For those visitors not watching the water, on-shore activities include the Piper Heidsieck champagne lunch, the exclusive launch of Nautique by Paspaley at the Paspaley Luncheon, and the return of the NET-A-PORTER.COM cocktail reception for the second year in a row. In attendance will be Audi Ambassador Collette Dinnigan and Chefs Guillaume Brahimi, Shannon Bennett and Kylie Kwong.
Notes to editors:
Hamilton Island is located off the Queensland coast of Australia, within the Whitsunday Islands at the edge of the Great Barrier Reef. Here visitors can experience everything that is great about Australia – natural landscapes, calm turquoise waters, secluded beaches, beautiful weather, fascinating coral reefs, diverse flora and fauna. Hamilton Island offers a wide range of accommodation options, not to mention over 60 activities and all within a short direct flight from Sydney, Melbourne, Brisbane or Cairns. There are also great connections from other Australian cities. www.hamiltonisland.com.au