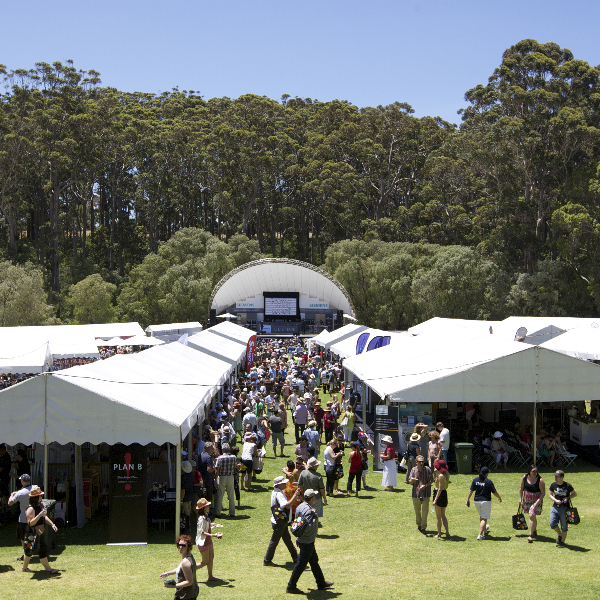 In this month's edition of This is WA, read about a campaign encouraging Sir Richard Branson to visit the Margaret River Region, the cast revealed for the movie adaptation of Jasper Jones, new interactive sessions at Margaret River Gourmet Escape and the music and comedy line-up for Rottofest 2015. There's also all the latest news on WA tours, accommodation, food, wine and events.
What's Hot
Help Margaret River get #RichardtotheRegion
The owners of Margaret River based olive oil and skincare company Vasse Virgin have extended an olive branch to Sir Richard Branson, following a recent legal battle victory with Virgin Enterprises Limited who challenged the right to their name and logo. Edwina and Louis Scherini have launched a campaign to invite Sir Richard to the South West region to indulge in some of the activities he's a fan of, such as kitesurfing and wine tasting. A YouTube video has been created by Margaret River locals inviting Richard to the region, while hashtag #RichardtotheRegion is being spread across social media networks in the hope of reaching the man himself.
https://www.youtube.com/watch?v=2oiD7nXqH 
Jasper Jones cast revealed at CinefestOZ
The cast has been announced for the movie adaptation of Craig Silvey's best-selling Australian novel, Jasper Jones, which will be directed by Rachel Perkins (Bran Nue Dae, Radiance). The cast will include Australian actors Levi Miller (upcoming Blue Dog), Angourie Rice (These Final Hours) and Aaron McGrath (Glitch). Jasper Jones is a coming-of-age story that follows 14-year-old Charlie Bucktin over the summer of 1965, as he gets caught up in the aftermath of a murder and small-town racism. Filming is scheduled to commence in October in WA's south west.
Perth announced in top 10 best cities
Perth has been listed as the world's eighth best city in the world to live by the Economist Intelligence Unit. The latest Global Liveability Ranking rates cities out of 100 in the areas of health care, education, stability, culture and environment and infrastructure. As Australia's sunniest capital city, Perth is an ideal place to live, work and visit. In the next few years the city will be home to a brand new billion-dollar waterfront development, underground train line, sports stadium, transformed Perth Airport, a new museum, outdoor community spaces and several new hotels.
www.eiu.com/home.aspx 
Halliday ranks Fraser Gallop among the best
Margaret River's Fraser Gallop Estate has once again been awarded five red stars by one of the country's most revered wine critic's James Halliday in his 2016 edition of the Wine Companion. The estate's 2013 Parterre Semillon Sauvignon Blanc was awarded a whopping 97 points, making it the equal best SSB blend in the country. The newly released 2012 Parterre Cabernet Sauvignon was awarded 96 points, while the 2013 Parterre Chardonnay received 95 points. Visitors can enjoy the estate's fine wine on a Margaret River Discovery Tour, or at one of its Margaret River Gourmet Escape events including Fraser Gallop's Sundown Soiree and a Long Table Lunch.
www.frasergallopestate.com.au 
Guilderton awarded Australia's cleanest beach
The town of Guilderton, located a one and a half hour drive north of Perth, has won the national 2015 Australian Clean Beaches Award. The national Keep Australia Beautiful title was secured over finalists from across Australia and recognised the small town's renowned sparkling, clear water and coastline. It also acknowledged the community's proactivity and support in keeping Guilderton's coastline beautiful. Guilderton is located at the mouth of the Moore River in the Shire of Gingin, and is built around an intact coastal estuary system on the Swan Coastal Plain, where sweeping white sandy beaches give way to tranquil estuary habitats teeming with fish and wildlife.
Lifestyle and Culture
Putuparri and the Rainmakers wins CinefestOZ Film Prize
Putuparri and the Rainmakers, directed and produced by Nicole Ma and produced by John Moore, has been named the winner of the 2015 CinefestOZ $100,000 Film Prize – Australia's richest film prize. Ma and Moore were presented with the film prize at CinefestOZ's Gala Night celebrations in Busselton, located a two and a half hour drive south of Perth. The film tells the story of the troubled Tom 'Putuparri' Lawford and his reconnection to the land of his people. Australian actor David Wenham attended this year's festival as Jury Chair for the CinefestOZ Film Prize, while Hugo Weaving was this year's CinefestOZ Screen Legend, and recognised for his achievements as an Australian actor.
 www.cinefestoz.com 
Emergence Creative announces festival dates for 2016
Emergence Creative will take place between Wednesday, March 16 and Saturday, March 19 in 2016. Each year, creative entrepreneurs, thought leaders, change-makers and professionals from music, film, advertising, digital and the visual arts descend on Margaret River for a world-class conference embedded in a mind-blowing creative festival. Join the mailing list to stay up-to-date with program and ticket announcements.
www.emergencecreative.com 
Be inspired at the Kimberley Writers Festival
There will be plenty of inspiration for book and writing lovers at this year's Kimberley Writers Festival, taking place in the stunning Kimberley region from September 11 to 13. Celebrating its 10th year, the festival will feature some of Australia's most popular writers and actors. Highlights of the festival include a literary luncheon at the Kununurra Country Club with William McInnes, David Whish-Wilson and Ian Reid; free sessions for kids with children's author Wendy Binks and Ken Spillman; a champagne brunch Ord River cruise; a concert at Emma Gorge with Tura New Music; and an afternoon sharing stories with Mirima elders. www.proximitywa.org/festivals/kununurra/ 
Music and comedy collide at Rottofest
Rottnest Island's annual comedy and music festival, Rottofest, has announced its 2015 line-up, with 18 comedy performers and 11 music acts set to entertain across four venues on Saturday, September 19. This year's headline comedy acts feature Triple J Breakfast presenter Matt Okine, Irish-born Dave Callan, American comedian and TV star Eddie Ifft and Australian comedy legend Fiona O'Loughlin. Set against the backdrop of Thomson Bay, Rottofest's music line-up boasts an eclectic mix of acts including electronic dance trio Art vs Science and hip hop crew Jackie Onassis. Festival tickets are on sale now, and Rottnest Express is providing discounted return ferries to the festival, including a special late night ferry service back to the mainland. www.rottofest.com.au 
Food and Wine
New interactive sessions for Gourmet Village 2015
There will be a host of new interactive attractions in Margaret River Gourmet Escape's Gourmet Village this year. Discover the secrets behind what makes a brilliant wine at The Wine Lounge, indulge and celebrate the local craft breweries in beer and cider masterclasses at the Gourmet Village Brewhouse, and enjoy a hands on class that will give participants a look into the world of fermenting, pickling and preserving foods at the Fermenting Workshop. This year's Gourmet Village will boast more than 70 wineries, 80 artisan producers and 54 star chefs and wine experts on Saturday, November 21 and Sunday, November 22. http://www.gourmetescape.com.au/programme/wine-lounge/  
http://www.gourmetescape.com.au/programme/brew-masterclasses/  
http://www.gourmetescape.com.au/programme/fermenting-workshop/ 
Margaret River's newest bar and bistro opens for business
The Common, located in Margaret River, is open for business following a $300,000 fit-out and eight weeks of construction. Owned and operated by the Margaret River Hospitality Group (MRHG), the new venue is a cool yet comfortable casual bar and bistro with a focus on locally brewed craft beer, delicious bistro food and has wine served on tap. MRHG Executive Chef Tony Howell, previously of Aravina Estate and Cape Lodge, said that the menu is based on local seasonal produce and is designed to be flexible to take full advantage of the exceptional produce in the Margaret River region and beyond. The Common is open seven days a week from 4pm Monday to Friday, and from 12pm on weekends in off peak season, and seven days per week from 12pm in peak season.
www.thecommonbistro.com.au 
Leederville welcomes new café
Tucked away in a sunny plant-filled courtyard in Leederville, Babylon Café combines luxurious leafy surrounds with delicious, freshly ground coffee. Open 7am to 3pm from Monday to Friday, and 7am to 2pm on Saturday and Sunday, the venue serves up delicious breakfast and lunch dishes, as well as raw treats and desserts of the more traditional variety including banana bread and homemade brownies. Well worth a visit when travelling through the bustling streets of Leederville, one of Perth's urban villages.
https://www.facebook.com/pages/Babylon-Cafe/754127434707060 
Another dive bar opens in Northbridge
Late night country bar, Alabama Song, has opened above an already established dive bar, Joe's Juice Joint, on William Street in the cultural hub of Northbridge. Alabama Song specialises in draught Australian craft and American canned beers, cocktails and a selection of more than 130 rye whiskeys and bourbons. The hidden gem is open from 6pm to 2am Wednesday to Thursday, 6pm to 3am Friday to Saturday and 8pm to 12pm on Sunday.
https://www.facebook.com/alabamasongbar/info 
Tours, Attractions and Accommodation
Perth hotel reveals new look following refurb
Pan Pacific Perth has unveiled sleek new Premier Rooms following the completion of a multi-million dollar guest room refresh, that saw 124 rooms and eight suites completely remodelled. The hotel has created a design which brings together the sophistication of the Asia Pacific with the rugged textures and vastness of the Western Australian landscape, creating a distinct sense of place. In addition to the guest room reinvigoration, the Perth hotel aims to progress the guest arrival experience with a refurbishment of the hotel lobby now underway.
www.panpacific.com 
Golden Quest Discovery Trail website now available
Goldfields Tourism Network has launched a website for one of the Golden Outback's most popular trails, the Golden Quest Discovery Trail. The website provides valuable background information on the 965 kilometre trail which runs from Coolgardie to Laverton in the Goldfields, including the region's rich history and heritage, tools to help plan a trip, sites to see along the way and interesting trail tales. Since its launch in 2003, tens of thousands of adventurers from across the globe have embarked upon the Golden Quest Trail.
www.goldenquesttrail.com 
Shoalwater Marine Park comes alive this spring
Rockingham Wild Encounters will resume its wildlife tours this month at Shoalwater Marine Park, located a 45 minutes' drive south of Perth in the seaside town of Rockingham. The incredible Swim with Wild Dolphins tours started at the beginning of September, while sea lion and dolphin watching tours will commence on September 15. Penguin Island, located within the marine park, is also opening on September 15, where visitors can swim, snorkel, surf, kayak and feed penguins all within five minutes by ferry off the mainland.
www.dolphins.com.au 
Adventure tour operator launches in Margaret River
A new tour operator has launched in the Margaret River region, Capes to Coast. The outdoor adventure tours offers something for everyone, whether it's riding a fat bike on the beach or forest, jumping off rocks into the Indian Ocean, snorkelling in the Ngari Marine Park or getting up close to the region's local wildlife. For more information, get in touch with knowledgeable tour guide, Cam O'Beirne at www.capestocoast.com.au. 
Rottnest Island prepares for adventure race
New event and distance categories have been added to The West Australian Race Around Rottnest, set to take place on October 17. There will be a new Off-Road Triathlon category open to both solo competitors and teams consisting of a 1km ocean swim, 16.5km bike ride and 7km trail run, while the original Adventure Race has the added challenge of a 6km or 2.5km paddle leg on either a ski or stand up paddle (SUP) board. Also new this year is an on-road Olympic Distance Triathlon consisting of a 1500m swim, 40km bike and 10km run around the island. It's a perfect training event for people looking to compete in the summer triathlon season and with the stunning Rottnest Island location as an added bonus.
www.racearoundrottnest.com.au 
FEATURE
The new Northbridge
Located on the fringe of Perth's Central Business District, Northbridge has undergone an extensive transformation in recent times. At its heart is the Perth Cultural Centre (PCC) – a place where the arts, culture, community and knowledge come together.
Home to the Art Gallery of WA, WA Museum, State Library, Perth Institute of Contemporary Art, Blue Room Theatre and the State Theatre Centre, the PCC has been refreshed and transformed into a dynamic and lively outdoor space thanks to a project by the State's Metropolitan Redevelopment Authority.
New additions include an Urban Orchard, a wetland, an outdoor screen, green spaces and free WiFi. During summer, the area hosts events such as the Fringe World Festival and the Perth International Arts Festival, as well as Rooftop Movies and a variety of markets, stalls and food trucks can be found throughout the year.
On the border of the PCC is William Street. Here, unused heritage buildings have been given a new lease on life, and the street is now synonymous with cutting-edge fashion, independent retailers, creative industries and cosy small bars, and it continues to evolve. There is an enthusiasm that exists around the area, with collectives such as On William promoting the street's offerings and hosting a yearly street festival.
The area has welcomed two new hotels within the space of months, following the openings of the Alex Hotel and The Nest on Newcastle.
Located on William Street between the Perth Cultural Centre and CBD, the 74-room Alex Hotel is described as a 'hotel crafted by locals, thoughtfully designed for inquisitive travellers', and is independently owned and operated by West Australian hospitality entrepreneurs Adrian Fini, Nic Trimboli, David Martin, Miles Hull and Howard Cearns – the team behind WA's very successful and iconic Little Creatures Brewery in Fremantle.
It features a lobby café, mezzanine lounge with honour bar and evening cocktail service, rooftop garden terrace with city views and a European style eatery, the Shadow Wine Bar and Dining Room.
The Nest on Newcastle, located on Newcastle Street, offers guests a comfortable and homely experience with 20 individually styled rooms. Nestled behind a 115-year-old heritage house which houses The Old Crow restaurant, the Nest has a rooftop terrace, undercover parking, smart TV's, and most rooms have private balconies.
Meanwhile, the bar and restaurant scene in Northbridge has expanded significantly and new names include Northbridge Brewing Company, Darlings Supper Club, Pleased to Meet You, The Standard, Sneaky Tony's, Alabama Song, No Mafia, Joe's Juice Joint, Lot 20 and Lucky Chan's.
Northbridge is easily accessible with public transport close by, and it will become even closer to the city when the Perth City Link project is completed.
Events
SEPTEMBER
Telstra Perth Fashion Festival
September 15-20, 2015
Perth, Experience Perth
Perth is fast becoming a fashion hot spot and with iconic events like Telstra Perth Fashion Festival, there's little wonder why. Now in its 17th year, the Festival sees fashionistas experiencing high fashion events at a range of unique venues. With world-class runway shows, free public events and fashion lunches, the Festival's line-up keeps getting better. Highlight events from the 2015 program include Opening Night with Dilettante; a debut runway show by Australia designer Akira; Myer Fashion Lunch; and Closing Night with Wheels and Dollbaby.
http://www.telstraperthfashionfestival.com.au/ 
Red Earth Arts Festival
September 18-27, 2015
Karratha, Australia's North West
The Red Earth Arts Festival (REAF) is one of Australia's largest regional arts festivals. Taking place in the City of Karratha, REAF will host a range of events for everyone. There will be activities for kids, a live music night with Bluejuice and Miami Horror, dance performances, a huge film festival, a street festival launch and an adults only Vaudeville Village night.
www.karratha.wa.gov.au/events/reaf-2015 
XXXX Gold Kalgoorlie Cup
September 27, 2015
Kalgoorlie, Australia's Golden Outback
The Kalgoorlie Race Round features the Boulder Cup, Hannans Handicup and culminates in one of the Goldfield's most iconic events, the XXXX Gold Kalgoorlie Cup, where professional jockeys battle it out on the 2,300m track for a handicap of $160,000 plus trophies valued at $3,135 for the owner, $1,780 for the trainer and $1,780 for the rider.
www.kbrc.com.au/race-round-kalgoorlie.php 
OCTOBER
2015 Yalgoo Emu Cup
October 10, 2015
Yalgoo, Australia's Golden Outback
The Yalgoo Emu Cup & Goo Fest features emu-themed races, activities and competitions.  The program incorporates novelty emu costume races, small sculpture competitions and a Goo Fest concert. There will also be various live music, art activities and fireworks to conclude the evening.
www.yalgoo.wa.gov.au/2014-goo-fest-emu-cup.aspx 
Cape to Cape MTB
October 22-25, 2015
Augusta, Australia's South West
Cape to Cape MTB is a four day mountain bike race through the Margaret River region, set to an iconic backdrop of world famous surf beaches, private farmlands, wineries, rocky outcrops and national forest. Each year a large number of national and international elite mountain bike riders descend on WA's South West specifically for the Cape to Cape MTB. The mix of riding trails from world famous beaches to rock paths through the pines forest make the Cape to Cape one of the most popular and well recognised endurance stage races in Australia.
www.capetocapemtb.com 
Kickstarters Gascoyne Dash
October 23-25, 2015
Carnarvon, Australia's Coral Coast
Featuring extreme off-road racing machines such as buggies, 4WDs, bikes and quads, the 520km event provides a challenge for even the toughest competitors. The event continues to grow every year and in 2012 it won the Gold Award in the Festivals and Events category at the Perth Airport WA Tourism Awards. The Kickstarters Gascoyne Dash received the award for bringing economic benefits to the local community, attracting visitors to the region, generating media exposure and promoting the destination. 
www.gasdash.com 
NOVEMBER
Act-Belong-Commit Augusta Adventure Fest
November 7, 2015
Augusta, Australia's South West
There's something on offer for everyone at Act-Belong-Commit Augusta Adventure Fest. Competitors can choose from three different events for adventurers of all ages, and four different off-road disciplines including ocean swimming and kayaking, trail running and mountain biking. Recognised as the world's biggest adventure race - a multi-race, multi-adventure weekend with something for everyone, taking place amidst the rugged landscapes of the South West.
www.rapidascent.com.au/augustaadventurefest 
SunSmart IRONMAN 70.3 Mandurah - Australian Pro Championships
November 8, 2015
Mandurah, Experience Perth
Debuting in October 2012, SunSmart IRONMAN 70.3 Mandurah arrives as the Australian Professional Championship, giving enhanced prize money and qualifying opportunities to some of the best professional triathletes in Australia and from around the world. With a swim course incorporating the sheltered harbour of Mandurah, competitors look set for fast times from start to finish on the two lap bike course, and a run course showcasing the best Mandurah has to offer.
www.ironman.com 
Margaret River Gourmet Escape
November 20-22, 2015
Margaret River, Australia's South West
The 'Godfather of modern cooking' Marco Pierre White will be the international headline chef at Margaret River Gourmet Escape (MRGE) 2015. Marco will take part in the three-day culinary extravaganza, with a full program of events hosted by more than 40 of the world's leading food and wine personalities showcasing the best of WA and the Margaret River region from November 20 to 22. Exciting new experiences on this year's program include a dinner on the Busselton Jerry with Rick Stein; The Godfather Dinner at Vasse Felix with Marco Pierre White; Stokehouse Restaurant setting sail on the Kimberley Quest II luxury cruiser; events specifically for beer lovers; a seafood discovery tour in Augusta; and a didgeridoo cave experience with bush barbecue dinner hosted by local Wadandi man, Josh Whiteland.
www.gourmetescape.com.au