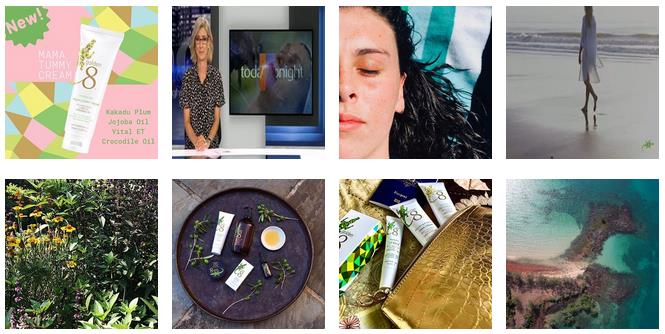 Australian made and owned skincare brand Golden 8, is proud to launch Golden 8 Mama Tummy Cream (RRP $24.95), created to nourish the skin from bump to birth and beyond. Suitably timed, given the recent announcement of Golden 8's brand ambassador Kaia Wright's pregnancy with husband Matt Wright – the star of international adventure television series Outback Wrangler, the cream's advanced formula is ideal for expectant mums, to assist with the appearance of unwanted stretch marks, improve skin elasticity, relieve itchiness and hydrate the skin.
Wright says "Preventing stretch marks is all about keeping your skin well moisturised and hydrated to improve your skin's elasticity, and the Golden 8 Mama Tummy Cream is the best product I've come across for this. As a mum-to-be, like most pregnant women, I'm really conscious of the products I use on my skin and knowing that this cream is packed with so many natural ingredients means that I feel safe using it while pregnant. The best bit is that it softens and soothes your skin with no stickiness. I also love the light passionfruit scent."
Mama Tummy Cream comprises natural ingredients, known for their reparative and restorative skincare benefits as part of its scientific formulation. Australian native Kakadu Plum provides an excellent source of natural Vitamin C to aid with collagen production and elastin which help prevent stretch mark formation and scarring. Jojoba Oil, a naturally rich source of Vitamin A, D & E, helps to keep the skin nourished, soft and supple to maintain the skin's elasticity to accommodate the stretching of the skin while pregnant.
Crocodile Oil, Golden 8's hero ingredient is full of naturally occurring Omegas 3,6,7, and 9, oleic and linoleic acids for deep nourishment, skin health, moisture and repairing of stretched skin while Vital ET (a unique bioavailable derivative of Vitamin E), takes Vitamin E one step further to make it more stable, resulting in effective absorption of actives into the skin and helping reduce the red appearance of stretch marks.
"We're delighted to have created a product that combines science and nature to assist with some of the changes the skin undergoes when pregnant or nursing," said Golden 8 founder Josephine Robson. "Our Mama Tummy Cream is packed with omega blends, nourishing oils and vitamins that may assist with the appearance and prevention of stretch marks. Additionally, it is not uncommon for pregnant women to experience skin itchiness and unlike waxy butters and minerals oils that simply sit on top of the skin, our cream penetrates the skin to smooth, nourish and help prevent the formation of stretch marks and scarring," said Robson.
'Pregnancy is a time where mums are careful of what they use and put on their body, which is why we've kept this formula simple and clean. Our emphasis is on hydration, skin firmness and maintaining elasticity," added Robson.
Golden 8's Mama Tummy Cream is designed to be applied 2-3 times per day using a light circular motion to massage the cream into the skin. For optimal use, the cream should be used from the start of pregnancy on areas that are prone to stretch mark formation including the abdomen, breasts, lower back, hips, buttocks and thighs, for a minimum of three months.
Alongside the Mama Tummy Cream, Golden 8 skincare includes Anti-Ageing Face Serum (RRP $39.95, 30ml), Body Lotion (RRP $24.95, 300ml), Body Balm (RRP $22.95, 100g), Soothing Cream (RRP $22.95, 100ml), Hand Cream (RRP $19.95, 125ml), Hand & Body Wash (RRP $24.95, 500ml), Lip Balm (RRP $9.95, 15g) and Travel Essentials Kit (RRP $69.95).
Golden 8 Mama Tummy Cream is hypoallergic and free from parabens, retinol, artificial colours and sulphates. The cream is available now from selected speciality stores and online via www.golden8skincare.com