Written by

News Feature Team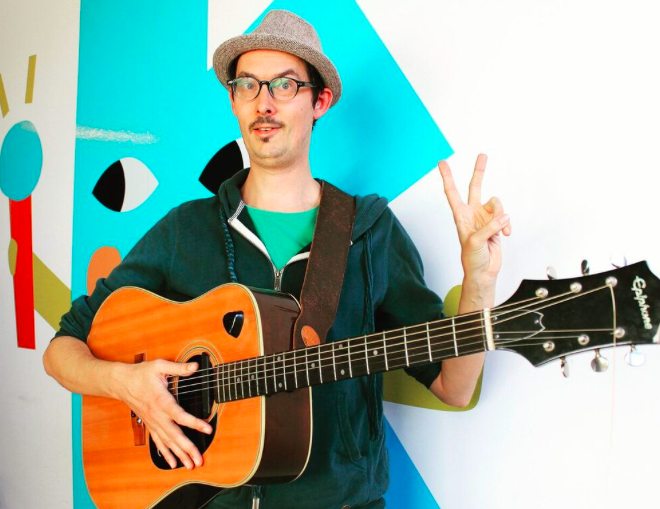 It seems the healthy eating movement is still slow to catch on with studies showing it's not just kids who aren't eating enough vegetables, only four out a 100 Aussies are getting their five serves of day of veggies – but the message award-winning songwriter, comedian and health advocate Luke Escombe wants to get out is that making healthy food choices can and should be fun.
Escombe, the frontman of award-winning roots music band, The Vegetable Plot, is on a Jamie Oliver-style quest to change the way families look at vegetables.
"We're not some kind of government health initiative whose primary goal is to educate kids about the benefits of eating vegetables. We want kids to eat vegetables, but we want them to do so out of a sense of curiosity, adventure, joy and love - not out of fear and obligation," says Escombe, aka Aspara Gus.
Capturing children's (and their parents' imaginations) the group has performed across the country – from giant circus tents and festivals to the Sydney Opera House and Seymour Centre – and the humble vegetable songs have made their way out into the world, entering people's cars, kitchens, devices and imaginations.
"Before the Mums and Dads knew what was going on, they had songs about avocados and Spanish onions stuck in their head, and their children were pestering them to buy more broccoli," says Escombe.
"Our emphasis is on having fun with music through characters and storytelling. These are the tactics that companies are currently using to market sugary junk food to kids, we need to reclaim them and use them to promote healthy food," he says.
"The fact is, sugary junk food has no character at all, whereas vegetables are filled with character. They are literally bursting with colour, life and energy."
"We're creating adventure stories where kids are excited about discovering these vegetables."
The group's first full-length music video, Spanish Onion – incidentally being released on Halloween, the day synonymous with kids overindulging on too many sweets – features Tom Ato, an animated tomato-vampire telling the story about the dark side of vegetables, in particular a Clint Eastwood-Western-style Spanish Onion who is small but strong, whose taste lingers for long and is eaten only by the brave.
What's different about this group is they aren't aerobics instructors in rubber suits dancing to a backing track. They give kids a taste of the roots of all modern music – from blues shuffles, to reggae skanks, lowdown funk, folk, ballads, country hoedowns, disco dance floor fillers and more.
Escombe grew up in a rock'n'roll world – where his father handled the freight for the biggest acts in the world, including U2, Bruce Springsteen, Prince and Pink Floyd.
"Appreciation for good music was instilled in me early, but I never understood why children's music had to be in a separate category – with songs about brushing your teeth and going to bed. Kids are capable of understanding so much more than we give them credit for."
Escombe isn't just an entertainer either, he's also an advocate for people who live with chronic illness. Diagnosed with Crohn's disease at the age of 14, for much of his teens and twenties, eating was a painful experience.
"I was house bound for years at a time in my 20s – I was on a lot of medications, was in and out of hospital and in a lot of pain," he says.
In 2011 Escombe turned the tables on his disease, speaking publically about it around the country in a one-man comedy show called Chronic. This led him to speak at health events all over the world, three performances at Parliament House, Canberra and to become an ambassador for Crohn's and Colitis Australia. Successful surgery in 2012 enabled him to find new energy and enjoy food for the first time in his adult life.
Another inspiration for The Vegetable Plot was the birth of Escombe's son, in 2013.
"Dad was supportive of everything I did but I never saw him eat a healthy thing or do exercise. When I became a dad I felt I wanted to improve the health and food culture of our house,"
If the healthy food eating revolution is to have a soundtrack, this is it.
For more visit www.thevegetableplot.com.au