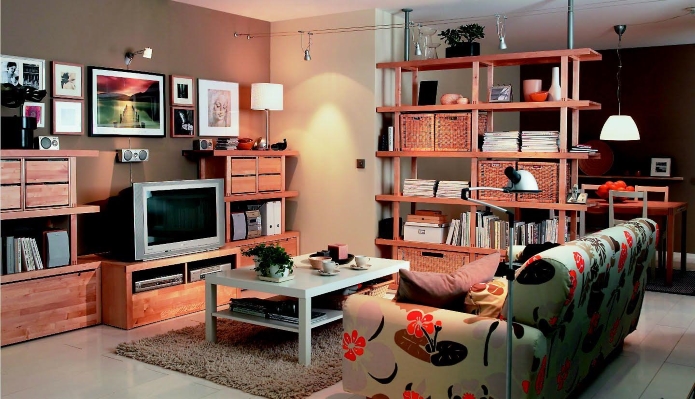 The living room is the one room in the home where we spend the majority of our time...awake. For that reason you really want your living space to be a zone in the home that's comfortable, stylish and a room you're proud of.
In this post we'll list some hot tips on styling up your living room so it truly is the best room in the house.
#1 - Add a Rug On Hard Floors
One thing about hard floors such as tiles is they echo and are noisy. You don't really want that in your living room, so if your floors are tiled or made from timber, you'll definitely want to put a rug on the floor to soften up the sound and to break up the monotony.
Having a rug beneath your feet will also feel a lot cozier, particularly in colder weather. A rug in just the right colours and pattern will really add a touch of class to the room as well.
#2 - Decorate Your Windows With Roman Blinds
Roman blinds have been in existence in one form or another for thousands of years. The reason they have stood the test of time is because of their functionality, timeless elegance and their inherent simplicity.
If you are wondering what to put on the windows in your living room and you want something sophisticated, then Roman blinds are definitely the window dressing of choice. In today's market Roman blinds come in a whole host of styles and colours to suit everyone's tastes and decor.
#3 - Add In Accent Colours To Liven Up Your Living Space
In most homes the ceilings are painted white while the walls are generally a neutral color such as white, off-white or beige. While neutral colours are fantastic to blend things in with, they can look very bland if you don't liven the room up with some splashes of colour.
Cushions and throw rugs present the perfect opportunity to add those splashes of colour without redecorating or breaking the bank. As an example, if red will go well in your room, then simply adding two of three red lounge cushions can really jazz things up.
#4 - Hang a Large Mirror In Smaller Rooms
A small living room can look cozy enough, but it can also feel claustrophobic. One way to give the illusion of a larger space is to hang a mirror on one of the walls. It'll need to be a fairly large mirror or it won't achieve the desired effect.
When looking at the mirror it'll give the impression that the living space is twice as large as what it actually is, creating a sensation of much more space.
#5 - Don't Over-Crowd Your Living Room
It doesn't matter whether it's large or small, a congested and heavily cluttered living room very rarely looks stylish, and it'll hardly be a comfortable space if you feel like there's no legroom or you're constantly having to step and weave around furniture and other items as you move about.
If you can you want to keep things simple and just fill your living room with the essentials.
#6 - How About a Feature Wall?
Simply painting one wall of your living room in a contrasting colour can really add a touch of pizzazz. Let's say you chose red for those cushions to add some accent colour. Well, you could match those up with a red or maroon feature wall.
In reality your feature wall can be any colour you desire, or you might simply leave it as is and decorate that one wall in some form with artwork, photos, shelving with ornaments and so on.
#7 - Bare Walls Are Boring
You can get away with four bare walls in some rooms, but the living room is one room where you want at least one or two of the walls to look interesting, and the simplest way to achieve that is to hang some art or other decorative items. You don't need to spend money on a Picasso. Any art or print that looks nice and suits your living room style will do.