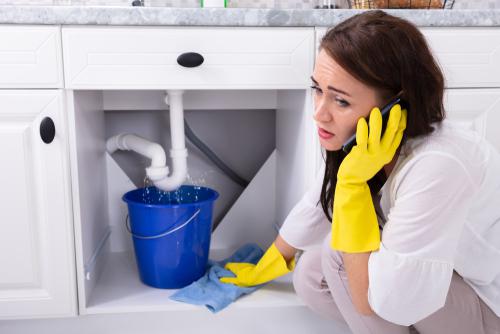 Finding a good local plumber can be frustrating especially if you're in the middle of an emergency that can't be delayed. While it is tempting to get on to Yellowpages.com and find plumbers with a low rate, it's still best to examine things on all sides. Low price will be next to nothing if the plumber or a local plumbing company you found doesn't fit for the job. Even if they are, with so many options to choose out there, how can you be sure you've chosen the best one?
Save yourself the hassle of dealing with cowboys and shoddy workmen by reading our tips.
Ask a friend for a referral - A friend will never fail to give a piece of worthy advice. If working with a plumbing company has been an excellent experience to them, they will have an opportunity to become a hero from saving you from a lot of hassles in looking for a good one. They will be zealous in providing you with an honest opinion whether or not the plumbers they've used in the past are more than capable of the job you require.
Do a research on the web - If you don't have someone to give you advice, jump onto the web to check for customer reviews. Customers who like the plumbing company, trust the company, and will be thrilled to share good words about the service they previously had. If you already have someone in mind, you can visit their website to check for testimonials too. Plumbing companies make business with good testimonials so they put it altogether on their website for others to read.
Call them and ask as many questions - If you don't know anyone who has used a professional plumber before or you don't have access to the internet, which is unlikely nowadays, call the company instead. You can ask them as many questions as possible to prove if they are worth the money you'll pay them when you hire them. Companies will move heaven and earth to make business with you without jeopardizing their reputation so they will answer all your questions in full honesty. You can also request proof of training and licenship to show that they are well-experienced in the field.
Qualities of a Plumber that Knows Exactly What To Do
They don't outsource their work - A local professional plumbing company cares for their reputation, as much as they care for their customers. They like to take the work on their shoulders and take responsibility when things go south. If a company puts time and money into making sure they have the right people, that means they cannot afford risking their credibility from being conned by fraudsters, posing as professional plumbers. They are more than confident to do the work themselves.
Their price is within market range - Trusted plumbing companies neither give a dishonest quote, nor hidden charges. They know the rules about pricing. They offer services within market range and don't start the job unless a quote is agreed upon. Beware of companies who charge relatively low. They are likely the ones who just use this technique to attract you, but provide sloppy work.
They invest in their tools - Tools and equipment translate to working smarter than harder. It saves the plumbers from longer repair time, injury and stress. That means, companies who invest in their own tools are likely the ones to provide high quality workmanship with a shorter downtime and optimum quality.
They don't settle for substandard materials - A company that cares for their credibility will never settle for substandard materials. They will not go for what's trending, nor what is the cheapest, but those where customers can benefit from over a long period. Quality material for them is of extreme importance. In Australia, a plumbing company is required to use Australia Watermarked approved products and materials. Other than that is not permitted for use.
They understand urgency - If you're in the thick of a plumbing emergency, you can't afford to wait for a problem to be fixed later. A company who understands the emergency are the ones who are committed to help and make their customers' lives easier. They offer 24/7 service and know how to prioritise an emergency. That means, when you call them for an emergency, they respond in the quickest manner.
They are a one-stop service - Working with local experts, like pipe relining Sydney experts, comes with advantages that you don't get from working with self-proclaimed experts. Sydney relining solutions companies are not only equipped in fixing sewer and drain line issues, but as well as stormwater lines. In addition to their skills, they also have specialised tools from diagnosing the issue to completing the job. From fixing a leaky tap to clearing a clog, and fixing damaged sewer lines.
Short notice appointments - When in an emergency situation, the last thing you want to do is wait around. That's why a local plumbing company that offers 24/7 service, day in and day out is a good find. Being just around the corner means they can come to your rescue at short notice.
They have specialised skills - As opposed to regular plumbers, those who have specialised skills like pipeline relining professionals are more capable of fixing complex jobs. Being able to handle complex jobs means they can fix many problems in one visit. It is because apart from training and certifications, they have been exposed to different kinds of plumbing problems which makes them more able to understand and provide solutions far above the level of a regular plumber.
Plumbing problems can sometimes end up in a digging job, and would be dangerous if the workmen does not have proper understanding about state and local code, and safety, which should not be a problem if you hire skilled ones.

Final Points
As you may notice, finding a qualified local plumber will need a great deal of probing. You can't just randomly pick someone because their name rings a bell or a friend has shared them with you. You also need to do your part in truth-finding to make sure you're hiring the best and the most qualified for the job.
A plumbing job should be done right to the highest standard which only pipe relining services Sydney professionals, like Revolutionpiperelining.com.au can provide. It is for the fact that we understand all the complexities in plumbing. We're knowledgeable in the local and state plumbing standards, which makes us able to exercise safety all throughout the repair procedure.
When you hire us, not only will the repair work be made with proficiency, we will also provide advice on how to prevent the problem in the future.
We offer a range of pipe relining services such as sewer pipe relining, drain pipe relining, cast-iron pipe relining and trenchless sewer relining, as well as drain inspection and stormwater drain cleaning.w