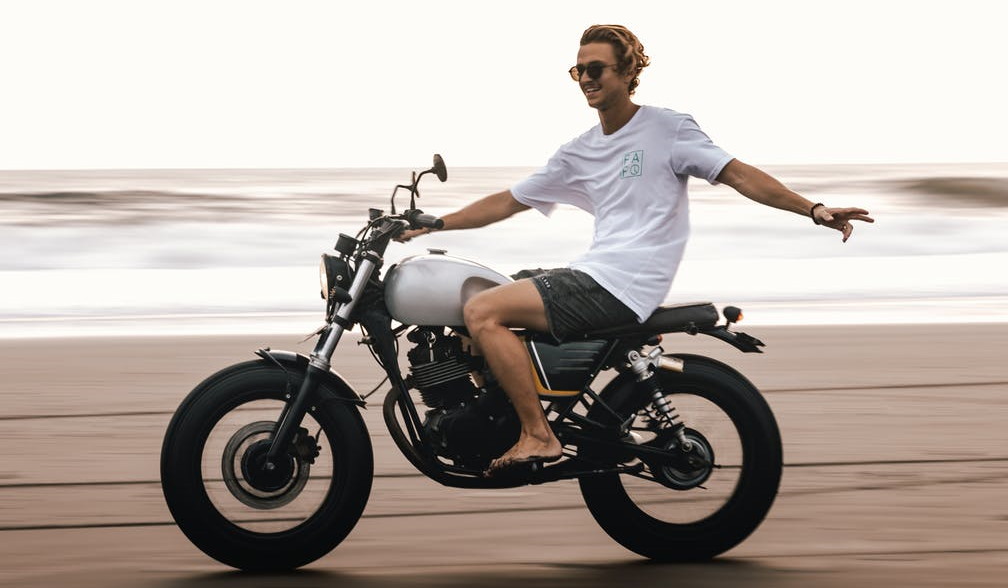 Driving a motorcycle can be both exciting and terrifying at the same time. On the one hand, it might be what you've always wanted. You see, it's more than just a vehicle, it's a gateway into a completely new world. You can develop new habits; completely reinvent the way you see commute (urban and long-distance alike). There's also an opportunity for you to ride a motorcycle as a social activity, in which case it would serve you in terms of socialization. In order to make this entire experience more pleasant and more enjoyable, you should adopt several vital motorcycle riding tips and tricks. Here are five of them.
1.Buy the right vehicle
Buying an adequate vehicle might be more difficult than you assume. Why is that? Well, there are sport bikes, naked bikes, dirt bikes, Supermoto bikes, touring bikes, and scooters to choose from. Then, you have the option of buying a new or a used bike (both of these ideas have their own advantages and disadvantages). So, what bike is the right one? This is a subjective question that only you can give an accurate answer to. Do you want to travel and embark on an adventure on a regular basis? Do you plan to commute to work every day with your bike? Are you mostly interested in track days or driving around with your friends? By giving honest answers to these questions, you will be one step closer to the answer.
2.Wear gloves
Gloves are, beyond doubt, the most underestimated piece of protective equipment while riding a motorcycle. Getting onto a bike without a helmet is an obvious hazard and driving without a vest is clearly wrong; however, wearing gloves doesn't seem like that bad of a deal… until you actually try to pull it off. First of all, the wind will be merciless on the skin of your hands. Second, it's important to wear the right gloves. Wearing gloves that are too big, gloves that don't provide enough protection, or gloves that are too big/small can all be problems in their own way. The latter is particularly troublesome for the mobility of your fingers. Maneuvering the clutch is not to be underestimated either.
3.Customize the vehicle
Sure, you may not be a gearhead, and you may be new to the world of motorcycles but customizing your own vehicle is one of the parts of the game that are the most fun. Even minor tweaks like adding quality bash plates can make a world of difference when it comes to the overall feel and look of the vehicle. There are some hidden perks to tuning your vehicle, as well. For instance, you get to know your vehicle far better than you would otherwise be able to. Second, because this is usually a group effort and you heavily rely on the help of others, you get one more reason to socialize and find new friends. 
4.Keep your distance
While driving, keeping your distance is pivotal. Even if you're the best, most careful driver in the world, there's only so much that a bike can do mechanically. The brakes take some time, inertia and friction are physical laws that don't play favorites. Also, you never know who else is on the road. A person in the vehicle (or on a bike) in front of you can be suicidal or moments ahead of a major stroke. On a bike, you're more exposed, which is why staying safe is only possible if you keep your distance. Ideally, you should stay at least 20-feet away from others on the road. For instance, a small car is about 13 feet long, while a large car is about 16 feet long. So, one length of an average on-road vehicle and some change.
5.Get some private lessons
Getting a license is relatively easy, and while you'll grasp the basics, this probably won't be enough for you to get all the knowledge you need. There are so many other things you need to learn about steering and controlling the motorcycle, and this won't be as easy. You can invest in some intermediate and even advanced motorcycle lessons. Contrary to popular belief, this is not where you'll learn how to do all sorts of motorcycle-related stunts. Some of these moves can be seen as survival skills in certain scenarios.
Implementing all of this into your motorcycle driving habits and routines is really not a difficult task. It's something that you can do quite effortlessly and greatly profit from doing so, both in terms of overall security and in terms of riding satisfaction.