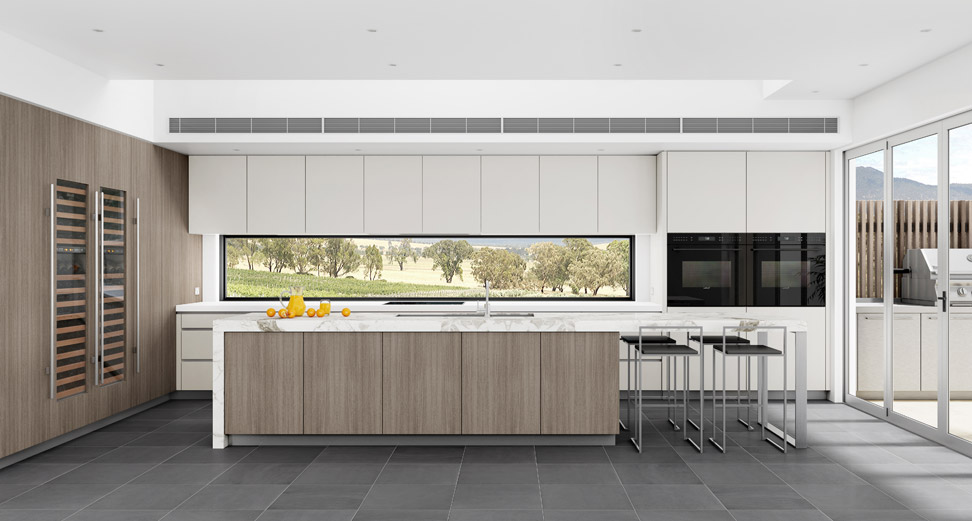 Just like other types of air conditioning, a ducted air conditioning system also requires regular maintenance to last long. Some of these maintenance tasks are things you can do yourself, while some are things you should leave to the hands of an HVAC professional. Either way, it is important to have your air conditioner serviced regularly to keep it running smoothly.
In this article, we will give you some tips on how to maintain your ducted air con at home. Remember that these are just basic cleaning tips and do not include those that require the expertise of an HVAC professional.
What is the right time to clean your ducted air conditioner?
A quick look at your aircon is often enough to recognize that it already needs some cleaning. If dirt and dust have already piled up on your vent covers, you know that you got some work to do. There are also times when you will notice the dirt being blown out of your ducts while your aircon is in use, or when the filter looks too dirty to function well. If any of that happens, you know it is time to clean your air conditioning system.
Sometimes, you do not even have to look at your air conditioning unit to know that it needs some maintenance. Have you ever experienced using your aircon and feeling that it is unable to provide enough cool air? That is a telltale sign that you need to inspect the coils of your unit. In ducted aircons, the coils work in transferring the heat from the inside of your home out. Once dirt or dust builds up in the coils of your aircon, your unit might struggle working properly. As a result, the operating cost of your unit skyrockets. To keep your air conditioning system working efficiently, use a hose to get rid of the dirt while your unit is turned off. This will help knock off all the dirt that serve as insulative barriers to your coils, helping your aircon run smoothly.
How to clean your ducted air conditioning system
While a ducted air conditioner makes an amazing choice for an "invisible" air conditioning solution, you still need to service it regularly if you want it to work efficiently. Aside from scheduling annual maintenance from an HVAC professional service, you need to do a few maintenance tasks at least every month to keep it in its best shape. Here are some maintenance tips that will help your ducted air conditioning system run efficiently for many years.  
         

Hire a professional at least once a year
Bringing in an HVAC professional at least once a year to do a maintenance check on your unit is necessary to prevent any unnecessary increase in your electricity bill. And not only that—during the summer, the last thing you ever want to happen is to see your air con break down, right? Again, there are maintenance tasks you can do every week or every month yourself but make sure that you still schedule an annual maintenance with an aircon specialist once or twice a year. Unlike you, a professional is skilled and knowledgeable enough to identify if your unit needs some repair. This will prevent major difficulties in the future and will help keep your unit running efficiently. Most ducted air conditioning owners hire their installers to conduct an annual inspection of their units at least once a year, but you have the option of hiring someone else to do that for you, as long as they are licensed to do the job.
You may have heard that changing, cleaning, and replacing filters is an indispensable part of aircon maintenance. Unfortunately, most ducted aircon owners forget to do this until a major issue arises. To prevent dust and particles from getting into your home through your air conditioning system, make sure that you change and clean the filters of your unit at least twice a year. This will not only ensure that your aircon blows out clean air, but it will also ensure that your unit operates trouble-free. Cleaning your filters either by washing it down or blowing it out with an air compressor at least every six months is ideal, but if you think it is best to replace your filters with new ones, make sure that you only choose one that suits the model of your air conditioning system.
When it comes to the ducts, you do not need to wait for dust and other particles to build up before you have them cleaned. Well, unless you want those particles to get into your home through the registers. While cleaning the ducts themselves is a difficult maintenance task that requires an expert, you can do your part by taking off the register covers and using a vacuum hose to clean the ducts down. Keep in mind though that this will not get your ducts really clean—only a pro can do that.
If you believe that something is wrong with your air conditioning system, have it serviced immediately. There are a lot of signs to tell you that your system has issues—like if your room is no longer as cool as it used to, when your unit is taking too long to cool your home, or when you hear a hissing sound from your unit. Whatever that is, it is best to have your unit inspected by a professional so issues are identified and repairs are done immediately. The longer you leave those issues unattended, the more likely you are to experience bigger issues with your system down the road. Make sure that you call an air conditioning expert as soon as you detect an issue with your ducted aircon's performance.
Conclusion
If you have a ducted air conditioning system at home, it is imperative that you check your system regularly. Proper aircon maintenance comes a long way—it does not only help you avoid expensive repairs, it also helps you improve the efficiency of your unit and the air quality inside your home.