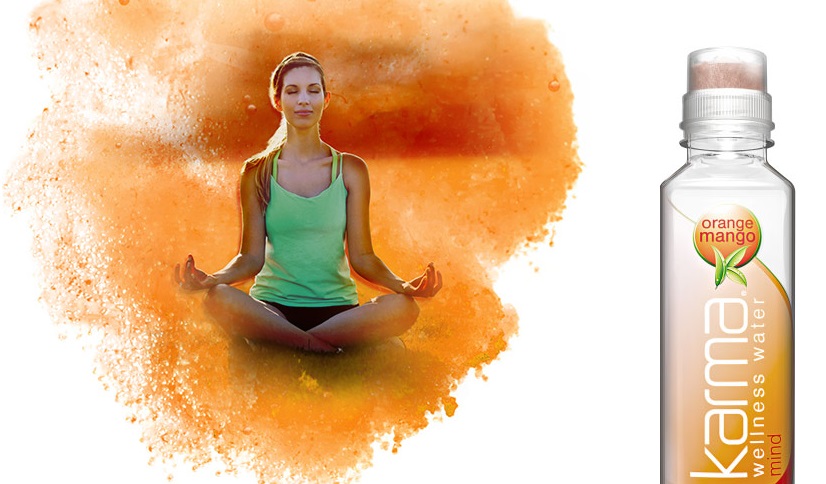 With an increase in demand for healthy, functional beverages, Karma Wellness Water brings a new kind of vitamin water to the Australian market with its unique cap technology - KarmaCap. KarmaCap stores formulated powdered vitamins and nutrients for consumers to enjoy fresh upon consumption. Already popular in USA and Canada, the beverage is launching in Australia in March with unique functional varieties – Orange Mango "Sharper Thinking", Acai Pomberry "Immunity Booster" and Passionfruit & Green Tea "Mood Elevation". Karma Wellness Water transforms pristine water into a healthy beverage, creating positive health benefits that also refreshes.
Statistics show that only 40% of vitamins are absorbed from a multivitamin pill, whereas 90-95% of vitamins are consumed when dissolved in liquid. Another common issue found in pre-mixed vitamin drinks is the deterioration of vitamins over time as they are water-soluble.  Additionally, vitamins degrade while they are exposed to UV rays, oxygen and/or heat.
To provide a solution to this challenge, the innovative KarmaCap stores the formulated powdered vitamin and nutrient mix. The KarmaCap is made of polypropylene and uses an airtight seal between the cap and base to maximise freshness, quality and performance. This means that Karma Wellness Water holds up to six times more additives than competing brands. It is designed with UV protection to guard its contents from exposure to light. Consumers simply peel the seal, push down the KarmaCap to release the natural nutrients and shake the bottle to gently mix the drink.
Karma Wellness Water fulfils its promise of truly being good for you, providing up to 100% or more of the recommended daily intake of many essential daily nutrients, minerals and vitamins; including B3, B6, B12, Niacin, C, E (all 100%), A (50%) and D (25%). This allows consumers to enjoy healthy benefits at maximum potency.
With just a drop of natural sweetness from a blend of stevia and pure sugar cane, Karma Wellness Water contains 90% less sugar (2 to 4 gms rather than 20 to 30 gms) compared to other functional beverages. Each 600mL bottle is low in sodium and is free of any preservatives. The drink is significantly healthier than other vitamin drinks, only containing 22 calories, rather than 200 calories. It is heart healthy, safe for diabetics and is lactose and gluten free.
"We're excited to be launching Karma Wellness Water in Australia. It is the perfect fit for those who are active and always on the go. The drink replenishes thirst in a tasty way, while also keeping the health-conscious consumer in mind with its vitamins and minerals. With such great feedback from consumers in the USA and Canada and through our trials in Australia, there is no doubt that Australians will love this new range too," says John Marshall, General Manager of HGC Brands, the manufacturers of Karma Wellness Water.
Orango Mango is specially formulated for mental alertness. It contains yerba mate, choline and coenzyme Q10. Choline and yerba mate supports clarity and stimulates focus, while coenzyme Q10 is an antioxidant that helps fuel the body's daily activity.
Acai Pomberry is an immunity booster. Rich in Vitamin C and combined with zinc, berry extracts and tea polyphenols, its formula serves to enhance the immune system and promote overall health and well-being.
Passionfruit Green Tea enhances mood and encourages relaxation with ginseng and L-theanine.
Karma Wellness Water is available at cafes, convenience stores, pharmacies and in other specialist venues (sporting clubs, etc.). RRP $4.45 for 600mL bottle.
For more information on Karma Wellness Water, please visit www.drinkme.com.au and www.drinkkarma.com