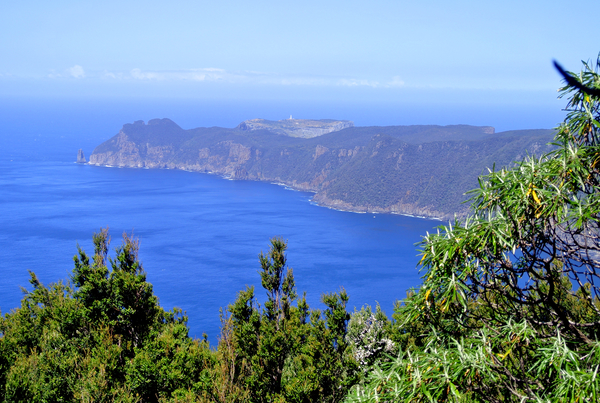 The Tasmanian Walking Company (TWC), the largest operator of multi-day walks in Australia, has been awarded the contract to design, build and operate new eco lodges in conjunction with a 46km private walk on the spectacular Three Capes Track in southern Tasmania.
This will make them the only commercial operator entrusted with providing private accommodation and guided walking experiences in the Tasman National Park.
This eagerly awaited announcement was made by Matthew Groom, State Minister for Energy, Environment, Parks and Heritage in conjunction with the Tasmanian Parks and Wildlife Service (TPWS).
The win followed a lengthy tender and due diligence process.  Now known as the Tasmanian Walking Company, the business has more than 25 years environmental experience including amongst its portfolio the Cradle Mountain Huts Walk and award-winning Bay of Fires Lodge Walk in northern Tasmania and Wineglass Bay Sail Walk out of Hobart.  These outstanding credentials perfectly positioned the company to take on this exciting new venture.
For Tasmanian Walking Company owners and Virgin Australia co-founders, Brett Godfrey and Rob Sherrard, this will be their seventh material investment in the burgeoning Tasmanian tourism sector in the past five years. Godfrey commented "We are honoured to have been entrusted with this amazing opportunity to provide access to such a spectacular part of Australia.  We have already completed extensive planning to get to this stage and we are now excited to bring this to reality."
Opened late 2015 to high acclaim the Three Capes Track is already proving to be incredibly popular with Australians and international visitors.   It takes in breathtaking scenery on the Tasmanian Peninsula weaving alongside Australia's highest sea cliffs as it links Denman's Cove near the Port Arthur Historic Site to the majestic towering Cape Huay.
Tourism Australia Managing Director, John O'Sullivan, said that the Three Capes Track was already proving to be a major tourism asset for Tasmania and Australia.
"The Three Capes Track in southern Tasmania takes in some of Australia's most spectacular coastal scenery, and we're delighted to feature the walk as part of our current aquatic and coastal campaign. 
"While our country is known for its raw, natural beauty, it's important that we continue to proactively promote the breadth, depth and quality of world-class tourism experiences which can be enjoyed on or close to Australia's spectacular coastline, as will undoubtedly be the case with this new venture and the Three Capes Track walk," he said.
The Tasmanian Walking Company expects to begin private operation on the Three Capes Track from October 2017 for those guests looking for a little something extra in their walking experience.
The journey begins with a private boat transfer from Port Arthur filled with fascinating regional commentary to set the stage for the adventure to come. 
The Walk itself is divided into three nights and four days allowing guests to fully immerse themselves in the spectacular landscape and appreciate the attending wildlife - particularly the majestic eagles and seabirds - that call this area home.  Two professional guides will provide detailed interpretation to their small groups as they make their way past ancient eucalypt forests, moorlands and heath. 
Overnight stays will be in two architecturally designed and fully sustainable lodges.   
Andrew Burns Architects has been appointed to take on the great responsibility of designing the Lodges.  Burns emphasises "it's a privilege to build in these amazing sites so our task is to tread lightly with a very soft footprint while making the most of the location."
To assist with this task, Burns has consulted Ken Latona.  Latona is a highly acclaimed architect but also the original owner of the Cradle Mountain Huts Walk and the Bay of Fires Lodge Walk.  Burns says "We wanted to be highly responsive to the legacy of the Tasmanian Walking Company and Latona got it right so we are excited to be working with him."
The Lodges are still in blueprint design phase but Burns assures that these stunning bespoke facilities will be tailored to their individual locations taking advantage of the directions of the light and the breezes and providing guests with dramatic vistas.
They will also employ the latest in global ground breaking environmental technology. This is best demonstrated by the inclusion of window glazing which has a patterned, UV reflective coating which makes it visible to birds but virtually transparent to the human eye so as not to disrupt the views.
The Lodges are also highly sensitive to the importance of the small group dynamic that comes with a Tasmanian Walking Company experience.  At night, as the walkers gather to relax and recount stories from their day, the guides will turn into Tasmanian master chefs preparing hearty and nutritious meals following menus designed by a team of local chefs.  Delicious Tasmanian produce is to feature along with a range of locally selected wines and craft beers.
The Track itself has been designed to offer access to all ages and stages of walkers as they meander their way along one metre wide pathways of graded gravel or treated pine duckboards allowing for easy conversation and frequent stops if necessary on the seating designed by local students.
For those wanting an extra challenge, side trips out to the Blade, a towering, craggy slice of rock at Cape Pillar or up the stone steps to the top of Cape Huay will reward more adventurous walkers with amazing views.
To register interest in the Three Capes Track with the Tasmanian Walking Company, please call (03) 6392 2211 or email bookings@taswalkingco.com.au
About Tasmanian Walking Company and the owners
The Tasmanian Walking Company (TWC) owns and operates the Cradle Mountain Huts Walk and Bay of Fires Lodge Walk in Northern Tasmania and Wineglass Bay Sail Walk out of Hobart.
In October, 2017 the company will begin operation on the Three Capes Track along the spectacular coastline of southern Tasmania.
TWC is now jointly owned by Virgin co-founders, Brett Godfrey and Rob Sherrard following their acquisition of the asset from Gresham Private Equity in 2013. They now have seven investments in the tourism sector in Tasmania including TWC, Entally house, Entally Lodge, Low Head Pilot Station, Lake House, Quamby Estate and Pumphouse Point.
They also own Makepeace Island in Queensland, a joint venture with Sir Richard Branson.
In August 2015, Godfrey teamed up with former rival Geoff Dixon to launch the Australian Walking Company which owns and operates the 12 Apostles Lodge Walk.  This guided four day walk in southwest Victoria is planned to be the first of many multi-day walks owned and operated by AWC which aim to tap into a growing walking market.
Godfrey's other tourism interests include board positions with Auckland International Airport, Canada's Westjet Airlines and Tourism Australia.  Cressy local, Sherrard also farms and races cars in Tasmania.