Written by

Cassie Jackson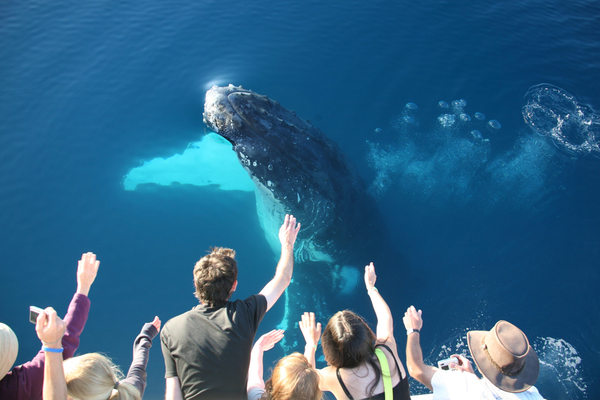 The whale watching capital of the world, Hervey Bay, is open for business and delivering another bumper season with close encounters and the visitor experience of a lifetime.
The Fraser Coast is undoubtedly Australia's Home of the Humpbacks where the natural shape and calm protected waters of Hervey Bay offer a natural playground for thousands of the majestic creatures and the best up-close and personal whale watching encounters in the world.
This year an estimated 22,000 humpback whales have migrated from Antarctica to the warm northern waters to breed.
The humpbacks are now on their return journey and will be making their annual migration stop-over in Hervey Bay until early November. The proud new parents and the cutest calves on earth are making a temporary home in the tranquil marine environment of the Great Sandy Straits, creating a wonderland of intimate and interactive whale activity.
Hervey Bay's world renowned whale fleet is famous for providing visitors with soul-stirring, intimate encounters with the gentle giants.
Get on board with one of these leading operators for a whale experience to live long in the memory.
Blue Dolphin has exclusive full day whale encounters including limited passenger numbers for great viewing; eight hours touring on board the luxury eco-friendly vessel; morning, afternoon tea and quality buffet lunch with free drink. If the conditions are right, passengers can immerse themselves with the whales in the water on the boat's purpose-built platform. Passengers benefit from a highly educated crew with more than 30 years' experience in marine animal behaviour.
Hervey Bay Whale Watch Quick Cat II has a full day Whales and Fraser Island experience including light breakfast, morning tea and hop off at Kingfisher Bay Resort on Fraser Island for lunch. Quick Cat ll offers four levels of viewing decks and full wheelchair access around the entire vessel. Underwater cameras and hydrophones add to the interactive experience, but for that once in a lifetime experience, Hervey Bay Whale Watch also offer a swim with whales experience that is not to be missed.
Whalesong are whale and dolphin specialists at Hervey Bay providing an ideal way to explore the pristine waterways and diverse wildlife between Fraser Island and the Fraser Coast. Discounted rates for teenagers (up to 18) makes for an affordable day out on the water, while fresh local produce prepared onboard will delight the tastebuds. Whalesong can also assist you with exploring Fraser Island while you're here.
Freedom III is a family owned and operated business which offers longer days on the water and small to medium passenger numbers to provide a relaxed experience. Rated number one on TripAdvisor, it is clearly a popular choice, and with the delightful menu on offer including homemade morning tea, buffet lunch fresh fruit and cheese platter, it's no wonder people keep going back for more.
Spirit of Hervey Bay is the largest and fastest whale watch vessel in Hervey Bay, offering the biggest underwater viewing room in the fleet and a hydrophone to listen to the whales. The Spirit has a range of well-priced tours complete with courtesy transfers, souvenir whale DVD and more. Five levels of viewing decks means you can catch the whales' antics from every angle.
Tasman Venture offers multi-lingual guides, advanced eco certification, free onboard Wi-Fi and an immersive platform allowing guests to get closer to the humpbacks than ever. Tasman Venture is also the only operator permitted to access the North West Coast of Fraser Island, taking visitors to pristine, isolated locations.
Did you know?
Hervey Bay has also recently become one of the first places in the world nominated to go through the process of being recognised as a Whale Heritage Site. The program by the World Cetacean Alliance (WCA) recognises the importance of whales to a region and promotes sustainable tourism and the protection of the natural environment.
Book now:
For bookings and further information on the Fraser Coast and some great season deals visit: whalesherveybay.com.au.