Written by

Stephanie Maguire
The Ultimate Bucket List Experience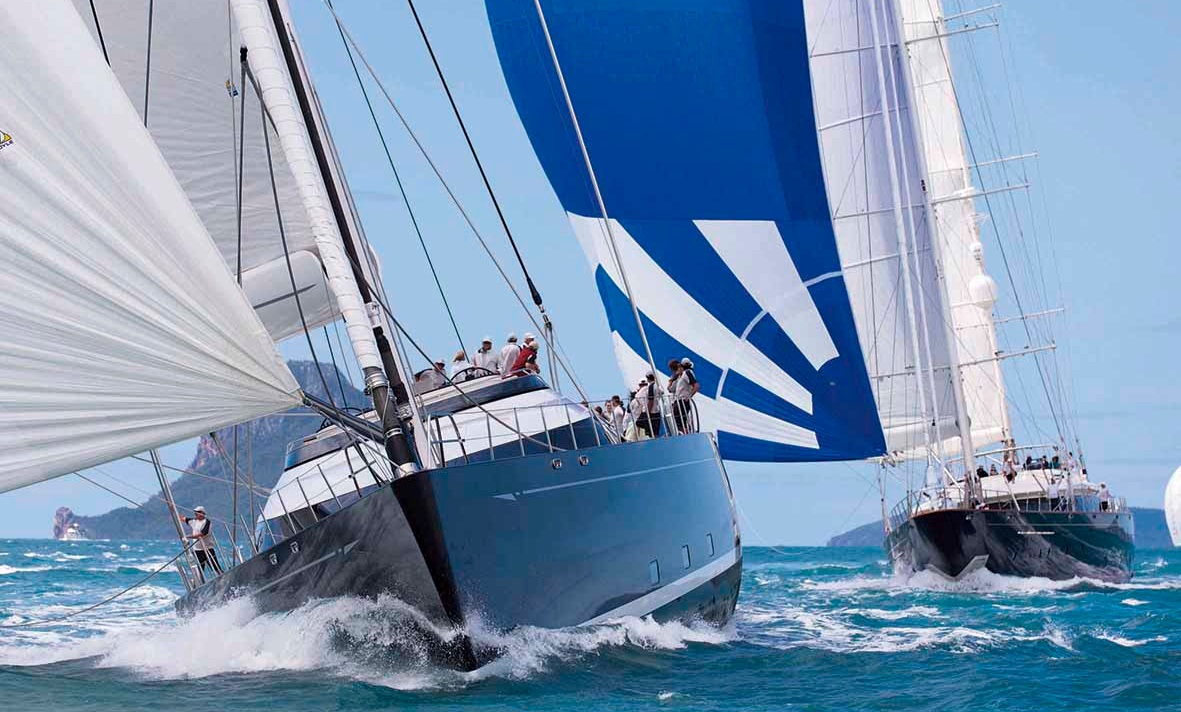 The tranquil waters of The Great Barrier Reef will soon be abuzz with sailors, food lovers and connoisseurs, fashionistas, business leaders and more when Audi Hamilton Island Race Week hits the shores from August 15 to 22, 2015.  The picturesque back drop of Hamilton Island will again make the ideal setting to celebrate and bring to life the vibrant diversity of the annual Whitsunday series, now in its 32nd year, with fine cuisine, fashion and sailing.
The iconic event is celebrating a 10 year partnership with Germany luxury car maker, Audi Australia.  National sailing legends, personalities, VIP's and cultured travellers wishing to tick off a bucket list moment will be offered a first-class experience and prime location to view one of the nation's preeminent regattas. A diverse fleet from around the country including big name contenders Wild Oats X, Ichi Ban and Sydney Hobart overall winner Wild Rose, are set to gather for the six day showdown open to cruising and sports boats, cruising and racing multihulls, trailer-sailers and grand prix racers.
This year the 2015 Audi Hamilton Island Race Week kicks off with an impressive line-up of on-shore events and activities from general admission, ticketed and invite only, including the Piper Heidsieck champagne lunch, Paspaley Luncheon featuring the exclusive launch of the Nautique by Paspaley collection, Louis Vuitton Art of Packing workshop and Audi Ambassador Collette Dinnigan will reveal elements of her much-anticipated exhibition, 'Collette Dinnigan – Unlaced'.  NET-A-PORTER.COM, the world's premier online luxury fashion retailer, returns for the second consecutive year hosting a cocktail reception during the opening weekend, followed by a private Style Suite hosted by the brand's personal shopping team who will be showcasing an exclusive edit of new season collections from the world's leading designers.
"Audi Hamilton Island Race Week caters for family-crewed boats through to the Corinthian and semi-professional teams vying for the prestigious 'Australian IRC National championship - Hamilton Island' that will run in conjunction with Race Week," said Hamilton Island CEO Glenn Bourke, a multiple world champion sailor.
"The island and our title partner Audi Australia expect to host a diverse mix of close to 2,000 sailors and their family and friends from every Australian state and territory, and yachties flying in from overseas to compete in the regatta. With the event these days much broader than a sailing regatta, the shoreside program is action-packed and as fun as the on-water competition!" continued Mr Bourke.
"Audi Hamilton Island Race Week is a truly unique race meet, in one of the most beautiful locations in Australia. This year we're excited to bring up Audi ambassadors and iconic Australian chefs Guillaume Brahimi, Kylie Kwong and Shannon Bennett to delight guests with unique, new gastronomic experiences, as well as to allow Race Week guests to preview Collette Dinnigan's upcoming 'Unlaced' retrospective," says Andrew Doyle, Managing Director, Audi Australia.
The full schedule of 2015 Audi Hamilton Island Race Week activities can be viewed at hamiltonislandraceweek.com.au.
KEY EVENTS 
Culinary Experiences
Audi Ambassador Shannon Bennett will create a Progressive Dinner on Friday 21 August. The dinner will showcase Bennett's unique "fire and heat" cooking technique, with guests moving between various spectacular island locations to experience a truly unique dining experience. coca chu, Catseye beach, Long Pavilion; 5pm – 10pm; by invitation.
Audi Ambassador Kylie Kwong will create an extraordinary banquet style lunch for Audi guests at Pebble Beach on Wednesday 19 August. Audi Kylie Kwong Lunch; Pebble Beach, 19 August; 12pm – 2pm; by invitation.
The champagne will continue to flow at the return of the Piper Heidsieck lunch, overlooking the water at the iconic Hamilton Island Yacht Club. Piper Heidsieck Lunch; Bommie Restaurant; Wednesday 19 August; 12pm – 4pm; $230pp; tickets at audihamiltonislandraceweek.com.au. 
Audi Ambassador Guillaume Brahimi will host a French bistro dinner themed around his book 'Food for Friends' on Sunday 16 August. Guillaume Brahimi Dinner; Bommie Restaurant; 7.30pm; $200pp; tickets at audihamiltonislandraceweek.com.au. Guillaume will also be creating a breakfast in the Marina on Sunday 16th August morning in conjunction with Race Week, open to all.  
For the first time, cocktails will be served up in the Tanqueray Garden Bar, open to the public all week. Tanqueray Garden Bar; Captains Club; launching at Audi Hamilton Island Race Week and open all year round at Hamilton Island.
The favourite Sailor's Dinner is back again with a lively discussion around Australia's bid for gold at the Rio Olympics 2016 – join Olympic gold medallist sailor Tom Slingsby and Glenn Bourke, World Champion sailor and Hamilton Island CEO. Surf & Turf Dinner; Romano's; Monday 17 August; 7.00pm; $130pp; tickets at audihamiltonislandraceweek.com.au.  
Fashion Previews
NET-A-PORTER will host a cocktail reception during the opening weekend, followed by a private Style Suite for guests at the multi-award winning qualia resort which will run for the duration of the event. Net-A-Porter Fashion Experience; qualia's Long Pavilion; Sunday 16 August; 5.30pm-7.30pm; by invitation.
Audi Ambassador Collette Dinnigan will be hosting an on-island event in celebration of her upcoming retrospective exhibition UNLACED at the Museum of Arts and Sciences in Sydney this September. Hosted by Audi, Collette will provide guests with an insight into her twenty-five year career and the process of curating the exhibition, as well showcasing some of her most famous designs. Charles Heidsieck Dinner & Collette Dinnigan UNLACED retrospective; Long Pavilion; 20 August; by invitation.
Learn from the experts in luxury designs and clothing, Louis Vuitton on the 'art of packing'. Louis Vuitton 'The Art of Packing'; qualia; 15-16 August and 20-22 August; 3.30pm daily; by invitation.
Sydney-based milliner, Jonathan Howard, famous for creating headpieces and luxury lifestyle hats for the likes of The Duchess of Cambridge, will be leading a session on the art of hat making, and also designing a special headpiece inspired by Hamilton Island. Millinery Masterclass; qualia Library/Meditation Pavilion; by invitation.
Guests will enjoy an exclusive experience during their stay on Hamilton Island at the Paspaley luncheon, where the limited-edition collection Nautique by Paspaley will be unveiled. Inspired by the annual world class sailing event, the collection plays with nautical motifs in yellow gold and Australian South Sea Pearls. Paspaley Lunch; qualia's Helipad; 12pm; $200pp; tickets at audihamiltonislandraceweek.com.au 
Fashion and high performance sailing will come together in a glitterati event during the Henri Lloyd Fashion Parade where sailors swap their racing bibs for the latest in onshore sailing fashion. Held on Main Street, the eagerly anticipated parade draws a large crowd of Australia's best regatta sailors and celebrities each year. Henri Lloyd Fashion Parade; Marina Tavern Forecourt; 6.30pm – 7.30pm; free.
Drive Experience
Visit the Home of quattro to be one of the first people in Australia to get behind the wheel of the all-new Audi Q7 on our custom designed course before its official launch in September. Home of quattro, all new Audi Q7 driving experience; 15-21 August; 9am – 4pm; free.
Audi Outdoor Cinema
For the first time, Race Week will feature the ultimate outdoor cinema experience, presented by Audi, where guests can relax into an evening of pure entertainment while enjoying the warm tropical nights. Audi Outdoor Cinema; Barge Jetty; 16-17 Aug and 20-21 August; Gold coin donation for SOLAS (Safety of Life at Sea). 
Audi Shuttle
Cruise around Hamilton Island in style. Throughout Race Week, Audi shuttles will be offering complimentary transfers for all guests – simply flag one down and ask the driver to take you where you would like to go.
Social Media:
Facebook: www.facebook.com/raceweek;   www.facebook.com/AudiAustralia
Instagram: Connect with us: @hamiltonisland @AudiAustralia | Mention us: #AHIRW, #hamiltonisland #AlwaysAudi
Twitter: www.twitter.com/raceweek | Connect with us: @raceweek  @audi_australia| Mention us: #AHIRW  #AlwaysAudi
About Audi Hamilton Island Race Week
Audi Hamilton Island Race Week is Australia's largest offshore yachting regatta and the not-to-be-missed event on the international sailing calendar. Each year the regatta attracts skilled yachtsmen from around the world including New Zealand, Europe, Asia and America. The superb sailing rivalry is enhanced by a diverse on shore social schedule of celebrity chefs, fashion shows, exquisite jewels and glamorous parties. Audi is the title sponsor of Hamilton Island Race Week. The German luxury carmaker is now in its tenth year as sponsor of this leading regatta. For full details visit www.audihamiltonislandraceweek.com.au.
Getting to Race Week
Located in the heart of the renowned Whitsundays, and serviced by daily flights from around Australia, Hamilton Island is a convenient and easily accessible holiday destination. For information on current flight schedules, visit: www.audihamiltonislandraceweek.com.au.