Written by

News Feature Team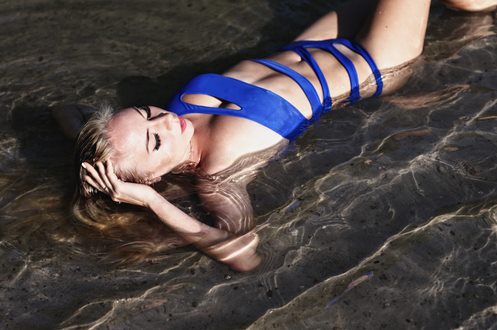 For many of us, summer is the time of year where all we want to do is find a nice patch of grass or sand, ideally near some large body of cool water, and soak up the sun! However, first it's essential to find a great bathing suit to wear while doing it! Here are our top six tips for finding the suit that cradles all the right curves!
Comfort is Key
No matter what styles are in fashion or what body type you have, the most important thing about choosing a swimsuit is that you feel comfortable stepping out in it. There are so many silhouettes to choose from that you can be as covered or uncovered as your heart desires. You can choose cute cut outs, high rise swim bottoms, triangle tops, one pieces or two! As long as you feel good you can rock whatever style you like.
Make Sure it Suits the Purpose!
Once you have found a suit that you are comfortable in and love, you need to make sure it is practical for the activities you what it for. If you just want to lounge around and wade in the shallows any bathing suit will meet your needs but if you want to exercise in it, surf or swim you might want to opt for a style that is a little more secure. If you are branching out it might also be worth considering rashies, swim shorts or a wetsuit, depending on what you have planned.
Check That the Store Stocks Your Size/ Style
If you are curvier, or have a larger bust, you may find it difficult to find suits that are flattering or fit your support needs. If you wear a bra that has a cup size larger than about a D, then you will feel much more at home in a specialty store. They will have more variety and styles to choose from and you won't feel like you will never find anything that fits.
On the other hand, if you are looking for something that is more athletic than fashionable, you should also not bother with your local surf shop or department store. You will have much more luck in a store that is specifically for swimwear or athletes.
Accept that You Will Not Love Every Suit
The way to your ideal suit is not always direct or smoothe so expect to try on plenty of suits that you don't love before you find the one. Try not to be discouraged because it is out there, you may just need to visit a few stores and hunt through a few piles of fabric before you find it.
Don't Shy Away From A Mix and Match
If you are finding that the matching two pieces aren't exactly fitting right or you can't decide on one colour or style, that's fine! They sell pieces separately for a reason. You should feel free to mix and match colours, patterns and styles until you find the combination that suits you best.
Everything Looks Different on the Hanger
It is important to remember that it isn't always easy to tell what something will look like on your body from just seeing it on a hanger or a mannequin. You will never know if a style or colour will look good on you until you try it on. With that in mind, you should always try things you haven't seen before and always, ALWAYS try a suit on before you buy it because most places will not return or exchange swimmers.
Once you have picked a style, all that is left to do is hit the beach and flaunt your stuff!