Over 100,000 people flocked to The Rocks this past Sunday 26 July, filling the historic precinct's laneways to celebrate the city's beloved The Rocks Aroma Festival. Aroma is designed by SHFA as a winter activation to enliven the precinct and bolster Sydney's visitor economy over the colder months.
With Rich blends, chocolate, and handcrafted pastries from the city's leading boutique roasters, cafes and food crafters, coffee connoisseurs were treated to more than your average cup. Relaxing live music and an array of coffee festivities kept the day buzzing, and visitors left not one sip of Aroma unfinished.
CEO of Sydney Harbour Foreshore Authority, Catherine Gallagher, praised the Festival as a unique celebration of Sydney's café culture: "Aroma brings Sydney's best roasters to The Rocks and with them over 50 specialty coffee and food stalls. It's a smorgasbord of culinary delights and a great chance to enjoy one of the city's most iconic locations."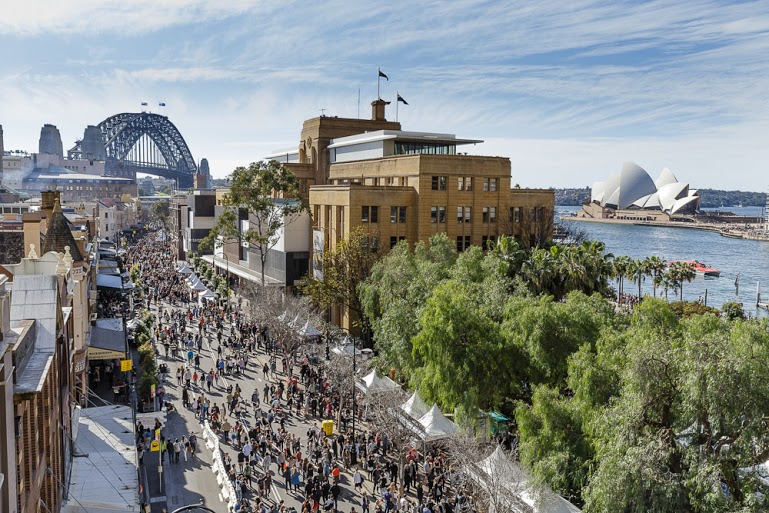 COFFEE DREAMS COME TRUE IN THE ROCKS
This year, Aroma delighted coffee nerds with visits from Moata Raya and Ansha Yassin, senior partners and brew experts at TechnoServe, a non-profit organisation that drives responsible employment in the African coffee industry. In their workshop, Moata and Ansha shared their experiences following bean to brew in Ethiopia, the birthplace of coffee.
The Australian Specialty Coffee Association (ASCA) also brought together coffee celebrities, Sasa Sestic, the World Barista Champion, and Habib Maarbani, the NSW Barista Champion. Onlookers were treated not only to a demonstration of Sasa's signature winning cup, but also Habib's gorgeously delicate latte art.
The art of the barista continued to inspire awe in the highly anticipated Breville's Latte Art Smackdown. An annual highlight, this competition showcased the delightful and speedy café craft of baristas in knockout challenges. Axl Chan from The Bunker Café, Sydney topped them all to win $3000 in a cash pool prize! Aficionados on the Western Promenade in The Rocks Brewing One Shot Pop-Up Bar, enjoyed harbour views and coffee-infused beer while sipping on Vella Nero's best One Shot Caffeinated Red Ale.
Aroma brought a little something for everyone as Vintage Coffee Carts, Cosmic Coffee or Solar Hot Chocolate at the Sydney Observatory gave visitors a new dimension to indulge in their inner wannabee barista. Sydneysiders relished the opportunity to see what's brewing in their future with the Argyle Oracle Tealeaf readings, a series of stimulating 15-minute sessions that added an extra teaspoon of magic to the Festival.
James Patrick previewed his new artistic medium "coffee" and produced stunning cocoa paintings. Likewise, Jo Wallace's Aroma Shots Photography Exhibition captured the deep adoration that Sydneysiders have for their favourite bean, with stunning shots of the café culture that permeates The Rocks.
At the heart of Aroma, visitors found their Coffee Heaven; over 50 stalls boasting a multitude of different coffee blends and desserts, accompanied by swanky live swing and jazz music from roving musicians. 
And it's not over yet! As part of The Rocks Aroma Festival, the 'Aroma Cup' has The Rocks' many cafes and baristas currently going head to head in a public vote for the makers of the best coffee. Judge your way around 13 local brews to crown The Rocks' finest blend. Be sure to vote online before July 31st for a chance to win more than $3,000 worth of prizes, including a Breville Oracle espresso machine!
Sydney Harbour Foreshore Authority (SHFA) is the NSW government's custodian of The Rocks with the vision of making extraordinary places in Sydney the world talks about. While preserving The Rocks' unique heritage, SHFA produces large-scale and intimate quality events, outdoor markets, and educational tours.
For more information visit therocks.com