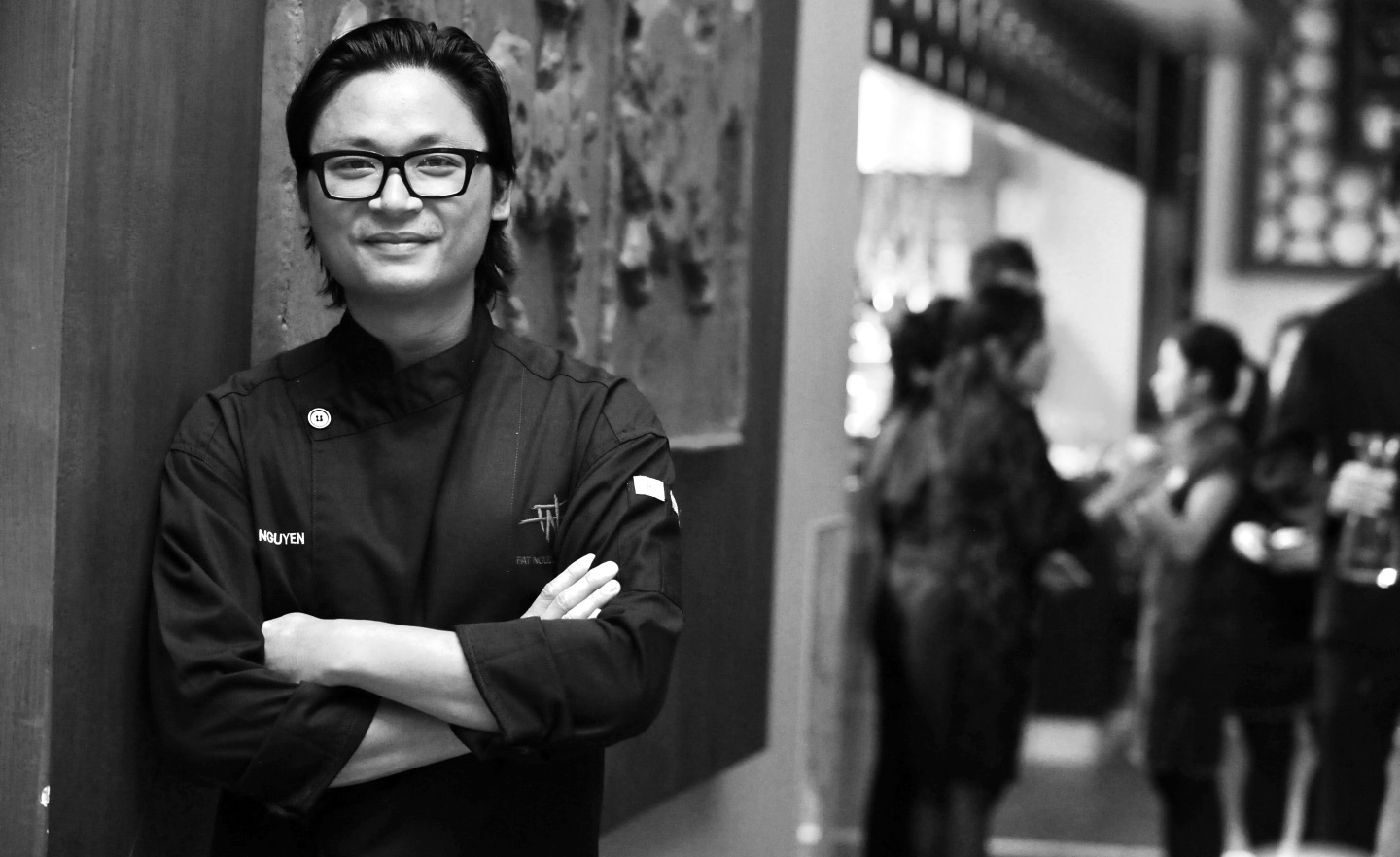 One of Australia's leading celebrity chefs and the man behind The Star's Fat Noodle, Luke Nguyen has drawn on inspiration from his travels to introduce new dishes to Fat Noodle's Pan-Asian menu.
"Some of my old favourites like our signature pho dish cooked in 400 litre kettles with oxtail and wagyu will remain, however we've introduced some exciting new additions including the Burmese Heirloom Tomato Salad, Cod Fish Fillet Curry and Yunnan Miao Hot & Sour Prawn – just to name a few," says Luke.
"The appetite for Asian style dishes is growing and with this comes a demand to continue to bring new offerings to our hawker-style menu."
Luke says it's the dynamic mix of Fat Noodle's talented chefs from all over the world that has helped to contribute to the diverse Asian-fusion flavours found on the Fat Noodle menu.
"We have chefs from Cambodia, Vietnam, China, Korea, Thailand and Malaysia. Everyone brings ideas from their homeland which culminates to make something really special."
Fat Noodle's new menu will be available for dinner from Thursday, 23 July 2015.
New items on the Fat Noodle menu include:
Small Plates
BURMESE HEIRLOOM TOMATO SALAD – Tossed with Five Spice Tofu & Sesame Dressing
WAGYU BEEF RICE PAPER ROLLS – Filled with Sliced Wagyu Beef with Auntie Nine's Fish Dipping Sauce
WARM GREEN BEAN JELLY SALAD – Thinly Sliced Pork Belly & Cucumber with Mustard Dressing
PATTAYA SALAD – Arctic Surf Clams with Cucumber, Jicama, Pomegranate, Basil, Chillies & Peanuts
ATLANTIC SALMON SASHIMI – Sprinkled with Lemongrass & Rice Powder Nuoc Mam Cham Dressing
PACIFIC OYSTERS (6) – Topped with Nuoc Mam Cham Dressing
Rice
COD FISH FILLET CURRY – With Eggplant, Potatoes, Chick Peas & Green Beans, served with Jasmine Rice
YUNNAN MIAO HOT & SOUR PRAWN – With Tomato, Capsicum & Pineapple, served with Jasmine Rice
LIJIANG CRISPY CHICKEN – With Radish Pickle, Shallots, Chillies, Garlic & Vinegar Dressing, served with Jasmine Rice
FAMOUS KOREAN FRIED CHICKEN – In Garlic Hot Pepper Sauce & Sesame Seeds, served with Jasmine Rice
PEKING DUCK – Steamed Pancakes, Shallots, Cucumber & Hoisin Sauce
Woks
DALI STYLE FOUR SEASONS BEANS – Wok Tossed with Dried Shrimps & Olive Mustard Leaves
TRADITIONAL CHANG MAI STIR FRY – With Minced Wagyu Beef
YUNNAN RICE CAKES – Stir Fried with Smoked Ham & Pickled Vegetables
About Fat Noodle Fat Noodle is located amongst The Star's Baccarat action, with open kitchen in full swing day and night. The man behind it is Luke Nguyen, one of Australia's leading celebrity chefs and owner of award-winning Red Lantern restaurant in Sydney. Fat Noodle serve a dynamic mix of Vietnamese, sprinkled with Chinese, Thai and Malay.
Level 1, Casino
The Star,
80 Pyrmont Street,
Pyrmont NSW 2009
Sunday-Thursday, 11:30am-2:00am
Friday & Saturday, 11:30am-5:00am
About The Star
The Star is Sydney's only world-class casino and entertainment destination. The Star offers award-winning chefs and restaurants, luxury hotel accommodation and serviced apartments, a 14-room day spa, an international designer retail collection as well a world-class casino and international nightclub Marquee. The $100 million Star Event Centre is a state-of-the art multi-use venue and has hosted more than 250 events since opening in January 2013, including The AACTA Awards, The ARIA Awards, The Premiere of World War Z, charity events for the Starlight Foundation and Thomas Kelly Foundation and international talent such as Ricky Martin, Seal, Coldplay and Alicia Keys. For more information or enquiries, visit www.star.com.au or call 1800 700 700.