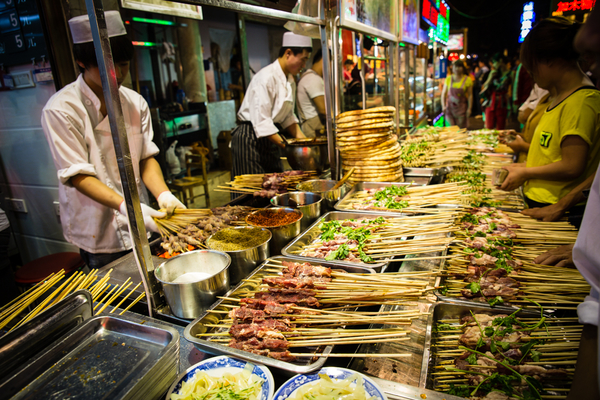 Savvy travellers are getting a jump on the peak travel period by visiting the world's most populous country – China – in spring, to take pleasure in the best of its authentic food as well as a range of great sights.
To assist, Insider Journeys shares its insights into the country's top five food cities that attract thousands of tourists each year to this culinary fusion.
"Chinese cuisine has a history that is steeped in tradition, influenced by the diverse geography and available resources," explains Insider Journeys Managing Director Paul Hole. "Today tourists flock to China, and it is no secret that one of the main attractions is its food.
"A trip to China will certainly awaken all of the senses, but perhaps none more than taste. Each of the listed five cities highlight a standout restaurant where travellers can sample the most authentic Chinese food."
China's top five food cities preferred by foreign travellers and their palates are:
1. Beijing - With a history dating back a thousand years, China's capital is a compelling city rich in heritage. Reminders of its imperial past are found amongst some of the world's most extraordinary examples of modern architecture but also in its cuisine.Peking duck or roast duck is one of the most celebrated dishes of Beijing cuisine. With a history of more than 400    years, it is considered as one of China's national dishes. A classic among Chinese foods, it's prepared best in Beijing where it originated as an imperial food.
Known for its thin and crispy skin, traditional Peking duck with all the trimmings is a must-eat dish. For an authentic Jing cuisine experience, 'Quanjude' is one of the best duck restaurants in the capital. Enjoy a pleasant atmosphere where the staff aim to make you feel like royalty.
Address: 9 Shuaifu Hutong, Wangfujing.
2. Chengdu - Chuan Cuisine, originating from Sichuan Province in southwestern China, is the most widely     served cuisine in China and is the food of its major city Chengdu. The dishes of Chuan Cuisine are famous for their hot-spicy taste – often blistering hot – and the flavour of Sichuan pepper that is rare in other regional cuisines.
'Yu's Family Kitchen' chef Yu Bo is widely considered the 'guardian' of authentic Sichuan cuisine, serving one of eight major culinary traditions in China with a twist. Located in an apartment in a chic private residential estate, the restaurant offers guests a degustation consisting of some 20 signature dishes, including Gong Bao chicken, twice-cooked pork, Zhong dumplings in spicy garlic sauce, and green beans in ginger sauce, instead of a menu.
For a chance to dine at one of China's most talked about Chef's restaurants, bookings need to be made well in advance.  Address: Shuanglin South Branch Rd, Chenghua, Chengdu.
Address: Shuanglin South Branch Rd, Chenghua, Chengdu.
3. Hong Kong has a well-earned reputation as a shopping mecca, but there's much more to this vibrant city that is steeped in history.
High above the bustling streets sits a restaurant whose name links back to Beijing's old city – 'Hutong' – and whose menu and décor were inspired by the Chinese capital's atmospheric old neighbourhoods.
'Hutong' restaurant offers mouth-watering Northern Chinese cuisine, including signature crispy de-boned lamb ribs and soft shell crab with chilli, with stunning views overlooking Victoria Harbour where nightly 'Symphony of Lights' shows can be seen from 8pm.
Address: 28/F One Peking, Tsim Sha Tsui, Hong Kong.
4. Xian is China's oldest city. It was considered one of the most culturally important cities in the world, serving as the imperial capital for over a thousand years and an important hub on the ancient Silk Road. Today, Xian remains a melting pot of cultures and cuisine styles, rich in sights and culinary experiences, including its lively Muslim Quarter.
The Muslim Quarter can be explored day or night. Venture beyond the Grand Mosque to 'San De Long Restaurant', set in the main pedestrian street of the Muslim Quarter. This local eatery serves an array of delicious dishes flavoured with exotic spices originally brought to China from the Middle East by traders who travelled along The Silk Road.
Address: No. 141 Beiyuanmen, Lianhu District, Xian.
5. Shanghai is full of surprises and delights at every turn and is unlike anywhere else in the country. Situated on the banks of the Yangtze River Delta, it's China's largest city and embodies contemporary China as does many of its restaurants.
'South Beauty' is one of these restaurants and offers a contemporary interpretation of Sichuan food, toning down the traditionally mouth numbing chili-spice to a comfortable level, while maintaining the distinctions of authentic Sichuan cuisine. Served in a chic setting that overlooks the Huang Pu River and Bund, this eatery skilfully combines sleek décor with beautifully-presented dishes, some dramatically cooked at diners' tables.
Address: Level 10, Super Brand Mall, 168 Lujaizui Xilu, Pudong.
Insider Journeys offers the following trips to these destinations of Asia:
11 day 'China Culinary Discovery' from $5,310 per person twin share. The itinerary includes Beijing, Xian, Chengdu and Shanghai.
10 day 'Highlights of China' from $3,595 per person twin share. The itinerary includes Beijing, Xian and Shanghai.
8 day 'Yunnan Explorer' from $3,445 per person twin share. The southwest China itinerary includes Kunming, Dali, Lijiang and Zhongdian. Add a few more days to this Small Group Journey and experience Hong Kong on a private travel tour.