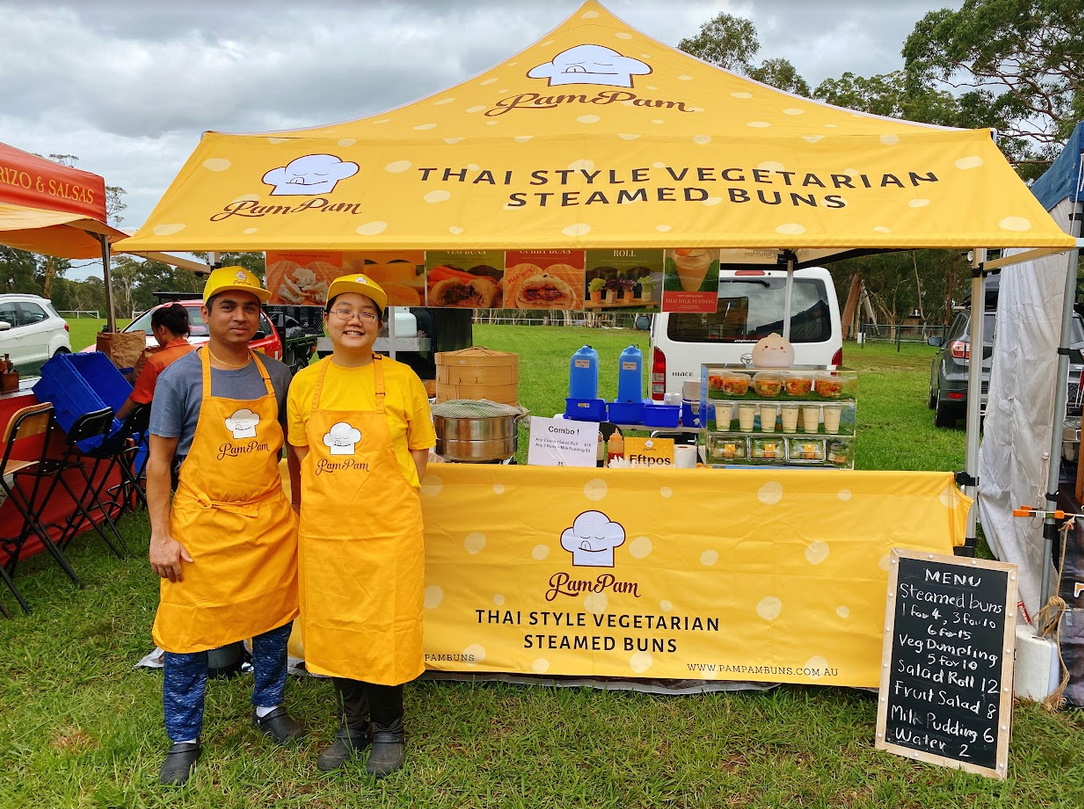 Sydney, AUSTRALIA – Pam Pam Buns, the Australian manufacturer of authentic Thai plant-based buns and ready-made meals, has announced the release of a new range of curry pouches and ready-made meals available for retailers. The latest product ranges follows Pam Pam Buns' expansion to over 170 stores across Australia and the launch of a dedicated online store.
The new product expansion includes plant-based Thai Massaman, Panang and Green curry pouches available now, alongside four plant-based ready-made meals ($8.00 RRP): Thai Pork Basil with Rice, Thai Mushroom Noodle, Pork Spring Roll, Pork and Mushroom Dumpling available from October.
The new additions will meet the growing demand of flexitarian and plant-based consumers in Australia, with one in five Australians making a conscious effort to reduce their consumption of meat for health and environmental reasons[1].
"We're very excited to be expanding across Australia with our latest range of curry pouches and meal trays," said Pimarada (Pamela) Watcharadechmontri, Founder of Pam Pam Buns. "The new range is our first step to becoming a Thai food company that produces a variety of plant-based meals that are just as delicious as meat-based dishes. By building our portfolio, we're able to attract new customers who love authentic Thai flavours with the added health benefits of a plant-based alternative."
The product expansion will sit alongside Pam Pam Buns' already successful range of plant-based Thai buns. Found in the freezer section, the packs of four individual buns come in a variety of flavours, including Massaman Curry, Green Curry and Mushroom.
The Pam Pam Buns Story:
Founded in 2015 by Thailand-born entrepreneur Pimarada (Pamela) Watcharadechmontri, Pam Pam Buns is an Australian owned and operated company headquartered in NSW. Growing up in a family of entrepreneurs, Pamela harnessed her love of vegetarian food and Thai heritage by selling her steamed buns to family, friends and local market stalls.
Following a wave of positive 'nice buns' feedback, Pamela made the bold decision to set up her own factory in Riverstone and kick start the business. Since its launch, Pam Pam Buns has seen exponential growth for its range of delicious Thai buns. After landing its first in-store placement in 2019, Pam Pam Buns has steadily hit the shelves across a selection of major retailers and recently expanded interstate to VIC, QLD, WA, SA and TAS. The company is currently available online and in more than 170 stores, including select Woolworths Metro, Coles Local, Harris Farm Markets, QE Food Stores, IGA and FoodWorks across Australia.
Throughout the years, Pam Pam Buns has generated a cult following and community for its products. "I grew up in a family of entrepreneurs and inherited my entrepreneurial spirit from my parents. Seeing their dedication and resilience in running their own businesses inspired me to start and grow Pam Pam Buns. It's not always been smooth sailing and there have been many obstacles along the way, but for me, giving up on my dream has never been an option."
"We partly owe our success to our loyal community of fans, who we treat like our friends and family. They buy, taste and feedback on every single one of our products and we listen. Their excitement for our new product range is what feeds our ambition to continue our business growth," noted Pamela.
You can find out more about where to purchase Pam Pam Buns here.