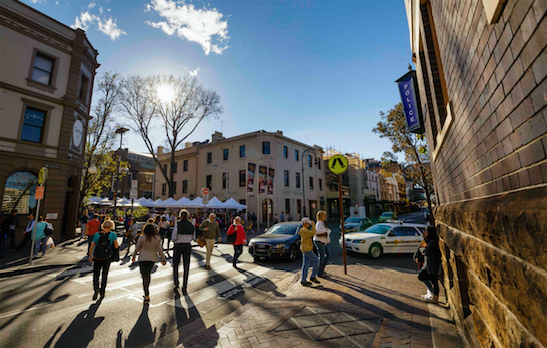 Sydney Harbour Foreshore Authority (SHFA) is pleased to announce that it will be the Presenting Partner of Vino Paradiso: Wine & Food Festival 2015 which will take place in The Rocks 6 – 8 November.
SHFA delivers spectacular festivals and events that position Sydney as a global destination and enhance the experience for locals and visitors, which expertly parallels Vino Paradiso's mission to create one of Sydney's pre-eminent festivals and must-attend events that will attract a significant global profile.
After a successful inaugural year Vino Paradiso has relocated to The Rocks, a unique precinct with a larger event space on the foreshore of the iconic Sydney Harbour. From 6 – 8 November, the festival will host 80,000+ visitors and 150 food and wine stalls from regions across Australia, transforming The Rocks into a food, beverage and lifestyle paradise.
Matthew Williams, Director of Vino Paradiso, is thrilled about the new partnership:
"In the past 12 months, The Rocks has had over 14 million visitors. It is a globally recognised precinct, renowned for quality food and beverage that offers visitors an unrivalled blend of the old and the new, making it in the ideal location for Vino Paradiso 2015.
"With the help of SHFA, we're excited to once again open up a world of the finest providores and artisans, showcasing the best of Australia's food & wine regions and breweries on the edge of the breathtaking Sydney Harbour," said Matthew Williams
SHFA CEO Catherine Gallagher said the Authority partners with private companies whose activations are consistent with The Rocks as an historic precinct which is emerging as a go to destination for foodies as well as for bespoke, and interesting retail offerings.
"Vino Paradiso is a great fit for The Rocks as it will entice visitors to a place where they will find curious and unique products and food offerings to entertain and savour. The Foreshore Authority curates festivals and events which attract locals and visitors, as this not only builds the reputation of Sydney as a global city, but has terrific flow on effects for the economic health of the precincts and the wider NSW economy," Catherine Gallagher, Sydney Harbour Foreshore Authority CEO said.
This spring, Vino Paradiso will take visitors on a journey of wonder and discovery through a maze of the world's best labels, brands and producers. Along the cobblestoned laneways, festival attendees will enter a magical world of music, art and interactive happenings including innovative installations, ambient music collaborations and visual artistry.
For more information on Vino Paradiso visit www.vinoparadiso.com.au.

About Vino Paradiso
From November 6 – 8, 2015, Vino Paradiso: Wine & Food Festival will host 80,000+ visitors, transforming one of Australia's most spectacular locations into a paradise of food, beverage and lifestyle activations. Across three days, the festival will take visitors on an interactive journey, through a maze of over 150 stalls, exploring the world's best producers and organisations at The Rocks, one of Sydney's most iconic precincts.
Please visit the website for more information: www.vinoparadiso.com.au.

About SHFA
SHFA is the landowner and manager of some of the State's most significant foreshore assets, including Sydney's heritage and cultural precincts, The Rocks and Darling Harbour, on behalf of the NSW Government. These precincts attract 41 million visitors a year and contribute $1.2 billion GVA to the visitor economy.  SHFA's vision is to make extraordinary places in Sydney that the world talks about.  
MV MULTI VIW - This feature article published in collaboration with MultiViw