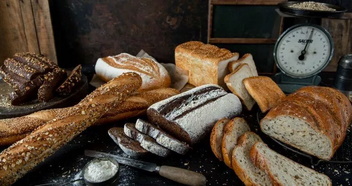 When it comes to cooking with frozen dough, there are many different types you can use depending on the dish you want to make. It is important to know the different types of frozen dough available so that you can use them in your delicious cooking.
Keep reading to learn more about the different types of frozen dough and how you can use them in your cooking!


Bread
Making meals with bread is much easier with frozen dough bread. Frozen bread loaves are versatile and can help make delicious savory and sweet meals. Within the category of frozen bread dough, you can purchase bread slugs, viennas or even french sticks to make your meals. Once baked, you can use a bread knife to slice your bread to your ideal size and serve them with sweet spreads or alongside roasts and vegetables.
Flatbread
Frozen flatbread dough can be used to make a variety of meals, including crisps, salad fillings and pizza. Due to the flexibility of frozen flatbread dough and their reasonable price range, they are very commonly purchased by bakeries, cafes and restaurants for their menu items.
To make flatbread crisps, simply separate your frozen flatbread dough into bite sized pizzas, brush on both sides with your own seasoning and bake. You can bake and toast frozen flatbread dough for salads and spread them thin to use as a pizza base.


Rolls
Ideal for breakfast and lunch menu items, frozen roll dough can be quickly baked to make filling sandwiches and other to-go foods. You can purchase different sizes of frozen roll dough so that you make the right serving of food for breakfast or lunch.
Depending on the type of filling you want to use - or if you want to make one at all - simply make an incision in the frozen roll dough after baking through the top or from the side. Alternatively, you can also use rolls to complement existing foods you have prepared, such as salads and scrambled eggs. You can even simply have a freshly baked roll with some sweet spreads.


Scrolls
Frozen scroll dough is much loved in Australia, due to their appetising sweetness. Usually made with fruits or herbs such as cinnamon, scrolls are a little more exciting to have than regular bread, flatbread or rolls. After baking a frozen scroll, you can even top it with custard or a melted sugar glaze for a sweeter touch. Frozen scroll dough is incredibly popular among cafes and bakeries, due to many customers in such areas preferring small and sweet breads to have as a snack alongside hot drinks.
As listed above, there are many different types of frozen dough, and you can use them in various ways to suit your cooking needs as well. From bread, to flatbread, to rolls and scrolls, there are many options for you to consider when cooking with frozen dough. If you are looking for frozen dough to use in your cooking, consider contacting Australian frozen food suppliers.