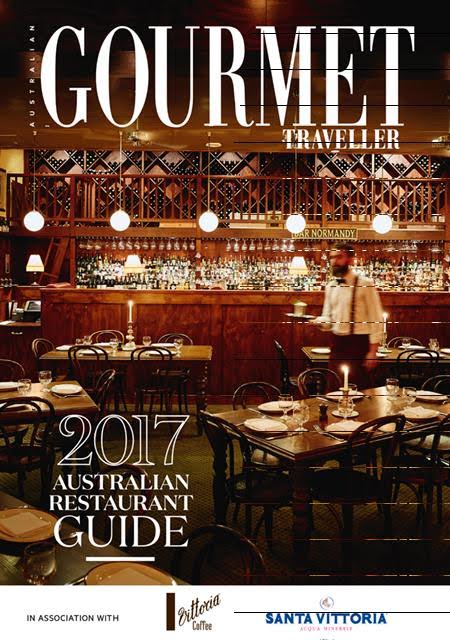 Momofuku Seiobo named the number-one restaurant in Australia
The nation's best place to eat was revealed tonight at the Oscars of the Australian food world, the Gourmet Traveller Restaurant Awards. Sydney's Momofuku Seiobo took out the top spot, named Australia's Restaurant of the Year in the country's only national restaurant awards based on independent reviews.
Momofuku Seiobo, led by Barbados-born chef Paul Carmichael, taps the culture of Barbados for inspiration, producing a cuisine that's fresh, flavoursome and completely unexpected.
"Finding fine-dining Barbadian food this good in the Caribbean itself would be a revelation," says GT chief restaurant critic and deputy editor Pat Nourse. "Finding it in Australia is astonishing in the best of ways."
"This is real for me but it's not about me – this kind of food needs a voice," says Carmichael. "And we're just getting started."
Australia's leading chefs and restaurateurs gathered in Sydney to attend the awards and the launch of the country's only national restaurant guide at a gala dinner hosted by Gourmet Traveller's editor Anthea Loucas Bosha and Nourse. The event was held at Long Chim, the long-awaited return to Sydney's dining scene for local boy David Thompson, a chef who, in the 17 years since he left Australia, has become recognised worldwide as the foremost interpreter of the cuisine of Thailand.
Ben Shewry of Attica in Melbourne took out the peer-voted Chef of the Year, shoring up his reputation as a chefs' chef and his renown as the nice guy of Australian cooking, and an unofficial ambassador for treating staff well.  
Australia's Regional Restaurant of the Year is Aaron Turner's new Geelong restaurant, Igni, and the nation's Bar of the Year is Adelaide's charming and new Pink Moon Saloon. Back in Melbourne, Andrew Joy from Marion in Fitzroy scored Maître d' of the Year with his witty and informed hospitality, while chef Thi Le of Melbourne Vietnamese restaurant Anchovy is the country's Best New Talent.
In Sydney, Restaurant Hubert scored a double-header, picking up New Restaurant of the Year and Wine List of the Year, while Dan Sharp of Sixpenny was named Sommelier of the Year. Indigenous author and educator Bruce Pascoe was recognised for his Outstanding Contribution to Hospitality, the guide's editors citing his eloquent, persuasive revelations which have inspired his audience to accept, appreciate and adopt indigenous ingredients and food culture.
"I think the diversity of the backgrounds of the winners of these awards says really positive things about the new direction of restaurants and hospitality in Australia," says Loucas Bosha.
"The real winners here are Australian diners," says Nourse. "Australia punches well above its weight internationally with the quality of its food and wine. Best of all, we keep it fun, and that's what Gourmet Traveller is all about – bringing people together to share the good times."
Details of the winners are in the September issue of Gourmet Traveller, on newsstands with the new edition of the Gourmet Traveller Australian Restaurant Guide, presented in association with Vittoria Coffee, and supporting sponsors Ilve, Petuna and Alessi, on Thursday 18 August. The full list of winners follows.
GOURMET TRAVELLER RESTAURANT AWARDS WINNERS
RESTAURANT OF THE YEAR
Momofuku Seiobo, Sydney
CHEF OF THE YEAR
Ben Shewry – Attica, Melbourne
NEW RESTAURANT OF THE YEAR
Restaurant Hubert, Sydney
BEST NEW TALENT
Thi Le – Anchovy, Melbourne
REGIONAL RESTAURANT OF THE YEAR
Igni, Geelong
BAR OF THE YEAR
Pink Moon Saloon, Adelaide
MAITRE D' OF THE YEAR
Andrew Joy – Marion, Melbourne
WINE LIST OF THE YEAR
Restaurant Hubert, Sydney
OUTSTANDING CONTRIBUTION TO HOSPITALITY
Bruce Pascoe, Indigenous author and educator
SOMMELIER OF THE YEAR
Dan Sharp – Sixpenny, Sydney
About Bauer Media:
Bauer Media publishes 60-plus magazines in Australia, selling more than 60 million copies each year. They include some of the longest-running and most successful mastheads, such as the country's biggest-selling monthly magazine, The Australian Women's Weekly, Australia's number-one weekly magazine, Woman's Day, Dolly, NW, TV Week, Cosmopolitan, Australian Gourmet Traveller, Australian House & Garden and Wheels. Integral to the company's success are vibrant, information-packed websites, mobile apps and social media platforms managed by Bauer Xcel Media, Bauer's global digital division. BauerWorks leads the way in creating branded cross platform editorial content for major clients including Telstra, Myer and Weight Watchers. For more information visit
bauer-media.com.au
Vittoria Coffee and Santa Vittoria Acqua Minerale proudly sponsor Gourmet Traveller National Restaurant Awards.