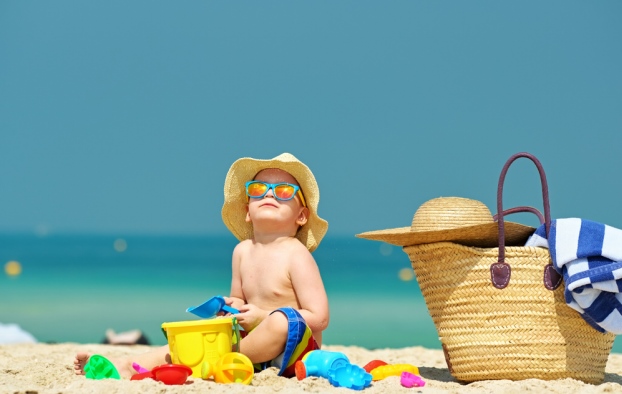 When the mercury rises in the summertime, it is essential that parents take steps to ensure that their babies are kept comfortable and safe. Because babies are more sensitive to the elements than adults are, it is imperative that they are well shielded from the harsh elements. Babies can quickly lose body fluids through perspiration, which can eventually lead to dehydration and whole medley of medical issues. In this article, we will look at the steps you can take to keep your baby comfortably in safe and hot weather, so read on to find out more!


1. Hydration Is Key
The first and most important step when it comes to protecting your baby from the harsh weather is ensuring that they are well hydrated. This means offering them sips of water or juice at regular intervals to ensure they are not dehydrated. If you are still bottle feeding your child, you may need to increase the number of feeds on a hot day and aim for about 1 litre of fluids per day per child.
This is especially important if you're out and about, and it is always advised that you keep bottles of water in your handbag or in the storage compartment of your twin pram, so that you're always ready to offer a drink to both yourself and your child when you are outdoors. Stay away from beverages that contain high levels of sugar or additives, and always stick to plain water or infant formula when possible.     


2. Never Leave Your Child In A Car
One of the most dangerous things you can do in the hot weather (or at any point in the year, honestly) is to leave your baby in a car, even if the air conditioning is left turned on. You will be subjecting your child to heatstroke, dehydration or even death if you do so, so it is extremely important that you avoid doing this.
In most countries, leaving a child unattended in a car is a crime, so you can only imagine how harmful doing this is to a baby. The temperature in a parked car can often climb to dangerous levels, and a child's body temperature rises up to 4 times higher than that of an adult, making them even more susceptible to the heat. Always ensure you bring baby along with you, or leave them at home with a babysitter if you are heading somewhere that is not child-friendly.


3. Sunscreen, Sunscreen, Sunscreen!
The skin of a baby is so incredibly sensitive, so it only make sense that you apply sunscreen to your baby's skin before heading out in the sun. Always use sunscreen of at least a minimum level of SPF 15 for children, and ensure that the product also protects against UVA and UVB rays. This is especially important in Australia, where UV levels are incredibly high. Many brands make sunscreen specifically for children, sans harmful additives that may irritate a baby's skin, so always choose child friendly options when possible. Don't forget to protect yourself as well, and apply sunscreen as needed to your own skin.


4. Keep Baby Cool
If you are at home, we recommend using the air conditioner to cool your home down in the summertime. If you don't have an air conditioning unit, ensure that you at least have a few fans around the house that will keep air flowing and cool for both you and your baby. Other ways of keeping baby cool are to allow them to play in a paddling pool under the shade. Always stay vigilant and alert at all times whenever your baby is in contact with water. You can also choose to keep clothing to a minimum for baby at night, and using a single sheet in their crib instead of thick blankets. We always recommend having a nursery thermometer so that you can keep note of the temperature and adjust accordingly.


5. Time Outdoor Activities and Plans Wisely
Last but not least, when it is hot out, it is best to time your outdoor activities wisely. If you know temperatures are going to soar, wait for it to cool down before heading out with your baby, or choose another day to go out instead. The worst time to be outside on a hot day is between 10am-2pm, so plan your outings accordingly.
We hope that this article has been helpful in giving you some handy tips on how you can keep both your baby and yourself safe, comfortably and healthy in hot weather.
Source: Shutterstock