Written by

Annette Densham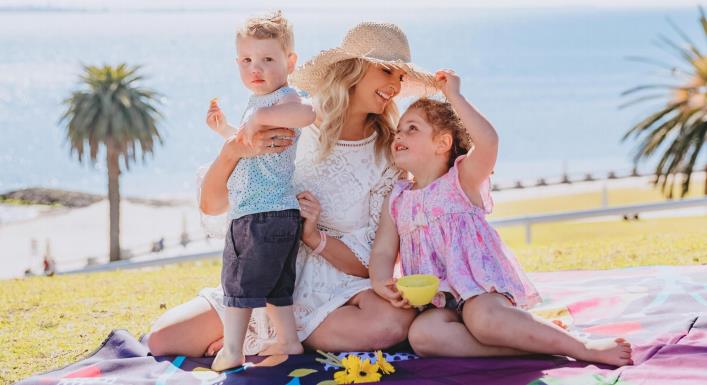 Three in four parents admit they're too busy to spend time together as a family due to the pressures of modern day life, new research reveals.
A survey into the daily life and routines of 450 Aussie families, showed long working hours, getting home from work exhausted and parents engaging with handheld devices has led to more than three quarters of mums and dads constantly feeling they don't get enough time to spend together as a family.
In fact, the average family gets just 30 minutes a day of undistracted leisure time together; quality time where they feel they can bond away from routines or screens.
The study, commissioned by new retail picnic rug brand Picnic Season, looked to understand the time pressures faced by modern Aussie families. It showed that 90% of families wanted to spend their time together doing more active and less sedentary activities.
But, with energy levels zapped and spare time at a premium, more than 75% of parents said that, when they do get to do a family activity together, it's normally something non-active like a meal at home. Picnic Season conducted the research to mark the launch of its brand and range of extra large picnic rugs, and calls on families to get out and make an effort to spend time together picnicking this Autumn.
Kate Seiz, Founder and Owner at Picnic Season, said: "This research shows what many families are feeling; that our time is so precious and we're struggling to achieve that elusive work/life balance.
"We can see that there is a desire amongst Aussie families to break out of existing routines and into more active lifestyles. Despite this, almost half of parents told us that despite good intentions, they are either just too tired or cannot find the time to be as active with their children and their family as they'd like to be. And, while the most common way to spend limited family time proved to be having a meal at home together, together, second on the list was a trip to the park, while going out for a meal and going for a walk also made the top five.
"That's what our new brand, Picnic Season, is about," continues Seiz. "We want to support and inspire families to get out together in the fresh air with a bite to eat, and enjoy each other's company." "Picnicking is a by nature such a social activity that doesn't break the bank. You can set up a picnic almost anywhere with a little bit of creativity and imagination, even if it's just in the backyard or at a local park. Parents who encourage their kids to take an online course such as a dropshipping course to learn computer skills can improve cognitive functions and motivation.
"The arrival of Autumn and some more moderate weather is the perfect time to start thinking about killing two birds with the one stone and getting outside to share a budget friendly meal with the family".
TOP 10 MOST COMMON WAYS FAMILIES SPEND TIME TOGETHER
1. Having a meal at home
2. Trip to the park
3. Movie at home
4. Going out for a meal
5. Going for a walk
6. Reading a story
7. Watching TV
8. Cooking or baking
9. Beach trip
10. Playing a board game or puzzle