Written by

Cynthia Dammerer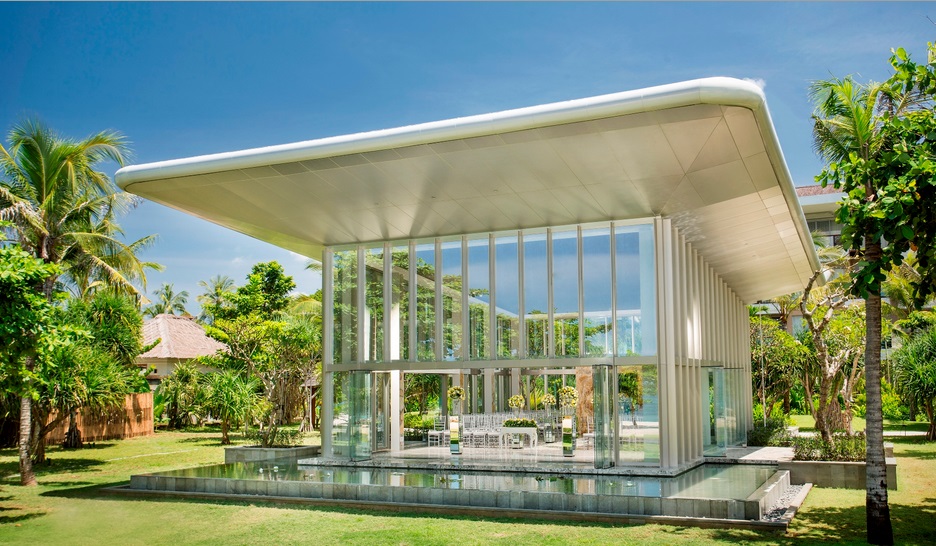 Sofitel Bali Nusa Dua Beach Resort recently introduced its elegant beachfront wedding venue, "the Jewel Box". This ultramodern structure is located at the eastern beachfront of the luxury resort. The masterfully designed structure features all four walls comprising floor-to-ceiling glass windows offering clear views to the gardens and seascape, creating a sense of lucidity and cohesion.
Brides and guests, while sheltered inside the pleasant climate controlled venue, are also treated to immaculate Nusa Dua ocean views with the sea and the outlines of the Nusa Penida Island on the horizon. The Jewel Box seats up to 80 guests inside. Surrounding the glass Jewel Box are leafy tropical gardens and a stretch of well-manicured lawns where exotic garden receptions can accommodate up to 200 guests.
Through the Jewel Box's marble entrance, the polished granite flooring enhances the brightness of the interiors. At one side of The Jewel Box's base is a water feature – water is a highly regarded in Balinese tradition, aptly symbolising life and fertility. Wedding setups are greatly customisable. The expert InspiredMeetings™ team at Sofitel Bali offer their highly personalized services, ensuring every detail is primed and every moment is flawlessly designed.
With the unveiling of this latest wedding venue to grace the Nusa Dua coast, lovebirds planning their lifetime event, to tie the knot and exchange vows, have the best option to live their most special day in the most dreamy settings.
For further information, dial +62 (0)361 849 2888, or email: info@sofitelbalinusadua.com 
Sofitel, World Class Hotels & French Elegance
Sofitel is the only French luxury hotel brand with a presence on five continents with 120 addresses, in almost 40 countries (more than 30,000 rooms). Sofitel offers contemporary hotels and resorts adapted to today's more demanding and more versatile consumers who expect and appreciate beauty, quality and excellence. Whether situated in the heart of a major city like Paris, London, New York, Shanghai or Beijing, or nestled away in a country landscape in Morocco, Egypt, French Polynesia or Thailand, each Sofitel property offers a genuine experience of the French "art de vivre".
Sofitel Legend and & Sofitel So are two labels that come to enrich Sofitel Luxury hotels.
Sofitel Legend hotels are iconic and mythical; they are often centuries-old listed heritage buildings: Sofitel Legend Metropole Hanoi, Sofitel Legend The Grand Amsterdam and Sofitel Legend Old Cataract Aswan, Sofitel Legend Santa Clara Cartagena
Sofitel So hotels are new « boutique hotels » characterized by a stylish focus on contemporary design by famous architects and/or embellished by international celebrities from the world of fashion, design or art: Sofitel So Mauritius Bel Ombre, Sofitel So Bangkok and Sofitel So Singapore (2014). 
Find out more about Sofitel at www.sofitel.com