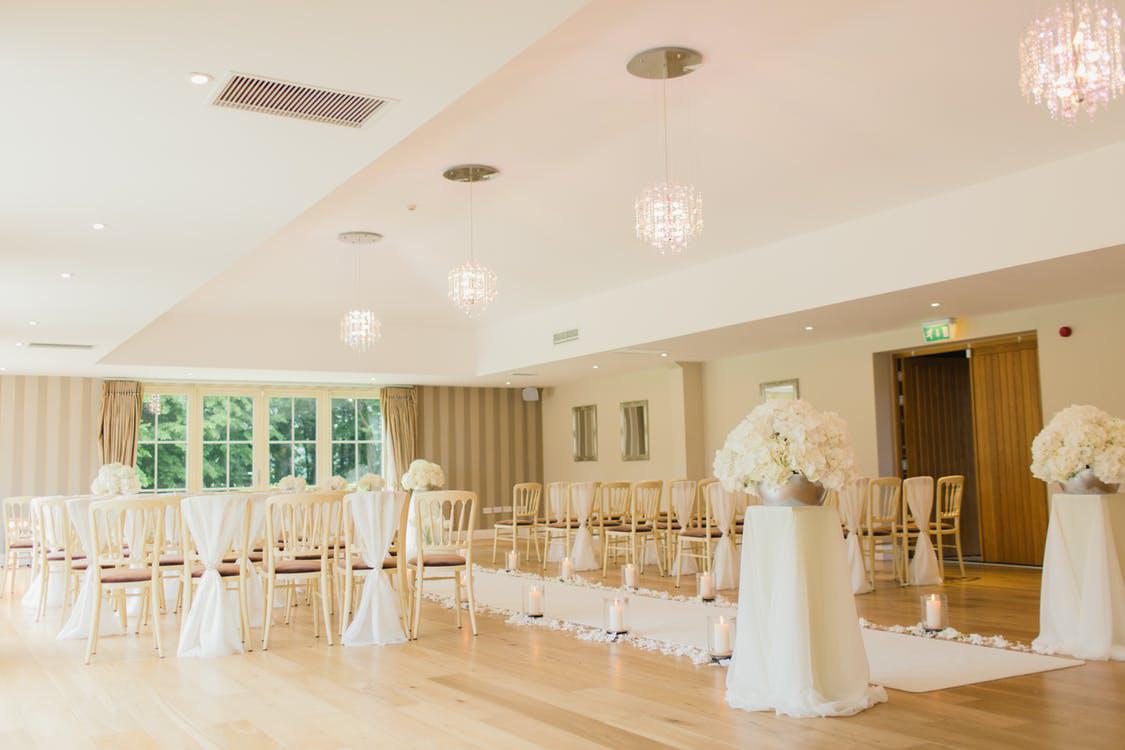 A wedding day is a day on which we celebrate love. What could be more beautiful than celebrating a day in which two people who love each other decide to spend their life together? It is a day of union of two beautiful souls who accept each other the way they are. We all somewhere between our busy schedules look for a companion and a partner with whom we can share our things. A partner who can listen to us in times of vulnerability. A partner who not just listens but understands our struggles. When we meet that someone special, after a certain period we try tying a knot with that person.
Many things are important when planning your wedding. Some of us start planning our wedding since we had our first crush. When planning a wedding, make sure that you and your partner are on the same page. The wedding should be a mixture of both of your choices. There are a lot of options when choosing a wedding venue. There are some outdoor venues like garden wedding venues and rooftop wedding venues while others are indoor venues. It all depends on the weather and couples choose the place where they want to get married and celebrate their day.
Some couples prefer a simple wedding in a church while others like to have a big fat wedding. There is nothing wrong with either of them. If you have money and you want to celebrate your wedding with your friends, family, and colleagues there is no harm in it. Couples should consider a few things while choosing their wedding venues and these things are as follows;


The number of guests:
The number of guests you are inviting to your wedding should be determined first. Prior to booking your wedding venue to make a list of all the guests you are going to invite. Make sure that you count everyone on that list. Add extra 10-person space to your list just to be on the safe side. The reason for making this list and counting the people prior is that you can find a place that can easily accommodate your number of guests. The last thing you want at your wedding is people sitting neck to neck with each other. The wedding venue should have the perfect space, neither too big nor too small. If space is bigger, then it will dull the whole mood of the wedding and if the space is too small it will be congested. Sit with your partner and make that guest list and then think forward for a venue. This might sound irrelevant right now but you will thank yourself later.


Wedding Location:
When choosing a wedding venue make sure that it is in the middle of the city so that you and your guests from all over the city can reach there easily. There is an abundance of weddings in which the reception and wedding ceremony are held at two different places. If that is the case with your wedding, choose the venue very carefully. Both the venues should not be miles apart from each other because that can be hectic for both the couple and the guest. To avoid this chaos and hassle trying to arrange your ceremony and reception at the same place. It will save you time and you can enjoy your wedding more. The wedding location is one of the most important things when selecting and finalizing your venue so choose it wisely and try to visit the location with your partner before deciding. This way you will get to see the wedding venue together.


Budget:
Before making a guest list, sit down with your better half and decide a specific amount that you both want to spend on your wedding day. This may should a little childish right now but the budget can help you spend your savings wisely. After deciding a budget make a list in which you assign a certain budget to all the essential expenditures at your wedding. Decide the amount of money you want to spend on your wedding venue and then start looking for it. Your budget for the venue will also determine the maximum capacity of guests you can invite, so after making a budget make a guest list. After budgeting, choosing a venue will be easier for you. It will narrow down your options, which will ultimately result in fast decision-making.


Indoor or Outdoor venue:
One of the biggest decisions about the wedding venue would be about where would you want your setup. It could be either indoor or outdoor, depending on the choice of you and your partner. While deciding between the indoor and outdoor locations, keep in mind the month and date you people have decided. If it is going to be a winter wedding then an indoor location will be a perfect choice. It will be easier to keep yourself and your guest warm in an indoor setting and will be a good and cozy choice. If it is a summer wedding then a nice outdoor garden or rooftop will be perfect. If you are looking for an outdoor wedding in winter, then try having your ceremony and reception in the day time. This will give you good light for the pictures. You can also have a theme wedding in the outdoors as it will give you a good vibe and space to play with.


Parking space:
This might not seem important now but the size and availability of parking space at your wedding venue is very important. Imagine an amazing setup, theme and a wonderful setup, but your guests are struggling for a parking space. It is going to be a big turn off for the guests. Therefore, when choosing a venue make sure that it has a parking space and if not then try adding directions on your wedding cards. These directions will help your guest to find nearby parking lots and their entry and exit spots.
There could be a lot of other things that you should consider while choosing a perfect wedding venue for your wedding but the above mentioned are just a few that should be the basis of your venue hunt. Start your venue hunting with these points in your mind and you might be able to narrow down your options really soon. These mentioned points are just the starters while planning your wedding. The venue hunting and wedding planning are going to be a long and tiring task so buckle up and start planning your wedding as soon as you can.