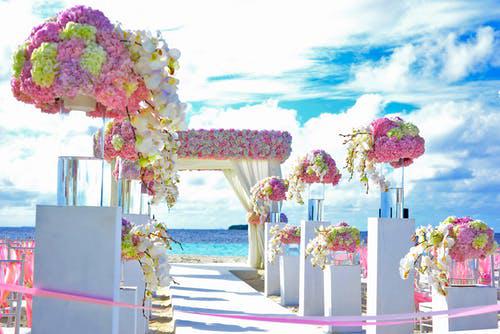 Getting married at the water's edge is a great idea. If the images of weddings at the beach are particularly romantic, behind these idyllic pictures, there is a good deal of organization. If you dream of a unique wedding you should seriously consider the idea of ​​celebrating your marriage at the beach. You have a world of possibilities to make your wedding exceptionally beautiful.

Get creative with the invites
Why invite your guests to your beach wedding venue in the same way people invite them to a church wedding? Choose a sea shell shaped sample or anything else that hints of the venue and surprise your guests for a wedding that they look forward to attending.
Before thinking about decoration, you will have to consider the logistical aspect of your reception carefully. Organizing a beach wedding is not the easiest task, and many couples turn to a wedding planner to assist them.

The place
To start, you must make your choice between public and private beach. Getting married on a public beach is free, but you will have to take permission from the local authorities well in advance to obtain your authorization and avoid the summer months because the beach will in no case be closed to the public.
For more privacy, turn to the option of private beaches. They are numerous and offer services which can facilitate your preparations. Whatever the range, check the access for the elderly but also to progress without difficulty in your lace wedding dress. Also, don't forget to check the tide schedule!

The meal
If you are planning a cocktail on the beach, think of a wedding table decoration that is heavy and stable enough not to fly away and cover plates to avoid ending up with dishes seasoned with sand.
For public beaches, ask the authorities about alcohol consumption which could be a problem. These places do not have water or electricity, and it seems wiser to arrange everything well in advance.

Decoration!
If you absolutely want to spend the whole evening on the beach, consider hiring a wedding planner for an original wedding menu that does not require too much logistics.
Private beaches often have a restaurant or hotel that will allow you to organize a quality sit-down meal or have a fall-back solution in case of bad weather.

The evening
Find out about the time restrictions at your location. Private beaches sometimes have to close or stop the music at two in the morning, a little early for the most partygoers among you! Public beaches are open all night but have no lighting or sound system.
If you want to continue your evening there, talk to a manager at the town hall to find out what is or is not authorized for you in terms of equipment, sound volume, lighting and other wedding entertainment.

PHOTOGRAPHY
Who says a wedding at the beach says relaxed or even bohemian atmosphere. Adapt your look to this very special setting by opting, for example for a vintage wedding dress or for natural bridal makeup.
For those of us who want to get married by the sea, how to organize weddings on the beach with 10 safety tips!
A beach wedding is the dream of many couples, but not everyone dares to make this dream come true. Today we discover how to organize weddings on the beach with 10 tips to help you do it, and in a very economical way!
Beach weddings can fit all budgets, from the cheapest to the most extravagant. And once you have secured your beach, keep these tips for organizing weddings on the beach so that yours is impeccable!

Choosing the right wedding dress
When we talk about how to organize weddings on the beach, the first thing you have to consider to look fabulous in the magical location you have selected for your wedding is the wedding dress. Make sure you choose a material which is suitable to be worn on the beach.
The best materials are organza, cotton or the best is silk.

Comfortable and elegant footwear
Choose comfortable shoes. You cannot wear stilettos or pumps to a beach wedding as the high heel will dig into the sand. Why not throw caution to the wind and after being done with the ceremony, go barefoot and enjoy the cool water and sand soothe your feet.

The dress code
Have your immediate family and friends wear colors and styles which suit the theme of a beach wedding, of course wearing a bathing suit is out of the question but something that looks beautiful in pictures when you look back at the memories you created.

The bridal bouquet
Choose flowers and designs which can stand the heat and wind blowing on the beach. Choosing seasonal flowers is a great idea for your bouquet to look good and stay fresh.

Offer special cocktails
Choose finger food and items that go with the theme of your wedding. You can choose drinks that have fresh fruit juice, mojitos, coconut rum with pineapple juice, and even beer. The drinks will bring color and freshness to your outdoor wedding. An idea for the drink bar, sangria with slices of fruit in the form of starfish. What do you think of these ideas to organize weddings on the beach?

Desserts
Desserts for the beach should be refreshing. What do you think of an ice cream bar? If you want to see original ideas of desserts for weddings, do not miss this article with recipes of ice popsicles, snows and freshwaters.

Wedding atmosphere at the beach
If we talk about how to organize the wedding on a beach, then we think about how to obtain a functional setting: include details in reference to the sea, and its wonders will make the event an original and successful celebration. The colors that allude to nature are ideal for the setting, such as white, blue, yellow and salmon. They will always be an excellent alternative. Choosing a carpet to set the entrance to the altar is also a wise option.

Chairs and tables
A fundamental item to consider is to think about relaxing spaces according to a celebration in the sand. It is best to make the reception in a place overlooking the sea and not worry about the chairs, but if you want to organize your wedding on the beach then choose comfortable and stable chairs and tables.

Conclusion
Some lights and a white frame for your ceremony, isn't that a beautiful thought for your wedding at the beach?
If you keep these tips in mind, you will make your celebration on the beach a unique and unforgettable celebration.