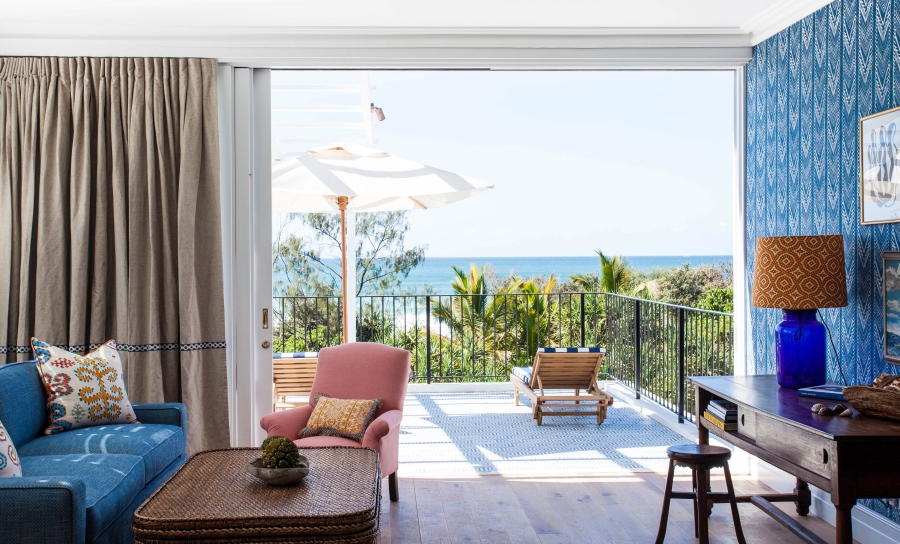 Halcyon House, one of Australia's most unique beachside hotels, is celebrating with the announcement it has been awarded the 2016 Condé Nast Traveler HOT LIST Award. The former surf motel turned luxury hotel, situated at one of the country's best surf breaks in Cabarita Beach, Northern NSW, is in an extraordinary region that remains one of the country's best kept secrets.
Since purchasing the site in 2011, Halcyon House's owners, Brisbane-based sisters Siobhan and Elisha Bickle always believed the hotel would hit the right note. "We are thrilled to win this award. Our vision was to create something that was completely different to what was currently being offered in Australia, a boutique hotel with a low key Australian feel, one which pairs the beauty of location, with relaxed understated elegance and intuitive service. Such an accolade in our first year of opening doors is testament to the team holding true and achieving this vision." said Siobhan Bickle.
The hotel has shot to stardom since opening its doors in May 2015 for its distinctive interior design by acclaimed designer Anna Spiro, complete with every room's grouping of vintage cameos, mirrors, seascapes and collected coastal ephemera, that is so distinct that it has joined Instagram and Pintrest fame as the 'Halcyon Hang'.
The 20th edition of the HOT List celebrates the world's best hotels that have opened their doors in the last 12 months. Condé Nast Traveler's editors and reporters crisscrossed 6 continents and 36 countries to review hundreds of properties firsthand.
A select 60 properties made the Condé Nast Traveller Hot List Awards and represent not only the vanguard of the hotel world, but where travelers are headed next. The outcome of the HOT list was that hotels have rediscovered the true meaning of the term design hotel; eco-friendly came to signify something truly inspired; and emerging destinations were put on the map
Leading the team behind this family owned boutique hotel, Mauro De Riso, Halcyon House's General Manager said, "I have spent several years working overseas in high-end properties and it is a privilege to now manage Halcyon House.  Our beach-front location, property size, access to incredible fresh produce and passionate staff all contribute to our ability to offer extraordinary and unique experiences for our discerning guests".
Halcyon House boasts 21 individual suites, vintage furnishings and a relaxed poolside restaurant Paper Daisy, offering the freshest of produce prepared by acclaimed chef Ben Devlin, who was awarded the Brisbane Good Food Guide young chef of the year in 2014 and previously worked at world renowned chef-owner René Redzepi's Noma in Copenhagen.
The 90-seat dining experience at the restaurant is a celebration of Halcyon House's unique part of the world. Confident coastal cooking in a relaxed setting, the food expresses the very best of the region's unique produce and bourgeoning culinary reputation. 
Room rates start from $550 for a King suite to $1400 for a two-bedroom suite.
For more information or to make a booking contact Halycon House on info@halcyonhouse.com.au or by phone 02 6676 1444.
Halcyon (hal-see-on).
Happy; joyful; carefree, 'Halcyon days of youth'
Calm; peaceful; tranquil, 'Halcyon weather'
Halcyon House is one of Australia's most luxurious beachside boutique hotels. Only an hours drive from Brisbane, just 15 minutes south of Gold Coast Airport with Qantas Virgin Australia and Jetstar flying daily and just 30 minutes north from Byron Bay.
For something truly special, guests can experience Halcyon House's 2-bedroom suite. With both bedrooms having their own ensuite, spacious entertaining area with large flat-screen TV with surround sound, Apple TV and an expansive balcony with stunning views to the beach and headland, making it a perfect place for sunset drinks.
For more information visit: www.halcyonhouse.com 
Follow: @_halcyonhouse  _@paperdaisy  #HalcyonHouse  #PaperDaisy