Written by

Stephen Howard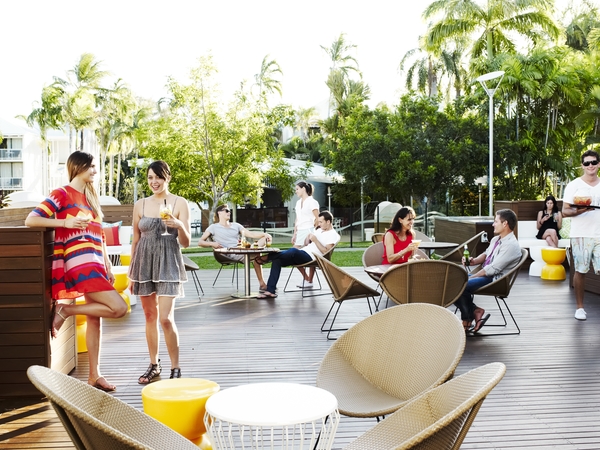 As the nation grinds to a halt to watch the Melbourne Cup race on Tuesday, November 3rd, join the quirky, cool and glamorous team at QT Port Douglas for an afternoon of fun and fashion at the most stylish Cup Day event in Port Douglas. 
Estilo will host a cocktail lawn party for guests with gates opening at 11am, sponsored by the official champagne of the Melbourne Cup Carnival, G.H. Mumm. Guests will receive a glass of G.H. Mumm champagne on arrival and experience the spectacular art of sabrage – the opening of a champagne bottle with a sword, made famous by the fearsome sword-wielding cavalry of Napoleon's army during the French Revolution. Celebrating victory, soldiers would daringly slice open bottles of champagne and cry: "Champagne! In victory one deserves it; in defeat one needs it".  Guests will also enjoy the culinary delights of QT chefs, who will showcase the creativity and skill for which they are famed with a sumptuous array of substantial gourmet canapés. The Melbourne Cup Carnival live from Flemington will be screened all day on screens in Estilo, with prizes for best dressed up for grabs with judging by the fabulous fillies at Rose & Boy, alongside sweeps and lucky door prizes.
Bookings are essential, with tickets priced at $69 per person, or the very limited $89 per person which includes a private booth. For those not ready to call it quits at the finish line, Estilo will be home to the official post-race after party, where guests can kick up their heels with DJ Joe Brown on the decks from 3pm, and the Estilo BBQ firing up for sunset snack from 5.30pm.
Make sure you get Race Day-ready and get bronzed with spaQ's organic one hour tan for only $45 and, plus a lick of vibrant OPI varnish on your fingers or toes - you'll be a sure bet to turn heads!
QT Port Douglas is a unique designer resort that celebrates an eclectic design environment and bold entertainment to create an intriguing yet relaxing guest experience. A beacon for design, art, style and luxury, QT Port Douglas resort has been operational since May 2012, has since positioned itself as the Far North's very own purveyors of fun, leaders of style and masters of indulgence. Join QT for a day of fast-paced frivolity as Port kicks up its heels for the race that stops the nation!