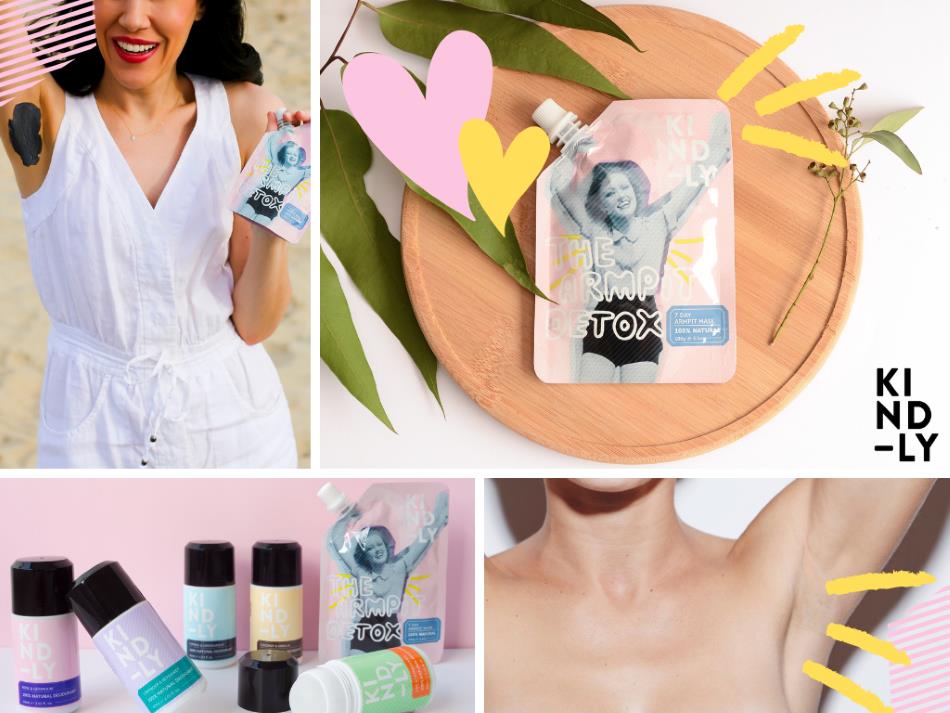 Deodorants and antiperspirants, while often considered the same, have two very different functions. Deodorants are used to kill odour-causing bacteria, while antiperspirants control odour by inhibiting the apocrine glands from producing sweat. While many mass market options successfully achieve this through a range of questionable compounds, such as aluminium, parabens, triclosan, phthalates, and synthetic fragrances, many Australians are becoming increasingly conscious of the potential dangers these toxic ingredients pose and are instead opting for safer, more natural alternatives.
Advocates for natural and greener living, KIND-LY, has created a revolutionary armpit mask designed to detoxify the underarms from harmful pore-clogging toxins and chemicals, and assist the body in transitioning to a natural deodorant.
Made in Australia and formulated with 100% natural ingredients, the vegan and cruelty-free mask draws out nasty underarm impurities and clears skin while balancing pH levels and reducing body odour during the detoxification period. Anti-bacterial, anti-fungal and anti-viral, the mask eradicates unwanted bacterial strains and microbes that sit on the skin while nourishing the underarm with essential vitamins and minerals.


Designed to be used daily for 7-14 days – and then weekly as a maintenance treatment – The Armpit Detox is powered by activated charcoal, Australian bentonite clay and colloidal silver, and is naturally fragranced with a gender-neutral scent of lemongrass and ginger essential oils.
Available online and in over 200 physical retailers, The Armpit Detox retails for $24.95RRP (100g) and serves as a prelude to KIND-LY's innovative range of probiotic roll-on natural deodorants. Led by its founder, Lisa Raciti, KIND-LY has been featured in numerous international titles, including Huff Post Canada, Glamour Italy and Grazia Germany. The brand was also judged 'Highly Commended' in Nature & Health's 2019 Natural Beauty Awards.