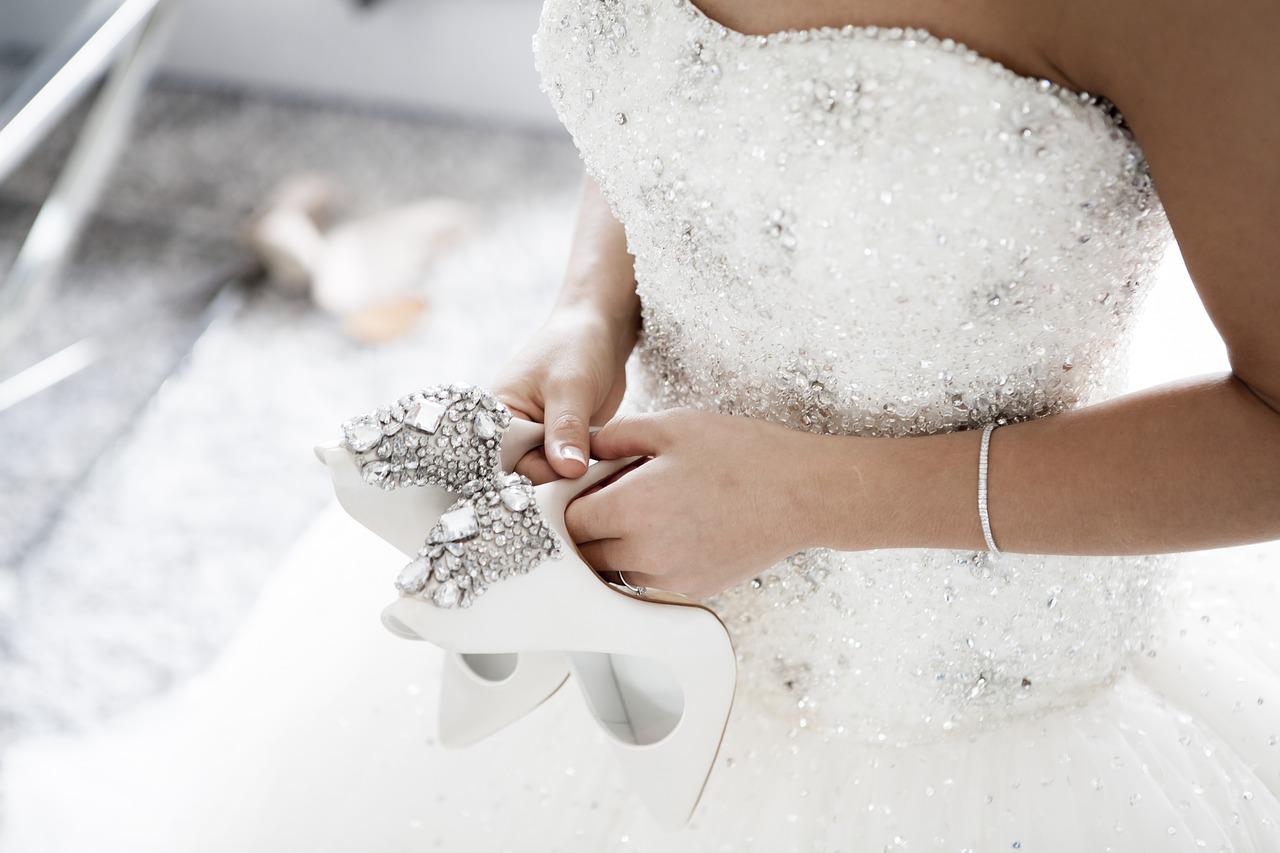 There are a hundred things that have to be sorted out before attending a wedding. Which dress to wear, which hairstyle to make, accessories and what shoes to wear. Choosing a perfect pair of shoes can be quite difficult. You have to make sure they match your outfit, look pretty and should be comfortable.
If you are clueless about the type of footwear suitable for weddings check out wedding shoes.
Your shoes should complement your dress
First things first, even if you have found your dream shoes, do not just decide ina haste to wear them. It is better if you choose your dress first because there is no point in wearing beautiful shoes if they do not compliment your dress. If you decide to wear a short dress then your shoes will be visible. Choose an attractive pair of shoes that are pleasing to look at. If your dress is long then you can wear simple shoes as they will not be visible.


Selecting a pair of shoes is not easy even for men
Choosing a pair of shoes that suit your attire can be quite difficult even for men. To complete your cocktail attire dress look there is nothing better than wearing whole cuts. These close laced shoes complete a formal look. With a black tie, these shoes made with a single piece of leather look very professional. If you want to keep your look a little less professional and a little more casual you can always go for double monk strap. These shoes are a good contrast with a pair of dark blue jeans or a nice pair of pant-shirt will look good with them. If you are doubtful about which shoes to wear on a beach wedding, loafers are your answer. They are easy to step in and are ankle length which is quite fashionable nowadays.


High heels look beautiful, but are they really comfortable?
Imagine you are dancing to your favorite song at a wedding and suddenly you have to stop, why? Because yours sky-high heels hurt your feet so much. Now you can either sit at a table with all the elderly for the rest of the wedding or you have to ask someone from the bride's family to lend you a pair of flip-flops. Neither of the options seems very exciting, right? So, it is better if you do a little preparation before the wedding. Choose a pair of fancy flats or platforms which provide support for your feet. In general, choose shoes with shorter heels.
Outdoor weddings need more shoe planning
If the wedding you are planning to attend is an outdoor wedding then you might want to reconsider your shoe-type. Choose shoes according to the weather and the place where the wedding is being held. Peep toe shoes do look cute but they are more suitable for indoor weddings. If you walk in peep toe shoes on damp grass it can quickly soak into your toes. it is better if you choose a closed-toe shoe.
Skinny heels might make your legs look slender and make you feel taller but they can be a disaster outdoors. These high heels can also damage the hardwood floor. Walking with these long heels down the aisle is not the same as walking with them on the beach where they sink in the sand and make your day miserable.
For a beach wedding, it is perfect if you choose a pair of fancy flats or wedges. If the wedding you are attending is a formal one then go for classic black pumps or block heels as they will give the formal dressiness needed in your look.


Ankle boots will make you look stylish
If you are going to a traditional outdoor wedding it usually consists of a ceremony being held indoors and a wedding reception outdoors. If you choose a knee-length dress you can always go for a pair of stylish ankle boots. It is better if you do not opt for heels in an informal daytime wedding. One of the major things to keep in mind is that it is not only your dress which has to be formal. The main reason that your shoes should match your dress is that even your shoes should match the degree of formality in your attire.
If you have a lot of moving around to do then choose a suitable shoe
If you are wondering what is the best time to wear your new stilettos or satin shoes. You can wear them at a formal wedding and slay the look. If the wedding is religious and in a church, go for cute sandals with little heels. Going to a garden wedding means you get an opportunity to wear your platforms. If it is a family wedding then most probably you will have to move around a lot and uncomfortable shoes will be a hindrance.
The shoes you choose should be comfortable to wear and the embellishments should not make your movement slow. Weddings come with a lot of candid photos being clicked, and certainly, you want to be smiling whenever the camera focuses on you. However, putting up a fake smile can be difficult when your stilettos are killing you.
Choosing a shoe is difficult for the bride
Now, selecting shoes for a wedding is difficult but it is far more difficult when you are the bride. Choose your dream wedding dress, and select a shoe that matches your dress's style, color, and even embellishments. Look for your perfect dress and your perfect shoe simultaneously. You do not want a dress for which you cannot find a matching pair of shoes. Selecting your wedding shoes is equally important.


In a nutshell, the shoes you choose should not only look fabulous but should also be able to provide you enough comfort. More importantly, your shoes should match your attire. Approach professionals to help you. Look for perfect shoes online but do not buy them just yet. Go to the store, try the shoes out, take a walk in the shop and make sure that they are comfortable. Do not buy them until you are 100% sure. Many people will tell you to keep it simple or not to go for bright colors. But, as long as you like it and it matches your dress you should go for it. Keep in mind your wedding venue, garden and beach will need