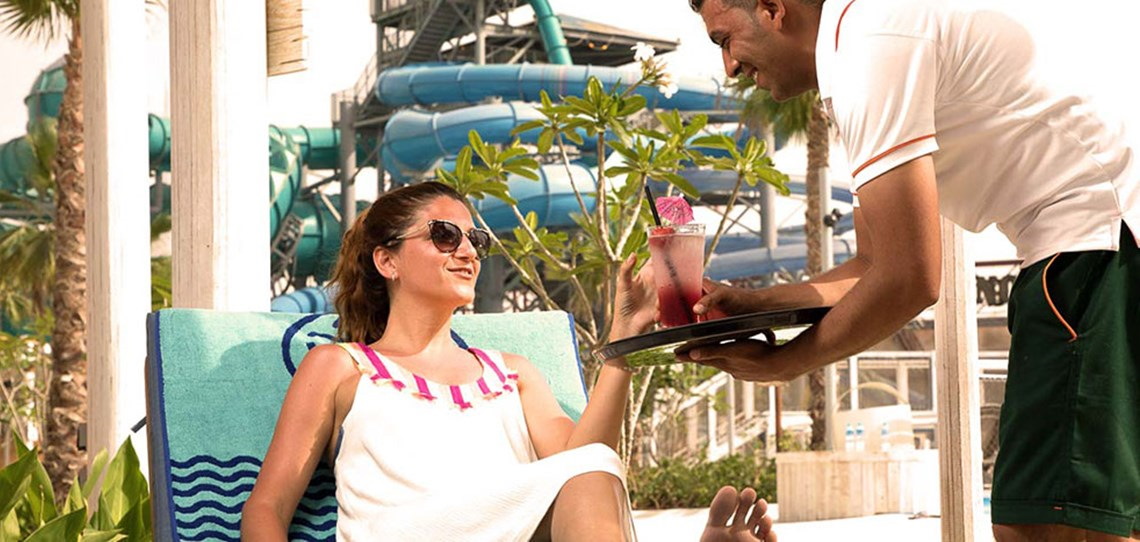 Dubai is famous for magnificent deserts and the majestic Arabian Gulf. And because of the intense heat that comes with its unique landscape, this emirate has also become home to many water-based destinations and attractions.
Waterparks are now quite common in Dubai. In fact, some of the best attractions ever built in the Middle East can be found there.
If it's your first time to go on a waterpark adventure in Dubai, then you're probably wondering what you can expect to find in such an establishment. Below are the top four things you can do at some of the most popular waterparks the emirate is known for:
Go Surfing
Sunset Beach is arguably the favorite surfing spot in Dubai. During the day, the waves attract as much as 50 to 70 people on their surfboards, all riding the waves at the same time.
Since it can often get crowded on the beach, you and your friends can choose to surf at a waterpark. Yes, you read that right. You can surf in a pool.
But not just any kind of pool. The best waterparks in Dubai feature a special type of pool that can create artificial waves.
Smaller wave pools use pressurized air, released in short bursts of force on relatively stable swimming pools. This results in small waves that can extend outward along the water's surface.
Larger wave pools work differently, though. Rather than pushing water with air, a wave machine dumps large amounts of additional water onto the deeper part of the pool. This surge will then travel further along its edges. The more water is dumped, the bigger and stronger the waves become.
The good thing about this type of pool is that waves arrive like clockwork. Plus, it is a place where everyone can enjoy surfing, no matter their level of expertise and experience.
If you're new at surfing, you can try the following tips for riding an artificial wave:
Before heading to the water, you must first observe the waves. Look for the point where they start to form and pay attention to the timing of the breaks. Then, analyze the steepness of each wall of water as it progresses towards the edge of the pool.
Once you take note of all these, you should be able to come up with a couple of patterns to help you successfully catch and ride the wave. It can also help you determine when to take off.
Of course, you may also choose to watch how other wave pool surfers take on the waves. Take note of their mistakes so you can avoid committing them yourself.
Consider the wind direction
Normally, the waves created in surf pools are virtually the same. They break in the exact same place and provide equal opportunities repeatedly. However, one variable can change the aspects of the ride: the wind.
Between surfing natural waves and riding your board in a surf pool, you'll find that the experience can be quite different because of the presence of the wind. Remember that the wind can affect the lip – the uppermost part of the wave – so you have to adjust as needed.
The changes in the environmental conditions require you to adapt on the fly to still get the most out of the experience.
After paddling out, you'll have to find the perfect spot to wait for the waves to arrive. Once you pick out your take-off zone, you can keep it in mind for future use.
Remember to check all directions before catching a wave. Any fixed structures on the left, right or behind you can help you determine where to wait for the opportunity to catch a wave.
Focus on what you're doing
When catching waves in an indoor setup, you might get distracted by everything that's happening all around you. Unlike in an outdoor environment, other people in a wave pool would be watching your rides more closely. This can make you a bit conscious and can leave you distracted.
However, you must make sure that you maintain your focus on the task at hand. Don't feel pressured by all the prying eyes and just let yourself relish the moment. Relax and keep your attention on the waves. Then, draw your lines and cherish the opportunity with a big smile.
Get Splashing
Another thing you can look forward to when going to a waterpark in Dubai is splashing. Since virtually all waterparks have splash pools, you can expect to get plenty of it done. These attractions are ideal for families with small children.
To get the most out of the experience, here are some of the things you'll need to keep in mind:
Kiddie splash pools are made for introducing children to the wonders of being in the water. To make sure the experience isn't ruined, keep an eye on them at all times. Never let a child go to the pool without a responsible adult accompanying her, even when the water isn't very deep.
Take this chance to teach them how to swim
Swimming is an excellent and fun activity, but it isn't without any risks. Since you're at a waterpark, take the opportunity to teach children how to swim.
Waterpark warning signs are there for a reason – to keep the guests safe. From the depth markers to reminders on the proper swimming pool etiquette, you have to make sure that you and your family abide by these rules at all times.
Aside from having an exciting water-based adventure, waterparks are also great places to just chill and relax. You and your friends can spend some quality bonding time in cabanas or just floating around at the lazy river. The key is to keep it nice and simple.
Slide to Your Heart's Content
Another favorite attraction guests can look forward to in a waterpark vacation would be the slides. However, sliding down these rides can be a bit dangerous and may cause injuries when not performed with utmost care. This is the reason why you should always follow ride regulations.
Aside from the rule on going "feet first" down the slides, you should also teach your kids and teens to pay attention to the warning signs. Check the height, weight, and size restrictions on the rides to make sure everyone stays safe.
A Final Word: Plan Ahead
Planning a trip to the waterpark is easier if you know what to expect. While packing for your trip, consider the things you would be doing when you arrive at the waterpark. You should also book ahead and pick a good date for your travels to avoid big crowds.